Sponsored by Blind Date with a Book!
Ever walked by a shelf in your local bookstore full of books wrapped in brown paper for sale? They're blind dates with books, where you buy a book without knowing the title, the cover, or the author, and it's a great way to discover new books you might never have picked for yourself. We're giving away five blind dates with books–Executive Editor Amanda Nelson will take a trip to Chop Suey, her local indie in Richmond, Virginia, and pick five at random off their shelves to mail to five random winners! Enter here to win your own blind date with a book.
It's Thursday, it's Thursday, it's… well, I can't think of anything that rhymes with "Thursday" so just pretend I said something clever here. There are some pretty fun things in the newsletter today, including exciting adaptation news, cover reveals, and upcoming releases. ALSO: It's almost Take Candy from Strangers Day! Are you dressing up? I would, but that would require putting my book down and leaving the house, lol. Nothankyou. I hope you're reading something wonderful right now, and have a great rest of your week. And remember to be kind to yourself and others. I'll see you again on Monday! – xoxo, Liberty
Trivia question time! What is the alternate title of Oliver Twist by Charles Dickens? (Scroll to the bottom for the answer.)
Deals, Reals, and Squeals!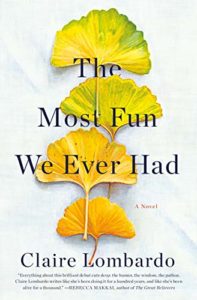 Amy Adams and Laura Dern will produce an HBO adaptation of Claire Lombardo's The Most Fun We Ever Had.
Here's the cover reveal for The Boyfriend Project by Farrah Rochon. (Forever, June 9, 2020)
FINALLY: Netflix will be an animated series of Jeff Smith's Bone comic.
Here's the cover reveal for Real Men Knit by Kwana Jackson. (Berkley, May 19, 2020)
There's a grammar game coming from Dreyer's English author Benjamin Dreyer.
Penguin Teen had another cover reveal bonanza.
Hulu will air the Margaret Atwood documentary.
Here's the cover reveal of Felix Ever After by Kacen Callender. (Balzer + Bray, May 12, 2020)
Netflix is adapting Dash & Lily's Book of Dares.
Here's the cover reveal of Braver Than You Think: Around the World on the Trip of My (Mother's) Lifetime by Maggie Downs. (Counterpoint, May 12, 2020)
Michael Caine and Lena Headey will star in a modern-day version of Oliver Twist.
Jandy Nelson's The Sky is Everywhere is being adapted into a film.
Drew Barrymore will produce adaptations of Howard Wallace, PI by Casey Lyall and Anne Ursu's The Lost Girl.
Super Pumped: The Battle for Uber by Mike Isaac is being adapted for Showtime.
Book Riot Recommends
At Book Riot, I work on the New Books! email, the All the Books! podcast about new releases, and the Book Riot Insiders New Release Index. I am very fortunate to get to read a lot of upcoming titles, and learn about a lot of upcoming titles, and I'm delighted to share a couple with you each week so you can add them to your TBR! (It will now be books I loved on Mondays and books I'm excited to read on Thursdays. YAY, BOOKS!)
Excited to read: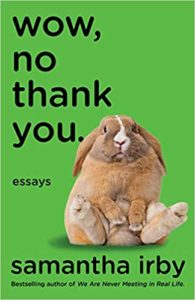 Wow, No Thank You.: Essays by Samantha Irby (Vintage, March 31, 2020)
You've heard me say it before, but I'll say it again: No one makes me laugh as much as Samantha Irby. She is a national treasure. I know many of you feel the same way. And if you've never read her before, check out her amazing essay collections Meaty and We Are Never Meeting in Real Life while you wait for this one.
What I'm reading this week.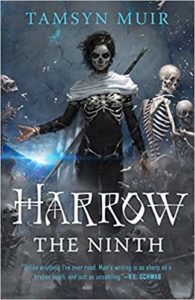 Harrow the Ninth by Tamsyn Muir
Bent Heavens by Daniel Kraus
A River of Royal Blood by Amanda Joy
The Revisioners: A Novel by Margaret Wilkerson Sexton
And this is funny.
I love this video. I don't even care if it's fake. (NSFW: swearing.)
Trivia answer: The Parish Boy's Progress.
You made it to the bottom! High five. Thanks for reading! – xo, L