Sponsored by Blind Date with a Book! Enter to win.
Ever walked by a shelf in your local bookstore full of books wrapped in brown paper for sale? They're blind dates with books, where you buy a book without knowing the title, the cover, or the author, and it's a great way to discover new books you might never have picked for yourself. We're giving away five blind dates with books–Executive Editor Amanda Nelson will take a trip to Chop Suey, her local indie in Richmond, Virginia, and pick five at random off their shelves to mail to five random winners! Enter here to win your own blind date with a book.
I bid you welcome. Right here, this is The Fright Stuff, the den of all the scary shit, from the clown with the tear-away face to the woman in the attic… but mostly books, cursed books, books with covers made of human skin, et cetera. I'm Mary Kay, and I'll be your Virgil.
This week's earworm is "The Chain" by Fleetwood Mac.
The Freshest Hells (FKA New Releases… but LBH, abandon all hope, ye who enter here):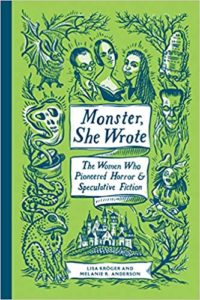 Monster, She Wrote by Lisa Kroger and Melanie Anderson is basically your necronomicon for all women writing horror. If you're looking for recommendations, this is your desired circle of hell. There will be your obvious pioneers, like Mary Shelley and Shirley Jackson, and you'll learn about other amazing women whose writing has been buried alive. Essentially, if you're looking for all the women who were written out of your canon of horror, you're in the fright place. Bonus: even if you learn nothing–which I seriously doubt possible–you have some damn delightful illustrations. (See if you can spot your favorite horror author's monster!)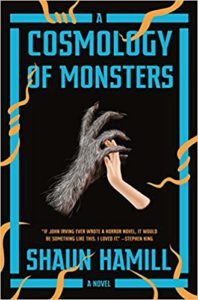 A Cosmology of Monsters by Shaun Hamill is a novel that you really can't miss if you love family curses, literary horror, and scandal. I couldn't put it down–I literally sat down with it after opening my mail and did not get up for hours I got so enchanted! Plus, it references all of your favorite Lovecraftian stories while wending its own narrative. Even the narrative perspective is novel, telling the family's story from before the protagonist's birth. It's an origin story of sorts… but more complex. You're gonna love it.
Other fresh hells: 
HOLD THE PRESS. A24, the film production studio, now has a book imprint. Of its first three volumes (released on Monday, 9/30 with a limited run of 2000), one of them has detailed directorial notes and sketches from Robert Eggers on his film The Witch, AND it comes with writing from Carmen Maria Machado. This first run sold out in a matter of minutes, but you can pre-order the next edition here. SHUT UP AND TAKE MY MONEY, am I right?
Rest in peace, Sid Haig, beloved actor of the horror genre!
Check out these People Pot Pies. Not Sweeney Todd, exactly… better.
And while we're on the food train, there's a Nightmare Before Christmas themed cereal coming out… I just hope the prize at the bottom of the box isn't a shrunken head.
And, did you know that Disney world is hosting a Nightmare Before Christmas themed Halloween bash?
The new season of American Horror Story has begun: 1984.
You can now stream Ari Aster's Midsommar online.
Torture of the week is FOLK HORROR:
While the definition of folk horror is subjective, just like any genre boundaries, a consistent motif is obsession with ritual, in particular European or pagan ritual. For film reference, think of David Bruckner's The Ritual or the aforementioned Ari Aster's Midsommar. I also argue that Robert Eggers' film The Witch is folk horror because although it's set in New England, the characters are all British, as are their traditions and obsessions. (By the way… did you see the interview with Ari Aster and Robert Eggers in this quarter's Fangoria? Talk about wanting to be a fly on the wall!)
Here are a few books that really exemplify folk horror as I understand it: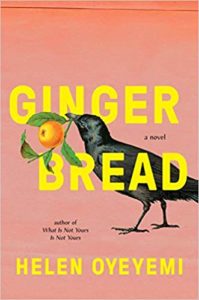 Gingerbread by Helen Oyeyemi
Speaking of family and hereditary traits, if you missed Gingerbread by Helen Oyeyemi, you're in for a treat (see what I did there?). This novel wends its nonchronological narrative around the mythos of gingerbread from fairy tales. It's a truly amazing, horrifying retelling of a family from a nation whose literal existence is disputed, but that is referenced as a "nightmare country" by those who know. It utilizes folklore from England, Scotland, and Wales, like changelings, witches, poison, and magic gingerbread, but it also weaves in the politics of immigration, intergenerational relationships, and love.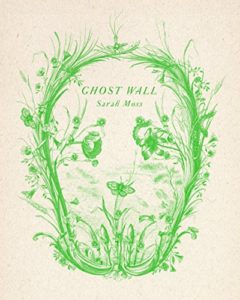 Ghost Wall by Sarah Moss
I had two close friends recommend this book to me in the same week, so I went out, bought it, and had finished it within 48 hours. It's an amazing folk horror novel about a teenage girl whose father is obsessed with lifestyles during the Bronze Age of northern England. He takes his family on their family vacation to team up with an anthropology class who reenacts life as it happened then. As happens with people obsessed with rituals of bygone barbaric eras, the experience quickly flies off the rails. This book is amazing, and you should read it as soon as you're able.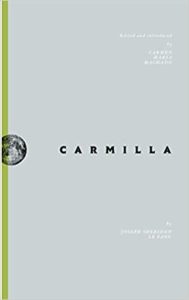 Carmilla edit by Carmen Maria Machado (original author Joseph Sheridan Le Fanu)
If you know Dracula, you should know Carmilla, too, since she was his predecessor. Though originally published in serial form in 19th century France, this new edit by Carmen Maria Machado brings the story to life with footnotes, backstory, and mythos surrounding the actual novel's writing as well. In case you missed it, Carmilla is a beautiful girl whose carriage crashes in front of the castle of another beautiful girl, a lonely girl who lives with her father and nurse. A love affair blooms between them, but Carmilla's aversion to churches and all the rituals of Christianity create supernatural problems between the lovers. It's absolutely a book you cannot miss. (If for no other reason than its decadent illustrations!)
As always and forevermore, probably, you can find me and my bullshit at my author page, or on Book Riot. And follow me on social media! (TW: @mkmcbrayer , IG: @marykaymcbrayer )
Happy autumn, everyone.
Your Virgil,
Mary Kay