Sponsored by Flatiron Books
Fifteen-year-old Ana Cancion never dreamed of moving to America. But when Juan Ruiz proposes and promises to take her to New York City, she has to say yes. It doesn't matter that he is twice her age, that there is no love between them. Their marriage is an opportunity for her entire close-knit family to eventually immigrate from the Dominican. So in 1965, Ana leaves behind everything she knows and becomes Ana Ruiz. In bright, musical prose, Angie Cruz's Dominicana is a portrait of the immigrant experience and the timeless coming-of-age story of a young woman finding her voice.
Welcome to In The Club, a newsletter of resources to keep your book group well-met, well-read, and well-fed. It's officially October!! That means It's witchy season, sweater season, and my birthday month all in one. Before I head out to stock up on chunky knits and pumpkin-flavored ev-uh-ree-thang, let's talk about some witchy books and tasty fall libations to go with them.
To the club!!
---
I plan to have a very witchy reading month, so I thought I'd pull that theme into the club. Each of today's picks explore witchcraft in ways that I find endlessly interesting and discussion-worthy. But first: let's talk food & drink.
Nibbles and Sips: Basic Witch Brunch Edition
Caramel Apple Mimosa – Rim your champagne flute with caramel, or coat that whole inside with it if you're feelin' saucy. Add apple cider and your champagne or sparkling wine of choice to taste. You're welcome.
Pumpkin Pie Martini: Martinis for brunch? Witch yeah! Rim a martini glass with cinnamon + sugar, then mix RumChata, vanilla vodka, and some pumpkin pie filling. Again, your girl likes to eyeball proportions, so here's a recipe if you're the kind that needs measurements.
Pumpkin French Toast Bake – I made this a few years ago for a birthday brunch and I'm still obsessed. French toast bakes are great for groups- so much quicker and easier than making it slice by slice. It's basically bread + pumpkin + cream cheese filling, and you can prep it the night before. Boom.
Book Club Picks: Witchy Things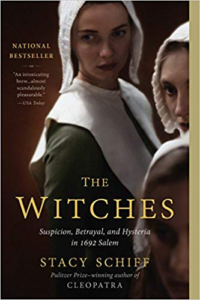 The Witches: Suspicion, Betrayal, and Hysteria in 1692 Salem by Stacy Schiff – I love Stacy Schiff's particular brand of deep-dive ala Cleopatra: A Life. This month I am finally going to tackle The Witches, Schiff's exploration of the Salem witch trials.
Book Club Bonus: Discuss the role that gender played in the trials. I have always been fascinated (read: horrified) by this period, and history's treatment of witches in general as a way to subjugate women. Unpack the whole Puritanical panic, too, and compare it to modern times, i.e. how social anxieties + misinformation lead to outright hysteria.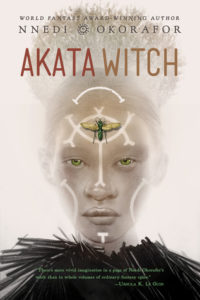 Akata Witch by Nnedi Okorafor – This book is often dubbed the "Nigerian Harry Potter" (more on that in a bit), a magical, mysterious tale of finding one's place. A twelve-year-old American-born Nigerian girl feels like she doesn't fit in anywhere when she suddenly discovers she has latent magical powers.
Book Club Bonus: Nnedi Okorafor isn't here for the Harry Potter comps and I see why. I did a YouTube video some time ago that I hope you'll use to kickstart your club convos: while the comparison is perhaps one made affectionately, authors like Nnedi and Tomi Adeyemi deserve to stand alone.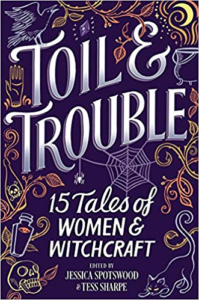 Toil & Trouble: 15 Tales of Women & Witchcraft edited by Jessica Spotswood and Tess Sharpe –  This collection, yo; the contributors include Zoraida Cordova, Anna-Marie McLemore, Tess Sharpe, Nova Ren Suma, and more! These fifteen stories are each about young women embracing their power and reclaiming power over their narratives. I love this line from the blurb: "This collection reveals a universal truth: there's nothing more powerful than a teenage girl who believes in herself."
Book Club Bonus: Discuss the need to silence, vilify, and disempower women who dare to craft (heh) their own narratives, and how witchcraft is often maligned as some occult monolith. I love the increased popularity of holistic wellness nowadays, but I can't help but think of all the women using essential oils, herbs, and plants to heal and cure throughout history that were hung for what we now refer to as alternative medicine.
Suggestion Section
Brigthly has a book club for kids! They provide book-themed activities, printable discussion questions, author interviews and more.
The Riot has more tasty book club food ideas for you, because you can never have too many.
With so many celebrity book clubs out here, Rioter Emily shares the celebrities she wishes would get in on the action.
October book club picks for PBS, Read with Jenna, Hello Sunshine, Belletrist, and Our Shared Shelf. Props to Emma Roberts for picking Jacqueline Woodson's Red at the Bone. How can such a small book ruin you so quickly!!?
Yay, a comics book club! Based at a comics shop in Brooklyn, it encourages kids and teens to discover, borrow, purchase and create their own comics.
---
Thanks for hanging with me today! Shoot me an email at vanessa@riotnewmedia.com with your burning book club questions or find me on Twitter and the gram @buenosdiazsd. Sign up for the Audiobooks newsletter, get it on the Read Harder podcast, and watch me booktube every Friday too.
Stay bad & bookish, my friends.
Vanessa
More Resources:
– Our Book Group In A Box guide
– List your group on the Book Group Resources page