Sponsored by Roar, the YA imprint of Lion Forge
In Bezkamp, the written word has been outlawed for centuries. Nem, son of Bezkamp's strongest warrior, would rather spend his days collecting artifacts than fighting the dangerous Crig beasts that threaten their land. But when unexpected corruption begins taking land and lives around Bezkamp, Nem must venture outside of the city gates to protect his people. As Nem sees more of the world beyond his village, he begins to unlock deep-seeded secrets about his peoples' suppressed past and discover that the strongest warrior fights for truth. Bezkamp by Samuel Sattin and Jen Hickman is in stores this October!
Happy Tuesday to everyone, but mostly to Dr. Leon Advogato, one of the lawyers at the Order of Attorneys of Brazil. It's Alex, with new releases and a random collection of news for your perusal. Something that's been bringing me joy these last few days: a clip of Fayard and Harold Nichols doing their dance routine from Stormy Weather (1943).
New Releases
Future Tense Fiction: Stories of Tomorrow commissioned by Slate, New America, and Arizona State University – A collection of short fiction that focuses on emerging technologies from a wide list of excellent authors including Nnedi Okorafor, Paolo Bacigalupi, Annalee Newitz, and Deji Bryce Olukotun.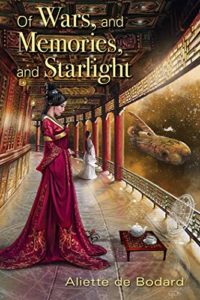 Of Wars, and Memories, and Starlight by Aliette de Bodard – Aliette de Bodard's first short story collection, which includes tales from her Xuya universe.
The Twisted Ones by T. Kingfisher – A young woman works to sort out the house of her dead grandmother, who was a hoarder. While cleaning, she finds her dead step-grandfather's journal, which describes terrifying things that she begins to encounter in the woods.
The Library of the Unwritten by A.J. Hackwith – The Unwritten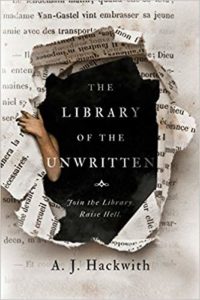 Wing is a neutral place in Hell where stories never finished by their authors live. Claire is the head librarian of these stories, mostly tasked with hunting down characters who have come to life and begun searching for their writers. But a simple retrieval goes wrong when an angel attacks…
Shadow Frost by Coco Ma – A princess on a desperate quest to save her kingdom from the demons who threaten it discovers a plot for her own assassination along the way. She and her friends must unravel this plot, with strands that lead back into their group–if the demons don't get them first.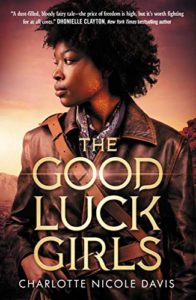 The Good Luck Girls by Charlotte Nicole Davis – Five girls, called "good luck girls," are sold to a "welcome house" and branded with cursed markings. When one of them accidentally kills a man, they embark on a dangerous journey toward freedom, justice, and revenge, guided by a bedtime story passed down among their sistren.
The Sinister Mystery of the Mesmerizing Girl by Theodora Goss – A new adventure for the Athena Club, that wonderful pastiche of female characters who often had their agency stolen or stories not written in classic literature. After their adventure rescuing Lucina van Helsing, the monstrous gentlewomen return home to find that both Alice and Shelock Holmes have been kidnapped.
News and Views
In the wake of the discussions about awards named for Campbell and Tiptree, Jason Sanford points out another one that really needs to be discussed: Arthur C. Clarke
Wired reviews Lost Transmissions, a book about forgotten works that deserve some fan love.
Karen Gillan and Ryan Reynolds hilariously get into it in the AGBO Superhero Fantasy Football League, which has mandated trash-talking.
Chuck Tingle now has an official TTRPG: The Tingleverse: The Official Chuck Tingle Role-Playing Game. Tingle has succinctly addressed the lack of mechanics for "pounding" on Twitter.
Alex Brown's short fiction recommendations for September.
NYT is bringing back mass market paperback and graphic novel/manga best seller lists, and they're adding in MG and YA.
Volume 327 of Book Fetish is all about fantasy.
Gollancz and author Ben Aaronovitch (author of Rivers of London) are launching an award for British BAME [black, Asian, and minority ethnic] science fiction and fantasy authors.
Ewilan's Quest is becoming an animated series.
io9 picked their 10 favorite films from Fantastic Fest 2019 and I am SO EXCITED.
Paul Krueger, author of Steel Crow Saga, did a Reddit AMA… which his mom crashed.
Ever wondered what Guardians of the Galaxy character you are? We've got a quiz for that.
Sony and Marvel have managed to reach an agreement over Spider-Man.
Thor and Lokie are heading to Serial Box in Thor: Metal Gods.
Deep math nerdery ahoy: progress on the twin primes conjecture.
---
See you, space pirates. You can find all of the books recommended in this newsletter on a handy Goodreads shelf. If you'd like to know more about my secret plans to dominate the seas and skies, you can catch me over at my personal site.