Sponsored by The Spiritual Rebel Book Club Guide
Looking for something fun … and deeply meaningful? Try 3 weeks of creative activities perfectly suited to any book club―from meditating with your pets to forest bathing to sacred space crashing. Spiritual rebelliousness encourages readers to tread their individual paths while still understanding the importance of seeking community to help others, the Earth, and its creatures. As seen in Spirituality & Health Magazine's "100 Books We Love" and BookRiot's "50 Memoirs to Make You Feel"
Welcome to In The Club, a newsletter of resources to keep your book group well-met, well-read, and well-fed. I'm back in San Diego for some bachelorette festivities, and you best believe I'm eating all the Mexican food. Before I go eat all the avocados, let's chat about some book club ideas that go along with my favorite season: fall!!!
To the club!!
---
Welcome to the Pumpkin Spice Book Club, where the lighting is dim, the blankets are fuzzy, and the hot mulled wine flows freely. I'm going to be sharing some autumn-appropriate book club selections as well as some drink recipes and vibe notes for the book club I clearly wish I was a part of.
The Mood:
The theme here is cozy: dress code is pajamas or comfy loungewear and BYOB (bring your own blanket). Light some delicious autumn-scented candles and prepare some delightful beverages and snacks. I am personally obsessed with the beverage part of this equation, so here are my suggestions for those:
Hot Mulled Wine – Dump a bunch of red wine in a slow cooker with whole spices, an orange, a shot of brandy, and sugar to taste. I like mine with cardamom, cinnamon, and cloves, but this recipe also calls for star anise and swaps the sugar for apple cider. Interesting!
Cafe de la Olla (pronounced ka-FEH de la O-yah) – If your book group is less into the boozy stuff, try one of my favorite beverages: spiced Mexican coffee! I've been making this since I was young by eyeballing it, but here's a handy recipe with measurements & sh*t. You can also make it with decaf if anyon's avoiding caffeine, and it comes together in all of 15 or 20 minutes.
Spiced Apple Cider – Here's another non-alcoholic option. Reduce some cider, preferably fresh, with allspice, nutmeg, cinnamon and cloves. If you do want to opt for the boozy version, here's a version with some brandy or bourbon.
The Books: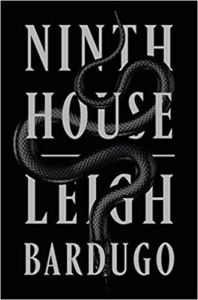 Ninth House by Leigh Bardugo – on Sale 10/8/19 – I have to include this one even though it's not out yet! Alex Stern has seen ghosts all her life and has turned to drugs to cope. When she hits rock bottom, a mysterious benefactor offers her a life-changing opportunity: in exchange for a clean slate in the form of a full ride to Yale, she'll be charged with monitoring the activities of Yale's secret (and occult) societies, the Eight Houses of the Veil. (CW: drug use, violence, sexual assault)
Book Club Bonus: The dark magic, demons, ghosts, and a mystery with multiple reveals, all set in New Haven in fall and winter make this so perfect for fall! As for discussion: talk about the concept of inner versus actual demons: the symbolism of one for the other, how the variety of spirits and magic in this book represent a different kind of haunting. Discuss the consequences at the end of the book, i.e. how privilege is the most magically magic of all potions.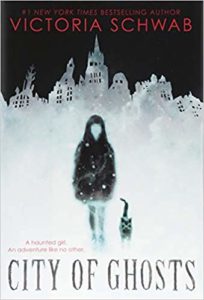 City of Ghosts by Victoria Schwab – Young Cassidy Blake's parents are ghost hunters who host a TV show about haunted places. What no one knows is that Cassidy herself actually sees ghosts, a "gift" she acquired after a near-drowning experience. When the show lands the family in Edinburgh, Cass explores the city's graveyards, castles, and secret passageways. She meets ghosts at every turn, and not all of them friendly.
Book Club Bonus: This would make a fantastic pick for book club for kids. It's creepy and spooky but still appropriate for a younger audience. Discussion topics could include how we do (or don't) use the gifts we are given, facing fear to fulfill a purpose, how the dead teach Cass more than the living. Maybe also do a quick, fun history of Edinburgh itself with fun (and creepy) facts about the U.K.'s most haunted city.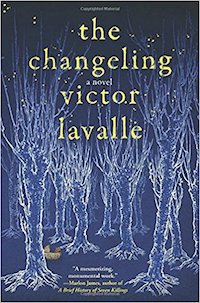 The Changeling by Victor LaValle – This begs to be read in October!! In this super unsettling blend of horror and urban fairy tale set in New York City, a man's wife disappears after seemingly committing a heinous and unforgiveable act of violence against their child. (CW: child harm)
Book Club Bonus: Wow, so…. maybe don't read this if you're a new or expectant parent? I'm trying to give you topics for discussion without spoiling the plot… hmm. Discuss how the story is an allegory for parenthood in general, and more specifically the perils of the internet.
Suggestion Section
How Reese Witherspoon has taken over the celeb book club game. I still think Oprah wears the crown here, but take nothing away from what Reese has built.
The L.A. Times' book club newsletter has deets on upcoming conversations with Michael Connolly and Julie Andrews.
Oprah's Book Club is now a partnership with Apple, and her latest pick is Ta-Nehisi Coates's The Water Dancer.
Celeste Ng's Little Fires Everywhere makes a great book club read! We have questions ready to go for your discussion.
Meet Renée Hicks, the founder of Book Girl Magic, an online book club that celebrates black female authors.
---
Thanks for hanging with me today! Shoot me an email at vanessa@riotnewmedia.com with your burning book club questions or find me on Twitter and the gram @buenosdiazsd. Sign up for the Audiobooks newsletter, get it on the Read Harder podcast, and watch me booktube every Friday too.
Stay bad & bookish, my friends.
Vanessa
More Resources:
– Our Book Group In A Box guide
– List your group on the Book Group Resources page