Sponsored by Vintage Books, The Game of Kings, Book 1 in the legendary Lymond Chronicles by Dorothy Dunnett
Combining all the political intrigue of Game of Thrones with the sweeping romanticism of Outlander, Dorothy Dunnett's legendary Lymond Chronicles have enthralled readers for decades and amassed legions of devoted fans. "Lymond is arguably the perfect romantic hero," saysThe Guardian. In 1547, Francis Crawford of Lymond is disgraced and newly escaped from captivity. He returns to his beloved Scotland only to embark on a fantastic journey. Now in beautifully repackaged editions with reset text and oversized format for easy reading.
Welcome to In The Club, a newsletter of resources to keep your book group well-met, well-read, and well-fed.
Happy Hispanic Heritage Month! While I wear my Hispanic and Latinx pride on my sleeve all day, erryday, I love using this month as an excuse to amp up the love a little higher. That's what we're going to do today: explore some of the voices I think you should work into your book clubs.
**We're technically still calling it Hispanic Heritage Month, but perhaps it's time for a rebrand?! You'll see me go back and forth between the two terms in this newsletter; for our purposes, we'll be celebrating Latinidad on the whole.
To the club!!
---
First things first: we all know there is a giant disparity in the publishing industry affecting authors of color, which of course includes Latinx authors. But while I can generally find both original and translated works by Mexican authors, South American authors, and Latinx-Caribbean authors, it is still so, so hard to find available books by authors from Central America.
I hope to see this trend shift in the very near future! For now, I want to call attention to this gap and say that I wish I had more picks from you from this beautiful part of the world. Here are my first picks of the month, more next week!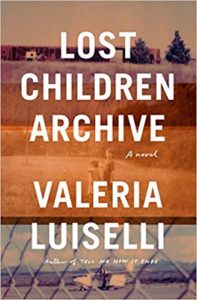 Mexico: Valeria Luiselli, Lost Children Archive
Though she is perhaps most well known for The Story of My Teeth, Lost Children Archive was my intro to Luiselli and I was in love by about the fifth page. Beautiful language and vivid descriptions of sound and scenery beautifully frame this road trip story: a family moves across America and collides with the immigration crisis at the southwestern border.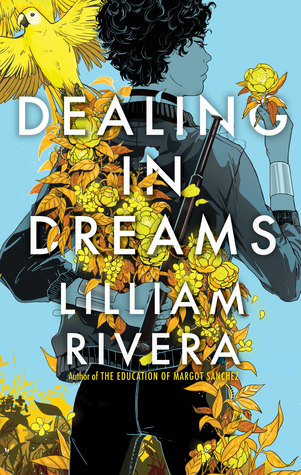 Puerto Rico: Lilliam Rivera, Dealing in Dreams
I say this every time I talk about Lilliam Rivera: any woman who writes a girl gang into her work and then names it Las Mal Criadas is someone I would like to be friends with. I love me some Dealing in Dreams, a dystopian novel set in a matriarchal society that asks: does power corrupt absolutely?
Also, don't at me: I'm well aware PR isn't a country.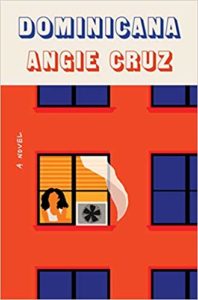 Dominican Republic: Angie Cruz, Dominicana
Angie Cruz and I have only just begun what I hope is a long author/reader relationship. Her novel Dominicana arrived at my doorstep this week and I cannot wait to get into it! A young Dominicana agrees to marry a man she doesn't love at fifteen to begin a new life, both for her and for her family, in the states.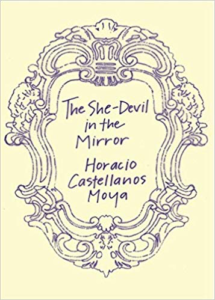 El Salvador: Horacio Castellanos Moya, The She-Devil in the Mirror (translated by by Katherine Silver)
This is a trippy read, yo. Set in an upper-class Salvadoran society, Laura Rivera's friend has been shot to death in her living room. Laura set out to solve the mystery of who pulled the trigger, and that process is a chaotic, satirical, twisty-turny and darkly comic ride set in post–civil war San Salvador. If you love an unreliable narrator, Laura is that plus filthy rich, paranoid, and super smart. Maddening! But smart.
Book Club Bonus: The character quirks in each of these suggestions provide plenty o' book club fodder on their own, but dig deeper.
For the stories involving immigrants: in what ways are the immigrant narratives unique experiences, and in what ways are they universal?
For Lost Children Archive, discuss the meaning and symbolism behind the loose notes, maps, news clippings, recordings, pictures, poems, books, etc.
For Dealing in Dreams, is having a matriarchy in power really any better than a patriarchy?
For She-Devil in the Mirror: are all unreliable narrators created equal?
For all: if it's accessible for you, consider holding your club meeting at a Latinx-owned establishment. Don't be the person that shows up in offensive costumes or anything! Just give them your business, talk books, and honor their heritage.
---
Suggestion Section
Ever find yourself wondering what the heck to talk about in book club? Here are some questions to jumpstart the convo.
Speaking of Lilliam Rivera and Latinx Heritage Month: Bustle tapped Lilliam to pick their September book club read and her pick sounds like hot fire.
The American Booksellers Association and Well-Read Black Girl Book Club suggest some adult and young adult book club picks for the fall. If your indie wants to host a WRBG book club, there's info in this piece on how to do that.
Want to attend a WRBG book club meeting? Check here for a map of host bookstores.
---
Thanks for hanging with me today! Shoot me an email at vanessa@riotnewmedia.com with your burning book club questions or find me on Twitter and the gram @buenosdiazsd. Sign up for the Audiobooks newsletter, get it on the Read Harder podcast, and watch me booktube every Friday too.
Stay bad & bookish, my friends.
Vanessa
More Resources:
– Our Book Group In A Box guide
– List your group on the Book Group Resources page