Sponsored by All the Impossible Things by Lindsay Lackey, and Macmillan Children's.
A bit of magic, a sprinkling of adventure, and a whole lot of heart collide in this extraordinary story of a girl navigating the foster care system in search of where she belongs. Red has power over the wind. Whenever she gets upset the wind picks up, and moving from family to family keeps her skies stormy. Red's newest family, the Grooves, fit like a puzzle piece into her heart. Just as she's getting settled, a fresh storm rolls in: her mother. Now Red must overcome her own tornadoes and find the family she needs. With love, anything is possible.
Hi Kid Lit Friends,
Autumn has arrived, and it is obviously time for pumpkin spice everything. Here in New York, my family celebrates autumn by enjoying the changing leaves, picking apples, and eating lots of apple cider donuts. Fall is definitely my favorite season.
Coming soon to the newsletter is a round-up of Halloween books: one list will have recommendations of not-so-scary picture books, and the other will have recommendations for absolutely terrifying middle grade books (as in, books that I can't read because I am a major wimp!). But today, enjoy these beautiful autumn picture books; they are sure to get you in the mood for this beautiful season.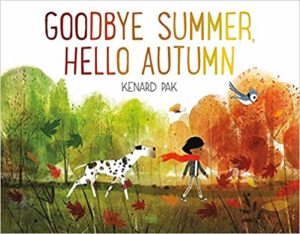 Goodbye Summer, Hello Autumn by Kenard Pak
As trees sway in the cool breeze, blue jays head south, and leaves change their colors, everyone knows–autumn is on its way! Join a young girl as she takes a walk through forest and town, greeting all the signs of the coming season. In a series of conversations with every flower and creature and gust of wind, she says good-bye to summer and welcomes autumn.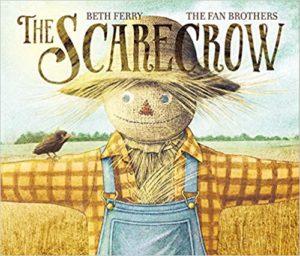 The Scarecrow by Beth Ferry, illustrated by the Fan Brothers
This tender and affectionate story reminds us of the comforting power of friendship and the joy of helping others—a tale that will inspire and delight children for generations to come. All the animals know not to mess with old Scarecrow. But when a small, scared crow falls from midair, Scarecrow does the strangest thing.… He saves the tiny baby crow. Soon a loving bond grows between the two unlikely friends. But is it strong enough to weather the changing of the seasons?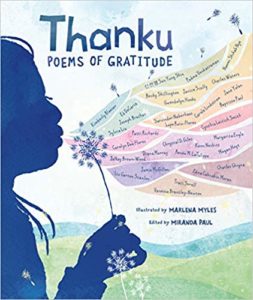 Thanku: Poems of Gratitude by Miranda Paul, illustrated by Marlena Myles
This poetry anthology, edited by Miranda Paul, explores a wide range of ways to be grateful (from gratitude for a puppy to gratitude for family to gratitude for the sky) with poems by a diverse group of contributors, including Joseph Bruchac, Margarita Engle, Cynthia Leitich Smith, Naomi Shihab Nye, Charles Waters, and Jane Yolen.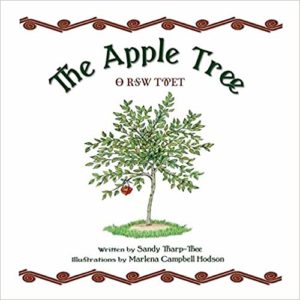 The Apple Tree by Sandy Tharp-Thee, illustrated by Marlena Campbell Hodson
A Cherokee boy plants an apple seed, already seeing the apple tree it is meant to be. But the little apple tree is not so sure. Young and impatient, it begins to doubt its calling after apples fail to appear that first fall. How can the boy convince the tree to give the seasons the time to work their magic? The story is told in English with Cherokee translation, and includes a Cherokee syllabary.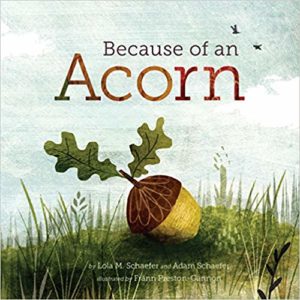 Because of an Acorn by Lola M. Schaefer and Adam Schaefer, illustrated by Frann Preston-Gannon
Because of an acorn, a tree grows, a bird nests, a seed becomes a flower. Enchanting die-cuts illustrate the vital connections between the layers of an ecosystem in this magical book. Wander down the forest path to learn how every tree, flower, plant, and animal connect to one another in spiraling circles of life. An acorn is just the beginning.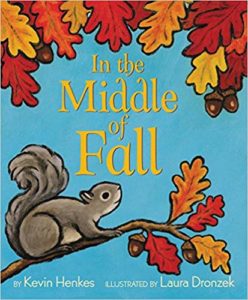 In the Middle of Fall by Kevin Henkes
In the middle of fall, it takes only one gust of wind to turn the whole world yellow and red and orange. Caldecott Medalist and award-winning author Kevin Henkes's striking text introduces basic concepts of language and the unique beauty of the fall season. Laura Dronzek's expressive paintings illuminate pumpkins, apples, falling leaves, busy squirrels, and the transformation from colorful autumn to frosty winter.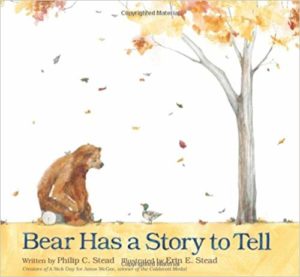 Bear Has a Story to Tell by Philip C. Stead, illustrated by Erin E. Stead
Bear found his friend Mouse, but Mouse was busy gathering seeds and didn't have time to listen to a story. Then Bear saw his friend Duck, but Duck was getting ready to fly south. What about his friend Toad? He was busy looking for a warm place to sleep. By the time Bear was through helping his friends get ready for winter, would anyone still be awake to hear his story?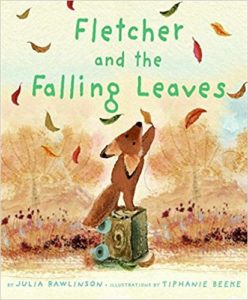 Fletcher and the Falling Leaves by Julia Rawlinson
As the leaves fall from his favorite tree, Fletcher worries that something is terribly wrong. But then winter comes, and with it a wonderful surprise.
Do you know what it is? Join Fletcher and find out. . . .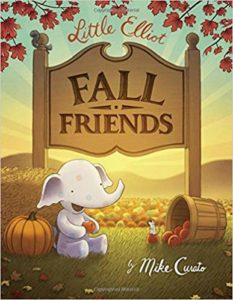 Little Elliot, Fall Friends by Mike Curato
It's autumn in the Big City! Little Elliot and Mouse love the hustle and bustle of the city streets. But sometimes it feels like there are too many people, too many noises―just too much! The best friends decide to get out of town for a vacation in the countryside. There, they'll discover the sights and smells of autumn in the country. Everything is more fun when shared with a friend!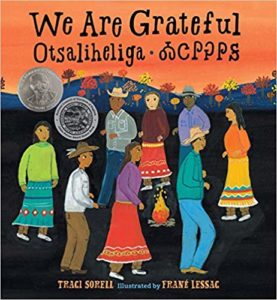 We Are Grateful: Otsaliheliga by Traci Sorrell, illustrated by Frane Lessac
The word otsaliheliga (oh-jah-LEE-hay-lee-gah) is used by members of the Cherokee Nation to express gratitude. Beginning in the fall with the new year and ending in summer, follow a full Cherokee year of celebrations and experiences. Written by a citizen of the Cherokee Nation, this look at one group of Native Americans is appended with a glossary and the complete Cherokee syllabary, originally created by Sequoyah.
One last thing: Don't forget to enter Book Riot's giveaway of the year's 10 best mystery/thrillers so far! Enter here!
I would love to know what you are reading this week! Find me on Twitter at @KarinaYanGlaser, on Instagram at @KarinaIsReadingAndWriting, or email me at karina@bookriot.com.
Until next time!
Karina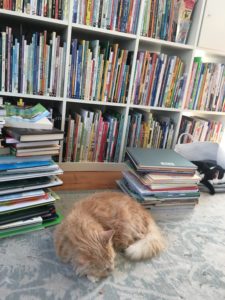 *If this e-mail was forwarded to you, follow this link to subscribe to "The Kids Are All Right" newsletter and other fabulous Book Riot newsletters for your own customized e-mail delivery. Thank you!*