Sponsored by Oxford University Press
The unforgettable saga of one enslaved woman's fight for justice–and reparations… W. Caleb McDaniel's latest book, Sweet Taste of Liberty, chronicles the epic tale of Henrietta Wood, a black woman who survived slavery twice and who achieved more than merely a moral victory over one of her oppressors. Not only is this book a portrait of an extraordinary individual, it is also a reminder of the lessons her story carries with it— establishing beyond question the connections between slavery and the prison system that rose in its place.
Hello and happy Friday the 13th, nonfiction friends! I can only hope this potentially unlucky day treats you well, and you go into the weekend with a full pile of books and a hot cup of whatever seasonal beverage makes you happy.
This week's collection of nonfiction news gave me all the feels – giggles, squeals, sighs, cheers, and groans. Let's get into it!
Giggles – I've been reading a lot of long-form journalism lately, so this Onion article really made me laugh. The kicker is also great, especially, given some other news I found this week (keep reading!).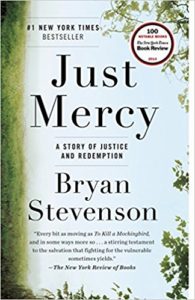 Squeals – The official trailer for Just Mercy is here, and I think it looks awesome! I'm also excited that one of my favorite critics, Linda Holmes, tweeted some generally positive comments about the movie after seeing a screening at the Toronto International Film Festival. You can also consider this your weekly reminder to pick up Bryan Stevenson's book!
Sighs – Erik Larson announced that his next book will be set during the Nazi blitz of London in 1940 and 1941. I'm a little bummed by this news because I like Erik Larson but don't especially enjoy books about World War II. In an interview, Larson said he hopes to find ways to tell the story of Winston Churchill's first year as prime minister in a new way, but that feels like a tall order. I guess we'll know more when the book arrives in March 2020.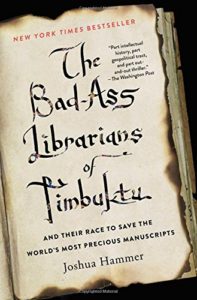 Cheers – Joshua Hammer's The Bad-Ass Librarians of Timbuktu is being made into a documentary! The documentary will focus on a group of scholars that "transformed themselves into a roving gang of smugglers" to transport the ancient texts across the desert. It's an interesting, readable book that I think will translate well into a documentary.
Groans – Sarah Huckabee Sanders is writing a memoir about her life and tenure as the White House Press Secretary. Given how much time she spent lying to the American people from the White House, I can't bring myself to care about what she has to say about anything. It's just… so annoying that bad people keep getting book deals. The only good thing about this news is all of the hilarious title suggestions folks offered on Twitter.
Whew, that's enough news to round out the week. Before you go, click through to enter Book Riot's enter our giveaway of the year's 10 best mystery/thrillers so far! It's an amazing list!
You can find me on Twitter @kimthedork, on email at kim@riotnewmedia.com, and co-hosting the For Real podcast here at Book Riot. Happy reading! – Kim