Sponsored by Little Bee Books
In this beautiful, bold board book, children will learn all about Spirit Day and its mission to stop bullying. Spirit Day is an annual LGBTQ awareness day established in 2010 to rally people against bullying. Spirit Day reinforces the importance of kindness, while also providing young readers with strategies to be a supportive friend. Published and created in partnership with GLAAD, this book aims to accelerate LGBTQ inclusivity and acceptance.
Hi Kid Lit Friends,
Hello, and happy Tuesday! I just love September and October for new releases. There are so many good ones! As always, if I've had the chance to read one of these books and loved it, I marked it with a
. Please note that all descriptions come from the publisher.
Picture Book New Releases
The Proudest Blue by Ibitihaj Muhammad with S.K. Ali, illustrated by Hatem Ali
With her new backpack and light-up shoes, Faizah knows the first day of school is going to be special. It's the start of a brand new year and, best of all, it's her older sister Asiya's first day of hijab–a hijab of beautiful blue fabric, like the ocean waving to the sky. But not everyone sees hijab as beautiful, and in the face of hurtful, confusing words, Faizah will find new ways to be strong.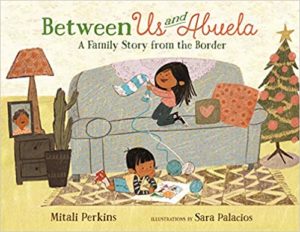 Between Us and Abuela: A Family Story from the Border by Mitali Perkins, illustrated by Sara Palacios
It's almost time for Christmas, and Maria is traveling with her mother and younger brother, Juan, to visit their grandmother on the border of California and Mexico. For the few minutes they can share together along the fence, Maria and her brother plan to exchange stories and Christmas gifts with the grandmother they haven't seen in years. But when Juan's gift is too big to fit through the slats in the fence, Maria has a brilliant idea.
The Hundred-Year Barn by Patricia MacLachlan, illustrated by Kenard Pak
One hundred years ago, a little boy watched his family and community come together to build a grand red barn. This barn become his refuge and home—a place to play with friends and farm animals alike. As seasons passed, the barn weathered many storms. The boy left and returned a young man, to help on the farm and to care for the barn again. The barn has stood for one hundred years, and it will stand for a hundred more: a symbol of peace, stability, caring and community.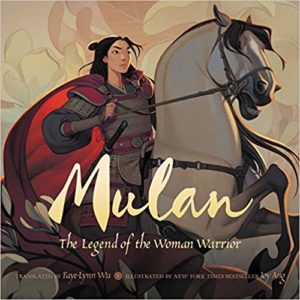 Mulan: The Legend of the Woman Warrior by Translated by Faye-Lynn Wu, illustrated by Joy Ang
Mulan loves nothing more than her family. She will do anything for them—even if it means joining the army in her ageing father's place. Since girls are not allowed in the army, Mulan cleverly disguises herself as a man. But she must look deep within herself to find her might and her courage. The book also includes the original ballad.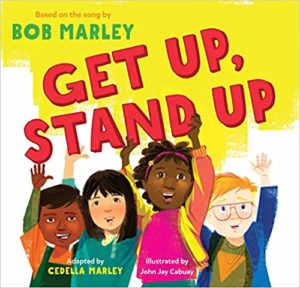 Get Up, Stand Up by Bob Marley, adapted by Cedella Marley, illustrated by John Jay Cabuay
Bob Marley's music has inspired millions of listeners around the world with messages of peace, love, and truth. This third picture book adaptation of one of his beloved songs has a timely message for children: To counter injustice, lift others up with kindness and courage. As a young girl goes on with her day in school, she comes across several instances of teasing and intimidation. But with loving action and some help from her friends, she's able to make things right for herself and others.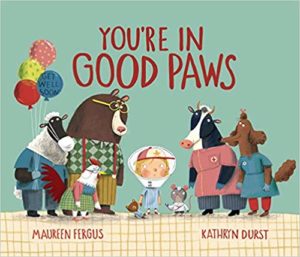 You're in Good Paws by Maureen Fergus, illustrated by Kathryn Durst
Slightly distracted parents accidentally take their son, Leo, to the animal hospital to get his tonsils out. Luckily, taking care of a human doesn't ruffle any feathers among the hospital staff. The chicken at the admissions desk is welcoming, the bear orderly is friendly and wise Dr. Stan inspires tremendous confidence despite being a mouse. Is the plastic cone really necessary, though?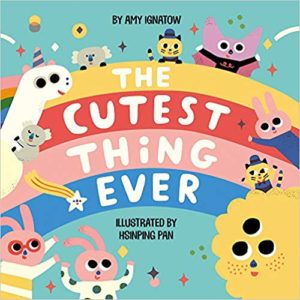 The Cutest Thing Ever by Amy Ignatow, illustrated Hsinping Pan
This wacky, imaginative picture book sets out to answer a big question: Wanna see the cutest thing EVER? Just when you think you've seen it, there's more! Is it a kitten? A unicorn? Bunny astronauts? These things are cute, but are they really the cutest thing ever? After being paraded through a colorful world of cuteness, young readers will discover a mirror on the final page, which reflects the actual cutest thing ever and makes them shout—it's me!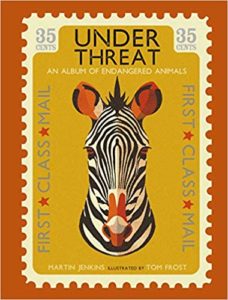 Under Threat: An Album of Endangered Animals by Martin Jenkins, illustrated by Tom Frost
From the giant panda of China to Fiji's banded iguana, creatures all over the world are imperiled like never before in human history. Visit all inhabited continents via a series of striking graphic stamps by printmaker Tom Frost, depicting more than thirty species — some familiar, some you may not have known existed — all of which are in danger of not existing for much longer. Fact files from conservation biologist Martin Jenkins introduce readers to some of the threatened fauna around the globe.
Chapter Book New Releases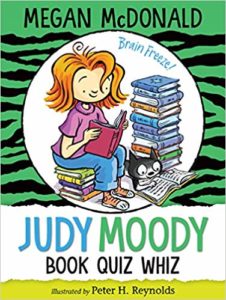 Judy Moody: Book Quiz Whiz by Megan McDonald, illustrated by Peter H. Reynolds
Judy Moody is in it to win it. Win the Book Quiz Blowout, that is. Judy and her brother, Stink, are two-fifths of the Virginia Dare Bookworms, and they've been reading up a storm to prepare for Saturday's face-off against second- and third-grade readers from the next town. But when Judy, Stink, and their fellow teammates discover the other group has a fourth-grader (no lie!), they get a bit nervous. Are the Bookworms up to the challenge?
Kitty and the Moonlight Rescue by Paula Harrison, illustrated by Jenny Lovlie
Kitty is special. Her mother is a superhero with catlike powers that Kitty and her little brother Max will someday inherit. But being a superhero involves going on daring adventures at night, and Kitty doesn't know if she'll ever be brave enough for that!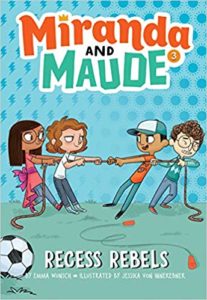 Miranda and Maude: Recess Rebels by Emma Wunsch, illustrated by Jessika Von Innerebner
The girls and boys of 3B aren't getting along. It starts with a game of tag and ends with a tug of war. In between, there are sneak attacks, a girls-only newspaper, a doughnut filled with cheese, and one stolen Frizzle chicken. Maude gets lots of opportunities to protest, but in the end, it's Miranda who learns to stand up for what she believes in.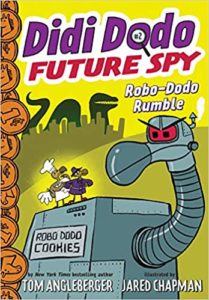 Didi Dodo: Future Spy: Robo-Dodo Rumble by Tom Angleberger, illustrated by Jared Chapman
This hilarious chapter book mystery series stars Didi Dodo, the daring spy-in-training, and Koko Dodo, Didi's reluctant sidekick. In Robo-Dodo Rumble, Koko Dodo's cookie shop is facing some stiff competition from an evil robotic dodo (a Robo Dodo). The Robo Dodo is selling its cookies for only a penny! Why? To put Koko's shop out of business! And if that weren't bad enough, a giant sea monster starts destroying the town! But don't worry. Didi Dodo has a daring plan.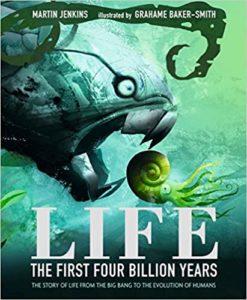 Life: The First Four Billion Years by Martin Jenkins, illustrated by Grahame Baker-Smith
Before humans took their first steps, there were billions of years of vibrant and varied life-forms on Earth. Discover the story of our planet during this time, from the formation of the universe to the first mammals and all the incredible life that flourished in between. Covering ice ages and fossils, the first life in the sea and on land, the time of the dinosaurs, and the rise of mammals, Martin Jenkins navigates through millennia of prehistory in a style both enthralling and accessible.
Middle Grade New Releases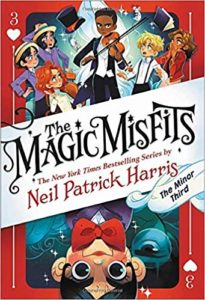 The Magic Misfits: The Minor Third by Neil Patrick Harris
Theo Stein-Meyer loves being part of the Magic Misfits. Armed with his trusty violin bow, he completes the team with his levitation skills, unflappable calm, and proper manners. But when a girl named Emily begins to spend time with the group, Theo is surprisingly drawn to her. She seems to understand the pull he feels between music and magic, between family and friends. Then a famous ventriloquist arrives in town, and the Misfits are sure he (and his creepy dummy) are up to no good.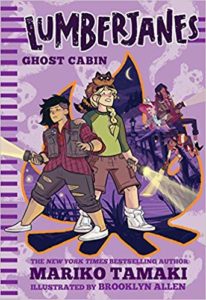 Lumberjanes: Ghost Cabin by Mariko Tamaki, illustrated by Brooklyn Allen
Welcome to Miss Qiunzella Thiskwin Penniquiqul Thistle Crumpet's Camp for Hardcore Lady Types. The five scouts of Roanoke cabin—Jo, April, Molly, Mal, and Ripley—love their summers at camp. They get to hang out with their best friends, earn Lumberjane scout badges, annoy their no-nonsense counselor Jen . . . and go on supernatural adventures. The last book of the novel series will shine the spotlight on inseparable couple Mal and Molly, who find an extra cabin at camp, one that's full of ghosts!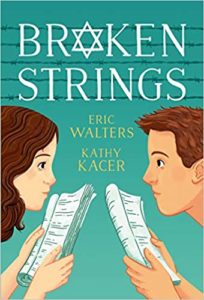 Broken Strings by Eric Walters and Kathy Kacer
t's 2002. In the aftermath of the twin towers — and the death of her beloved grandmother — Shirli Berman is intent on moving forward. The best singer in her junior high, she auditions for the lead role in Fiddler on the Roof, but is crushed to learn that she's been given the part of the old Jewish mother in the musical rather than the coveted part of the sister.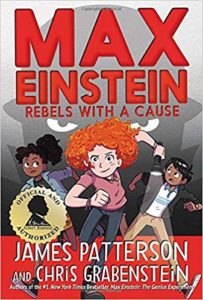 Max Einstein: Rebels With a Cause by James Patterson and Chris Grabenstein
Max Einstein's typical day is not your average 12-year-old's. She…
– TEACHES classes at a New York college
– Dodges KIDNAPPING attempts with her best friends
– Goes on SECRET MISSIONS for her billionaire boss
– Has a MYSTERIOUS CONNECTION to Albert Einstein
Just a day in the life of the Change Makers Institute's top agent!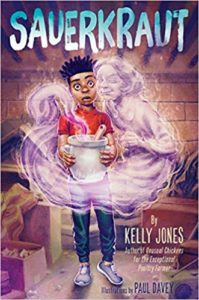 Sauerkraut by Kelly Jones, illustrated by Paul Davey
HD Schenk is a maker–an inventor, someone who builds cool stuff. He's got a plan for the summer: he'll build his own computer and enter it in the county fair. Then everyone will know who he is and what he can do. To earn enough money for the parts he'll need, HD has promised to clear out his uncle's overflowing basement. No big deal, right? But there's more in that basement than HD bargained for. On his first trip down there, a voice only he can hear starts talking to him. About…sauerkraut?
Malamander by Thomas Taylor, illustrated by Tom Booth
It's winter in the town of Eerie-on-Sea, where the mist is thick and the salt spray is rattling the windows of the Grand Nautilus Hotel. Inside, young Herbert Lemon, Lost and Founder for the hotel, has an unexpected visitor. It seems that Violet Parma, a fearless girl around his age, lost her parents at the hotel when she was a baby, and she's sure that the nervous Herbert is the only person who can help her find them. The trouble is, Violet is being pursued at that moment by a strange hook-handed man.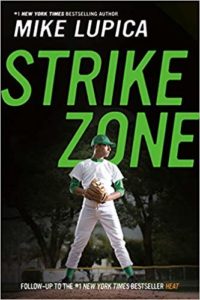 Strike Zone by Mike Lupica
Twelve-year-old star Little League pitcher Nick Garcia has a dream. Several in fact. He dreams he'll win this season's MVP and the chance to throw out the first pitch at Yankee Stadium. He dreams he'll meet his hero, Yankee's pitcher Michael Arroyo. He dreams they'll find a cure for Lupus so he sister won't have to suffer. But mostly, he dreams one day his family can stop living in fear of the government. For one kid, it's almost too much to bear.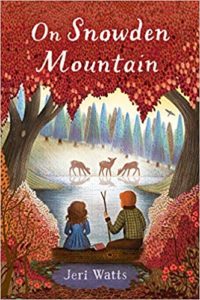 On Snowden Mountain by Jeri Watts
Ellen's mother has struggled with depression before, but not like this. With her father away fighting in World War II and her mother unable to care for them, Ellen's only option is to reach out to her cold, distant aunt Pearl. Soon enough, city-dwelling Ellen and her mother are shepherded off to the countryside to Aunt Pearl's home, a tidy white cottage at the base of Snowden Mountain. But even as she worries that depression is a family curse to which she'll inevitably succumb, Ellen slowly begins to carve out a space for herself and her mother on Snowden Mountain.
Surprising Stories Behind Everyday Stuff by National Geographic
Ever wonder how basketball got started? Why we have birthday cakes? And why some people use forks and some use chopsticks? Prepare to be amazed by the surprising backstories behind the things you use or do every day! From familiar foods to common clothing items to bizarre beauty regimens, this book covers all your burning questions: Who thought of that? Where did that come from? Why is that a thing?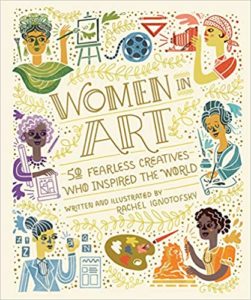 Women in Art: 50 Fearless Creatives Who Inspired the World by Rachel Ignotofsky
A charmingly illustrated and inspiring book, Women in Art highlights the achievements and stories of 50 notable women in the arts–from well-known figures like painters Frida Kahlo and Georgia O'Keefe, to lesser-known names like 19th-century African American quilter Harriet Powers and Hopi-Tewa ceramic artist Nampeyo. Covering a wide array of artistic mediums, this fascinating collection also contains infographics about artistic movements throughout history, statistics about women's representation in museums, and notable works by women.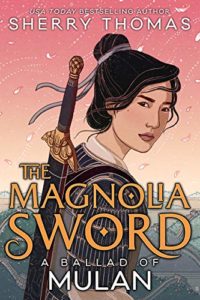 The Magnolia Sword: A Ballad of Mulan by Sherry Thomas
All her life, Mulan has trained for one purpose: to win the duel that every generation in her family must fight. If she prevails, she can reunite a pair of priceless heirloom swords separated decades earlier, and avenge her father, who was paralyzed in his own duel. Then a messenger from the Emperor arrives, demanding that all families send one soldier to fight the Rouran invaders in the north. Mulan's father cannot go. Her brother is just a child. So she ties up her hair, takes up her sword, and joins the army as a man.
Graphic Novel New Releases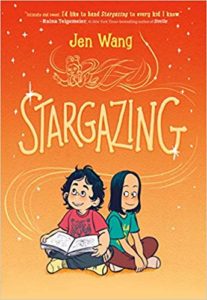 Stargazing by Jen Wang
Moon is everything Christine isn't. She's confident, impulsive, artistic . . . and though they both grew up in the same Chinese-American suburb, Moon is somehow unlike anyone Christine has ever known. But after Moon moves in next door, these unlikely friends are soon best friends, sharing their favorite music videos and painting their toenails when Christine's strict parents aren't around. Moon even tells Christine her deepest secret: that she has visions, sometimes, of celestial beings who speak to her from the stars. Who reassure her that earth isn't where she really belongs.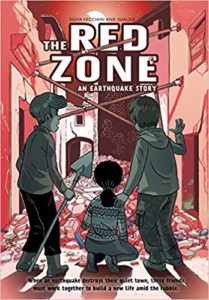 The Red Zone: An Earthquake Story by Silvia Vecchini and Sualzo
Matteo, Guilia, and Federico have ordinary lives: they spend time with friends, help out their families, go to school, and deal with the many mood swings that come with growing up. Then, in a single night, everything changes. The ground shakes. An earthquake devastates their town and their security. But after everything is gone, life must go on. Anger and fear affect everyone in the community, but each of them must find a way to begin again.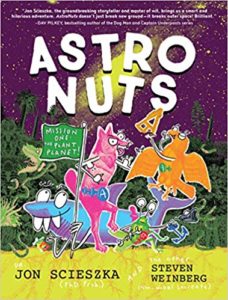 Astronuts Mission One: The Plant Planet by Jon Scieszka and Steven Weinberg
AstroWolf, LaserShark, SmartHawk, and StinkBug are animals that have been hybridized to find other planets for humans to live on once we've ruined Earth. So off they rocket to the Plant Planet! Will that planet support human life? Or do Plant Planet's inhabitants have a more sinister plan?
Activity Book New Release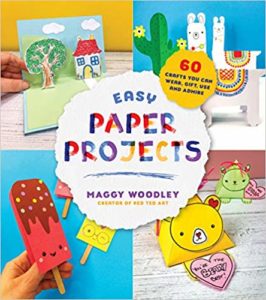 Easy Paper Projects by Maggy Woodley
Learn just how versatile paper can be when creating fun, colorful crafts. Whether you have plain printer paper, a rainbow array of cardstock or just a few scraps of construction paper, you'll be able to create inventive paper crafts that require only a few materials you already have, making them a thrifty and accessible alternative to more complicated projects.
One last thing: Don't forget to enter Book Riot's giveaway of the year's 10 best mystery/thrillers so far! Enter here!
I would love to know what you are reading this week! Find me on Twitter at @KarinaYanGlaser, on Instagram at @KarinaIsReadingAndWriting, or email me at karina@bookriot.com.
Until next time!
Karina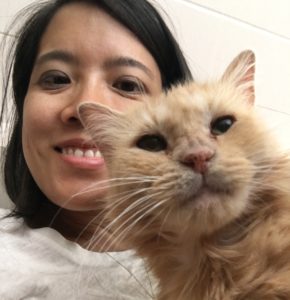 *If this e-mail was forwarded to you, follow this link to subscribe to "The Kids Are All Right" newsletter and other fabulous Book Riot newsletters for your own customized e-mail delivery. Thank you!*