Sponsored by hibooks - the club for audiobook lovers
Calling all audiobook nerds! The hibooks club is waiting for you. One membership gets you 1 free book to start and an additional catalog of audiobooks for unlimited listening. After all, we've got audiobooks. You've got ears. It's a perfect match!
Hola Audiophiles!
Ay ay ay, I think I jinxed myself. I was on an audiobook roll and then… splat. More packing, more cleaning, more dinners, more stops on my farewell tour as I prepare to finish this move to Portland (8 days!). It's cool though- we're going to chat about new releases, a backlist bump, and some other goings on in the world of audiobooks.
Ready? Let's audio.
---
Latest Listens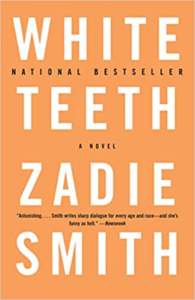 I thought I'd do a backlist rec for Zadie Smith's White Teeth, narrated by a full cast, just because I've been talking about this book a lot at the bookstore (yes, I am still working 2 jobs). Archie Jones and Samad Iqbal are two wartime friends (WWII) looking back on their friendship while navigating life in a London they've watched transform. It explores friendship, culture, race, class, colorism, and the aftermath of war. It's also absolutely hilarious.
One thing: the latest version of the audiobook has a completely different narrator than the one I listened to! While I enjoyed Jenny Sterlin's version plenty, I love a full cast recording and liked what I heard in the sample online. I think you're in for a treat.
New Releases – August 27 (publisher's descriptions in quotations).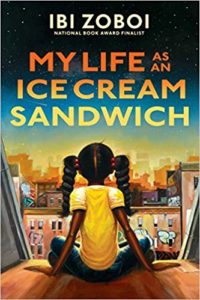 My Life as an Ice Cream Sandwich by Ibi Zoboi, narrated by the author – The author of American Street and Pride makes her middle grade debut with this title about twelve-year-old Ebony-Grace Norfleet. She was raised in Alabama by her grandfather, a NASA engineer who taught her to love space and science fiction. When extenuating circumstances force Ebony-Grace to go stay with her father in Harlem, she finds the place daunting. "But soon 126th Street begins to reveal that it has more in common with her beloved sci-fi adventures than she ever thought possible, and by summer's end, Ebony-Grace discovers that Harlem has a place for a girl whose eyes are always on the stars."
Narrator Noe: Ibi Zoboi put on the audiobook narrator hat for this one. I can't wait to hear her perform it!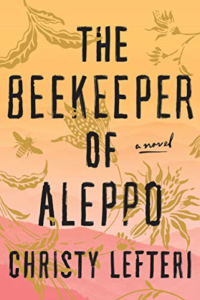 The Beekeeper of Aleppo by Christy Lefteri, narrated by Art Malik – When war erupts in Aleppo and destroys everything they love, a beekeeper and his artist wife must flee their beloved, broken Syria. The journey through Greece and Turkey is made all the more difficult by the wife's recent onset of blindness; the pair must make it to Britain for even a chance at survival, but even that future is beset with uncertainty.
Narrator Note: There's an actor by the named Art Malik who's starred in all sorts of stuff from Dr. Who and Sherlock to cinematic jewel True Lies. I'm pretty sure he is the same Art Malik who narrates this novel; that voice is so dreamy!
The Girl Who Lived Twice: A Lisbeth Salander Novel by David Lagercrantz, narrated by: Simon Vance – You know the deal here, right? This is the sixth book in the Stieg Larsson Millenium series, which David Lagercrantz took over after Larsson's death in 2004. Lisbeth Salander, the famed girl with the dragon tattoo, has disappeared, gone off the grid! What no one knows is that she's finally done it: she has her enemy twin sister Camila in her sights.
Narrator Note: If you've been keeping up with Lisbeth Salander, you'll recognize Simon Vance from the rest of the audiobooks in the series. He's also narrated Interview with the Vampire, Dune, Dracula, and Naomi Novik's Temeraire series, and that's not even the tip of the narration iceberg.
From the Internets
A piece in the Wall Street Journal on audiobooking and drowning out the "wah wah wah audiobooks don't count!" crowd.
Taron Egerton, star of Rocketman, will narrate the audiobook of Elton John's memoir. 
Libro.fm has rounded up this fall's most anticipated audiobooks. This list is hurting my brain, it's so good. Leigh Bardugo, Erin Morgenstern, Jaqueline Woodson, Tomi Adeyemi, Ta-Nehisi Coates, and more… excited yet?
Over at the Riot
Button Poetry audiobooks are now available! Slam poetry + audiobooks are just a natural fit.
---
That's all I got today! Shoot me an email at vanessa@riotnewmedia.com with audiobook feedback & questions or find me on Twitter and the gram @buenosdiazsd. Sign up for the In The Club newsletter, peep the Read Harder podcast, and watch me booktube every Friday too!
Stay bad & bookish, my friends.
Vanessa