Sponsored by Reading Eggs, a great early learning resource
Reading Eggs is a multi-award winning early learning resource and app that was developed by expert educators with over 30 years of experience. Put together by a team of elementary school teachers, writers and developers, Reading Eggs helps children become fluent and proficient readers. Tailored to each child's need, Reading Eggs is designed to be easy to follow, self-paced and highly engaging for children between the ages of 2-13. Incorporating Reading Eggs at home means children will gain confidence where they feel safe, laying the building blocks for long-term reading and academic success.
Hi Kid Lit Friends!
I'm back! Many thanks to the incredible Liberty Hardy who took over for a couple of weeks while I recovered from eye surgery. She is the best! I'm sure you enjoyed her incredible book recommendations as well as photos of her cats. If you want to see more from her, be sure to follow her on Twitter at @MissLiberty and on Instagram at @FranzenComesAlive. You can also listen to her fantastic Book Riot podcast, All the Books, here.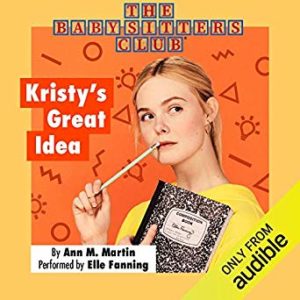 Okay, I am very excited to be back because guess what? Ann M. Martin's Baby-Sitter's Club books – all 131 of them – are now available as audiobooks! Audible released them last week on August 13th, with books 1-5 performed by Elle Fanning. Audible sent me a sneak peek of the first book, Kristy's Great Idea, and the tenth book, Logan Likes Mary Anne! They are super fun to listen to and a great addition to all of the new Babysitter's Club media out there. And whew, listening to them took me way back to when I devoured this series as a young reader!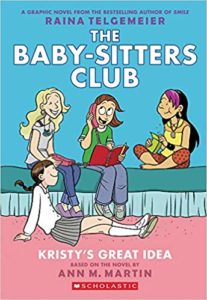 In addition to the original books, the books have been adapted into graphic novels by Raina Telgemeier and Gale Galligan. I love these graphic novel adaptations and think it's so great to see so many young readers today being introduced to this wonderful series. My kids, ages 9 and 11, love these books and have even started reading the original books after being introduced to them as graphic novels.
AND… did you know that Netflix is adapting the books into a 10-part series?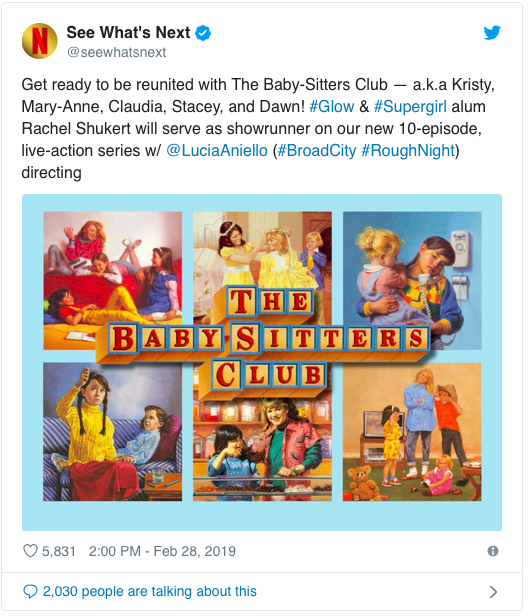 Read more about the announcement here!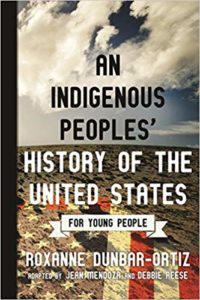 All right, enough geeking out about my favorite childhood book series; let me share a little bit about what I've been reading these past few weeks. The most important and thought-provoking book I read was An Indigenous Peoples' History of the United States for Young People, adapted by Jean Mendoza and Debbie Reese from the adult book by Roxanne Dunbar-Ortiz. This is a must-read book for everyone. I learned so much about indigenous peoples' history, and I am appalled by the huge gap in my education when it comes to this part of United States history. I am so grateful that this book exists and that my kids will be more well informed about indigenous history than I was.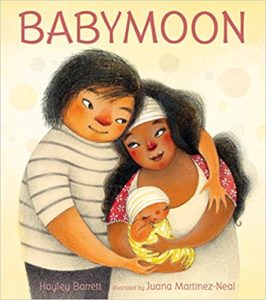 When I was on vacation in Maine last month, I went to many indie bookstores and bought some awesome picture books. One of those books was Babymoon by Hayley Barrett, illustrated by Juana Martinez-Neal. This is such a sweet story about a new baby's arrival. The word babymoon was originally coined by midwives to describe days at home with a newborn, with the world held at bay and the wonder of a new family constellation unfolding. This is such a lovely book, perfect for gift giving to new parents.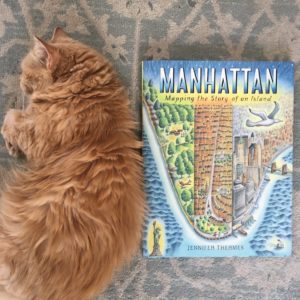 This fantastic book by Jennifer Thermes is perfect for anyone who loves New York City, history, and maps! Manhattan: Mapping the Story of an Island, is absolutely fantastic and so interesting. Thermes is a master map illustrator (she did the maps for the Vanderbeeker books!), and she covers topics such as immigration, the slave trade, and the people who built New York City. She demonstrates how a street plan projected the city's future, and how epic fires and storms led to major feats of engineering above and below ground. Highly recommended!
I would love to know what you are reading this week! Find me on Twitter at @KarinaYanGlaser, on Instagram at @KarinaIsReadingAndWriting, or email me at karina@bookriot.com.
Until next time!
Karina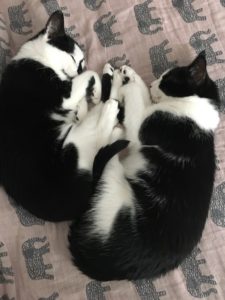 *If this e-mail was forwarded to you, follow this link to subscribe to "The Kids Are All Right" newsletter and other fabulous Book Riot newsletters for your own customized e-mail delivery. Thank you!*