Sponsored by Tor Books
Once again, prejudices against the use of chaos magic force Beltur and his companions to flee their refuge in Axalt. The rulers of nearby Montgren have offered them sanctuary and the opportunity to become the Councilors of the run-down and disintegrating town of Haven.
Montegren lacks any mages—white or black—making this seem like the perfect opportunity to start again.
However, Beltur and the others must reinstitute law and order, rebuild parts of the town, deal with brigands—and thwart an invading army.
Greetings from Dublin, shipmates! It's Alex, with your Friday newsletter, though forgive me if I'm a bit distracted. Opening ceremonies for WorldCon were last night and we're into the convention proper now. It's massive, sprawling, and I'm basically running in circles. Two more days until the Hugo Awards!
---
News and Views
Amazon has revealed the first batch of casting for the Wheel of Time series. I don't even go here, but my twitter list seems really happy about it.
Star Wars Barbies from Mattel!
In this week's SFF Yeah! podcast, Sharifah and Jen talk about non-human narrators.
Jeremy Renner has an "outdoor collection," which includes a bow?
This may be the best restaurant ad ever made.
If you had not heard about The Wise Man's Butt, well, you're welcome. Some days, Twitter is still a magical place.
There's going to be a novel about the Lowell factory girls and witches and I AM SO EXCITED Y'ALL.
If you're looking for books that have that quirky Good Omens flair, these seven might fit the bill.
Gormenghast is getting a TV adaptation on Showtime, with Neil Gaiman as one of the executive producers.
Okay, now I really need to see this movie: Richard Nixon and Vietnam are Scary Stories to Tell in the Dark's strangest monsters
Student fillmmakers in Nigeria are making really cool-looking short sci-fi films using cell phones and green-screens.
A UX expert reacts to sci-fi operating systems.
WorldCon kicked off by announcing the winners for the 1944 Retro-Hugos. (The retro-Hugos are retroactive Hugo awards given out to works that were published in years that no Hugo awards were given.)
Archaeologists found a wooden box near Pompeii with a ton of small artifacts in it.
Free Association Friday
Happy birthday, Taika Waititi! He's 44 years old today, and hopefully it's been a good one. In honor of his birthday, let's list some science fiction and fantasy that's humorous–with a twist. Because I think we could all do with a laugh these days. (Hard mode: avoiding the big names like Adams and Pratchett.)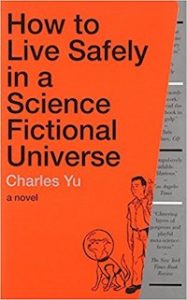 How to Live Safely in a Science Fictional Universe by Charles Yu puts us in Minor Universe 31, where a time travel technician (coincidentally also named Charles Yu) helps literally save people from themselves. Warcross by Marie Lu is more of a thriller by plot, about a hacker in a video game who gets tasked with infiltrating the extremely serious tournament for that game–but in the reading, it's brilliantly funny. Sarah Kuhn's Heroine Complex (and its sequels) gives us superhero novels with major heart, which are also pretty dang funny.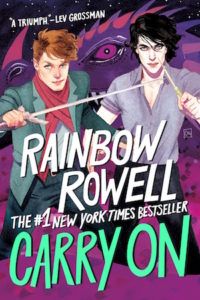 Rainbow Rowell's Carry On is about the worst Chosen One ever, and it's a ridiculous homage to Harry Potter. Patrick Ness's Some of Us Just Live Here takes a different angle at the chosen one, where the main character is definitely Not Chosen, and still has to deal with extraorindary circumstances from an ordinary life. Kill the Farm Boy by Delilah S. Dawson and Kevin Hearne is a much more straight-forward sendup of epic fantasy, and definitely belongs next to The Tough Guide to Fantasyland by Dianna Wynn Jones on any book shelf.
---
See you, space pirates. You can find all of the books recommended in this newsletter on a handy Goodreads shelf. If you'd like to know more about my secret plans to dominate the seas and skies, you can catch me over at my personal site.