Sponsored by Serial Box
Serial Box and Emmy® award-winning Tatiana Maslany are bringing back Orphan Black with Orphan Black: The Next Chapter. The new series catches up with the clones eight years after the events of the show in an ever changing and challenging world.
When a dangerous genetic technology is stolen and an unknown clone appears, biologist Cosima and her sestras, Sarah Manning and Alison Hendrix, along with other familiar (and not so familiar) faces, are forced out of their fiercely protected private lives to stop a global disaster.
Yo ho, happy Tuesday, my merry marauders. It's Alex, with a good crop of new releases even though we're at that weird animal known as the fifth Tuesday in a month. I've also got an assortment of news for you… and before we get started, I have to share this thing that Brooke Bolander (who gave us The Only Harmless Great Thing) shared on Twitter, because it's super intense, actually true, and I'm still obsessed with it: "The Man Who Rode the Thunder" which is about a pilot who had to emergency eject at about 50,000 feet and then fell through a thunderstorm.
New Releases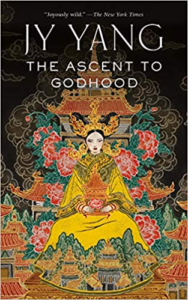 Ascent to Godhood by JY Yang – In the fourth book of the Tensorate series, the Protector is dead… and one woman is both her greatest enemy and her greatest mourner. (Look, if you have not read this amazing, queer series, do yourself a favor and start with The Black Tides of Heaven.)
Shatter the Sky by Rebecca Kim Wells – "Raised among the ruins of a conquered mountain nation, Maren dreams only of sharing a quiet life with her girlfriend Kaia—until the day Kaia is abducted by the Aurati, prophetic agents of the emperor, and forced to join their ranks. Desperate to save her, Maren hatches a plan to steal one of the emperor's coveted dragons and storm the Aurati stronghold."
The Merciful Crow by Margaret Owen – An undertaker of the Crow caste comes to collect the body of a Prince and finds that he has faked his own death. (The tagline on this is wonderful: "One way or another, we always feed the crows.")
Rotherweird by Andrew Caldecott – An outsider arrives in Rotherweird, a town started long ago by twelve children with unearthly powers who were exiled by Elizabeth I.
The Ember Blade by Chris Wooding – A young man is imprisoned after his father is executed for treason. He's rescued by a man who hates him and is oath-bound to protect him; on the run, his next task is to steal the fabled Ember Blade and inspire a revolution.
News and Views
Congratulations to the World Fantasy Award finalists! (Moment of personal squee: An anthology that I have a short story in, Sword and Sonnet, is a finalist.) The novel list is GREAT:
In the Night Wood by Dale Bailey
The Mere Wife by Maria Dahvana Headley
The Poppy War by R.F. Kuang
Witchmark by C.L. Polk
Trail of Lightning by Rebecca Roanhorse
Gorgeous new cover art for Susan Dennard's Witchlands series. (You can already see it on Bloodwitch.)
50 must-read fantasy books by women.
If you're in a post-Stranger Things monster slump, here are some books that will help you out.
Everything makes me more hype about the oncoming superheroes-via-fast-cars Hobbs & Shaw: the world premiere had dueling red carpets for the two guys in the title.
By the way, the writer of most of The Fast and the Furious movies says that vroom vroom in space is not out of the question. DO IT YOU COWARDS.
More details about Carnival Row coming out. It's already been renewed for a second season and it hasn't been released yet.
Orlando Bloom won't be in Amazon's Lord of the Rings series, partly because he says he's too old to be Legolas again.
Wireless is asking the important questions: Will Heroes in Loincloths Ever Make a Comeback?
A takedown of the face-touching trope that gets used way too often when blind characters are involved.
Researchers have improved on a commercial prosthetic hand so that it has a lighter touch and a sense of touch… and named it LUKE.
The French Army is hiring science fiction writers to creatively identify future threats.
Science fiction is real alert: Scientists can now build feedback circuits in cells.
Here's a really cool time-lapse video of a storm.
Today in extremely depressing but important: Many Animals Can't Adapt Fast Enough to Climate Change
See you, space pirates. You can find all of the books recommended in this newsletter on a handy Goodreads shelf. If you'd like to know more about my secret plans to dominate the seas and skies, you can catch me over at my personal site.