Hi mystery fans! Let's say goodbye to July with a fun serial killer novel, a great legal mystery, and a slow-burn suspense about secrets.
---
Sponsored by The Hound of Justice by Claire O'Dell.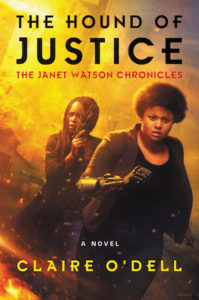 After the Brotherhood of Redemption extremists launched a failed assassination attempt on the president that caused mass destruction, covert agent Sara Holmes takes on the task of investigating the Brotherhood – then abruptly disappears. When Dr. Janet Watson receives a mysterious message that Holmes' disappearance might be connected to the Brotherhood and to Adler Industries, Watson goes on a high-stakes mission to reunite with Holmes once more. It is a thrilling, action-packed journey through the deep South to clear Holmes's name, thwart the Brotherhood's next move, and bring their nemesis to justice for the atrocities she's committed in the New Civil War.
---
Fun Serial Killer! (TW child abuse/ stalking/ suicide/ past domestic abuse mentioned)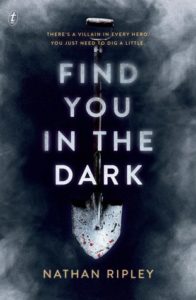 Find You In The Dark by Nathan Ripley: This really worked for my need for a novel that would let me disconnect from stress and all the horrible things happening, which you may be raising an eyebrow at me considering this is a serial killer book but it's like watching shows like Castle and Dexter where it isn't believable enough so it gets to be fun. Yes, you can judge me. Anyhoo, I really liked the premise of this one: Martin Reese pays a cop for unsolved cases and then solves the part of finding where the body is buried, which he then calls into the cops anonymously. No one, including his wife and teen daughter, know what he does. But he's only going to get to play vigilante for so long before he'll have to answer questions and possibly pay with his life because his crooked cop partner is questioning their arrangement and a killer is not happy with him finding buried bodies… I like that this gave us a romantic relationship between two cops looking into this case–including the hardship of dating in their profession–and a balance between Martin's body-hunting/mental rationalizing he's doing good work and his relationship with his wife and daughter.
Legal Mystery! (TW child murder/ discussion of statutory rape/ pedophile/ homophobia/ fat shaming/ suicide)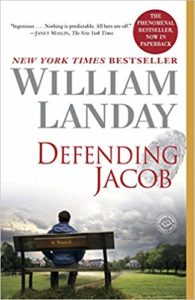 Defending Jacob by William Landay: This is one of those solid mysteries from beginning to end that follows an assistant district attorney working on a murdered teen boy case when his son is arrested for the crime. I know! It takes you through the whole thing, which procedural fans will appreciate, as Andy Barber works on the case–from interviewing fellow students of the murdered child to harassing a pedophile he thinks is responsible–then follows as he has to hire a lawyer for his son's defense case, that case, and him being a witness in court. You get a lot of good court scenes, an entire book of "did he or didn't he," and a look at how something like this affects and changes a family. I'm really looking forward to the upcoming Apple streaming adaptation of this book which will have Chris Evans playing Andy Barber–so very much here for his "my kid didn't do it" portrayal. And Michelle Dockery will play the wife, whose character I loved and she's fantastic in Good Behavior so really we're about to find out how good Apple is at adaptations.
Slow-burn Suspense! (TW past domestic violence/ fat shamming/ alcoholism/ eating disorder/ statutory rape)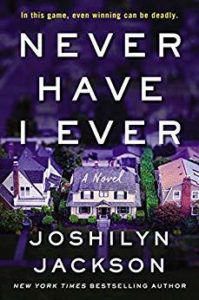 Never Have I Ever by Joshilyn Jackson: If you've been following along for a bit you know I like a lot of things in this book: slow reveal of past incident; secrets coming to get you; slow-burn suspense; interesting job. And since I read a lot of these types of novels it's always a bonus to find one that feels different in a way. This one surprised me with a few turns it took and I really loved the stepmother and daughter relationship which in itself went against the tired evil-mom trope. We start with a group of women at a book club who end up playing a "have you ever" type game that has ramifications when one woman uses it to blackmail another woman: Amy Whey, a scuba instructor and mom, is suddenly faced with the predicament of what would she do to keep her past a secret? Except this isn't the over-the-top Lifetime thriller type plot (not that I don't like those too) which looks at quite a few things including how long do we have to pay for terrible mistakes? This one works really well for fans of slow-burn suspense, secrets, and domestic dramas. I also really enjoyed the audiobook–narrated by the author!–which is one of the very few audiobooks where child voices are done that did not annoy me at all!
Recent Releases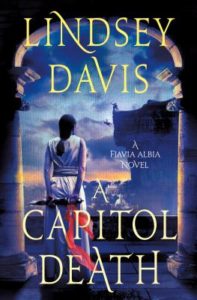 A Capitol Death (Flavia Albia Mystery #7) by Lindsey Davis (Historical mystery set in ancient Rome that caught my attention so I just got the first in the series: The Ides of April.)
Someone We Know by Shari Lapena (In a NY suburban neighborhood a teen has been breaking into homes and learning everyone's secrets… Author of The Couple Next Door and An Unwanted Guest.)
My Sister, the Serial Killer by Oyinkan Braithwaite (Paperback) (One of my favorite reads–Review) (TW child abuse/ domestic abuse/ rape)
Browse all the books recommended in Unusual Suspects previous newsletters on this shelf. And here's an Unusual Suspects Pinterest board.
Until next time, keep investigating! And in the meantime, come talk books with me on Twitter, Instagram, and Litsy–you can find me under Jamie Canavés.
If a mystery fan forwarded this newsletter to you and you'd like your very own you can sign up here.