Hi Kid Lit Friends!
I have really loved the many new picture books coming out in the last few years about hair. These books are beautifully illustrated and sensitively written, and I think readers young and old will love them! Check these out and let me know what you think.
---
Sponsored by TBR: Tailored Book Recommendations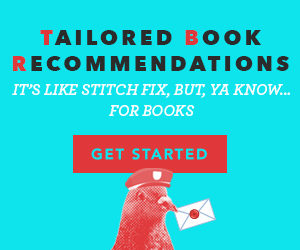 TBR is Book Riot's new subscription service offering Tailored Book Recommendations for readers of all stripes. Been dreaming of a "stitchfix for books?" Now it's here! Tell TBR about your reading preferences and what you're looking for, and sit back while your Bibliologist handpicks recommendations just for you. TBR offers plans to receive hardcover books in the mail or recommendations by email, so there's an option for every budget. Sign up here.
---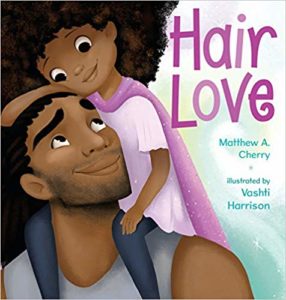 Hair Love by Matthew Cherry, illustrated by Vashti Harrison
Zuri's hair has a mind of its own. It kinks, coils, and curls every which way. Zuri knows it's beautiful. When Daddy steps in to style it for an extra special occasion, he has a lot to learn. But he LOVES his Zuri, and he'll do anything to make her — and her hair — happy. Tender and empowering, Hair Love is an ode to loving your natural hair — and a celebration of daddies and daughters everywhere.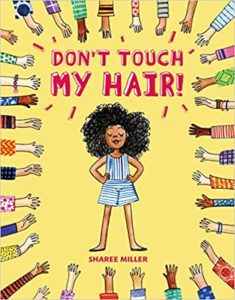 Don't Touch My Hair! by Sharee Miller
It seems that wherever Aria goes, someone wants to touch her hair. In the street, strangers reach for her fluffy curls; and even under the sea, in the jungle, and in space, she's chased by a mermaid, monkeys, and poked by aliens…until, finally, Aria has had enough! Author-illustrator Sharee Miller takes the tradition of appreciation of black hair to a new, fresh, level as she doesn't seek to convince or remind young readers that their curls are beautiful–she simply acknowledges black beauty while telling a fun, imaginative story.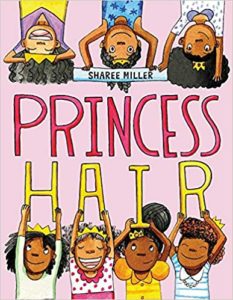 Princess Hair by Sharee Miller
Celebrate different hair shapes, textures, and styles in this self-affirming picture book! From dreadlocks to blowouts to braids, Princess Hair shines a spotlight on the beauty and diversity of black hair, showing young readers that every kind of hair is princess hair.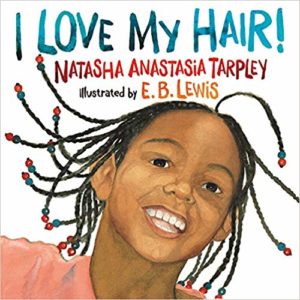 I Love My Hair! by Natasha Anastasia Tarpley, illustrated by E.B. Lewis
In this imaginative, evocative story, a girl named Keyana discovers the beauty and magic of her special hair, encouraging black children to be proud of their heritage and enhancing self-confidence. I Love My Hair! has been a staple in African-American picture books for 20 years, and now has a fresh, updated cover that shines on the shelves!
Big Hair, Don't Care by Crystal Swain-Bates, illustrated by Megan Bair
This beautifully illustrated picture book encourages children of African descent to feel good about their hair, no matter how different it may be from other kids'. Main character Lola has really big curly hair, much bigger than the other kids at her school. Although her big hair often causes kids to stare, and sometimes her big curls cause her to lose at hide and seek, that doesn't stop her from telling anyone who will listen just how much she LOVES her hair!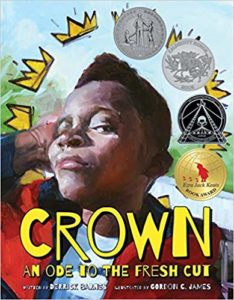 Crown: An Ode to the Fresh Cut by Derrick Barnes, illustrated by Gordon C. James
The barbershop is where the magic happens. Boys go in as lumps of clay and, with princely robes draped around their shoulders, a dab of cool shaving cream on their foreheads, and a slow, steady cut, they become royalty. That crisp yet subtle line makes boys sharper, more visible, more aware of every great thing that could happen to them when they look good: lesser grades turn into As; girls take notice; even a mother's hug gets a little tighter. Everyone notices. A fresh cut makes boys fly.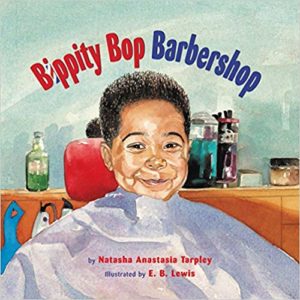 Bippity Bop Barbershop by Natasha Anastasia Tarpley, illustrated by E.B. Lewis
In this companion book to the bestselling I Love My Hair, a young boy, Miles, makes his first trip to the barbershop with his father. Like most little boys, he is afraid of the sharp scissors, the buzzing razor, and the prospect of picking a new hairstyle. But with the support of his dad, the barber, and the other men in the barbershop, Miles bravely sits through his first haircut. Written in a reassuring tone with a jazzy beat and illustrated with graceful, realistic watercolors, this book captures an important rite of passage for boys and celebrates African-American identity.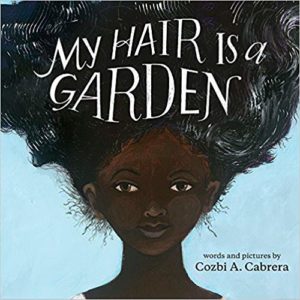 My Hair is a Garden by Cozbi A. Cabrera
After a day of being taunted by classmates about her unruly hair, Mackenzie can't take any more and she seeks guidance from her wise and comforting neighbor, Miss Tillie. Using the beautiful garden in the backyard as a metaphor, Miss Tillie shows Mackenzie that maintaining healthy hair is not a chore nor is it something to fear. Most importantly, Mackenzie learns that natural black hair is beautiful.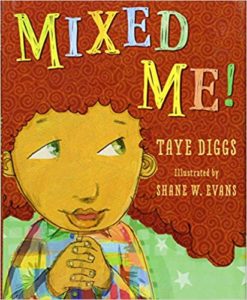 Mixed Me! by Taye Diggs, illustrated by Shane W. Evans
Mom and Dad say I'm a blend of dark and light:
"We mixed you perfectly, and got you just right."
Mike has awesome hair. He has LOTS of energy! His parents love him. And Mike is a PERFECT blend of the two of them. Still, Mike has to answer LOTS of questions about being mixed. And he does, with LOTS of energy and joy in this charming story about a day in the life of a mixed-race child.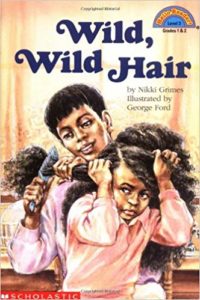 Wild, Wild Hair by Nikki Grimes, illustrated by George Ford
Hating having to get her wild hair painfully combed and braided every Monday, Tisa decides to hide, but once her hair is done, she loves it so much that her mother cannot tear her away from the mirror.
I would love to know what you are reading this week! Find me on Twitter at @KarinaYanGlaser, on Instagram at @KarinaIsReadingAndWriting, or email me at karina@bookriot.com.
Until next time!
Karina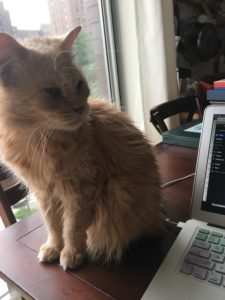 *If this e-mail was forwarded to you, follow this link to subscribe to "The Kids Are All Right" newsletter and other fabulous Book Riot newsletters for your own customized e-mail delivery. Thank you!*