Welcome to Check Your Shelf! This is your guide to help librarians like you up your game when it comes to doing your job (& rocking it).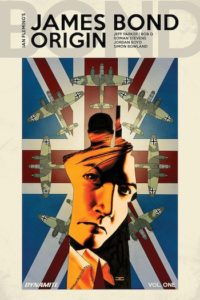 "Check Your Shelf" is sponsored by Dynamite Entertainment.
MARCH, 1941: Seventeen-year-old James Bond is a restless student in Scotland, an orphan, eager to strike out and make his mark on the world. But a visit by an old family friend coincides with THE CLYDEBANK BLITZ, the most devastating German attack on Scotland during the War. James will fight through hell to survive, coming out the other side determined to make a difference. He'll find his calling in a new British government service, secret in nature.
---
Libraries & Librarians
News Updates
Cool Library Updates
Worth Reading
Book Adaptations in the News
Collection Development Corner
Publishing News
New & Upcoming Titles
What Your Patrons Are Hearing About
RA/Genre Resources
Books & Authors in the News
A Texas high school banned the comic anthology Love is Love due to "extreme homosexuality."
If you haven't heard about the drama surrounding the New Hampshire poet laureate, the NH governor had a choice between an established literary writer, and a retired dentist who wrote poetry about sex with Condoleezza Rice. Guess who he picked?
Numbers & Trends
Award News
Pop Cultured
San Diego Comic Con
All Things Comics
Audiophilia
Book Lists, Book Lists, Book Lists
Children/Teens
Adults
Bookish Curiosities
Level Up (Library Reads)
Do you take part in LibraryReads, the monthly list of best books selected by librarians only? We've made it easy for you to find eligible diverse titles to nominate. Kelly Jensen created a database of upcoming diverse books that anyone can edit, and Nora Rawlins of Early Word is doing the same, as well as including information about series, vendors, and publisher buzz.
Thanks for hanging, and I'll see you next week!
–Katie McLain Horner, @kt_librarylady on Twitter. Currently reading The Need by Helen Phillips.