Hola Audiophiles!
Can you hear me?! I'm over here under this pile of moving boxes! I'm packing up my life as I get ready to haul it all to Portland, waging a war against time, cardboard, paper cuts, and the dimensions of a moving van.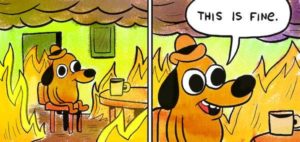 Because I love a bit of escapism when stress starts to mount (WHAT STRESS WHO IS STRESSED EVERYTHING IS FINE), this week's theme is fantasy audiobooks. Magical librarians! Dangerous books! Demons who wear tuxedos when they aren't posing as cats!! All of that is in my latest listen, and I'll hit you with some bonus recs.
Ready? Let's audio.
---
Sponsored by TBR: Tailored Book Recommendations.
TBR is Book Riot's new subscription service offering Tailored Book Recommendations for readers of all stripes. Been dreaming of a "stitchfix for books?" Now it's here!
Tell TBR about your reading preferences and what you're looking for, and sit back while your Bibliologist handpicks recommendations just for you. TBR offers plans to receive hardcover books in the mail or recommendations by email, so there's an option for every budget. Sign up here.
---
Latest Listens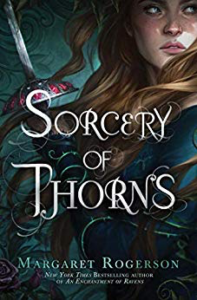 Sorcery of Thorns by Margaret Rogerson, narrated by Emily Ellet – Orphaned Elisabeth Scrivener was raised in a magical library where she's apprenticing to be a Warden, a sword-wielding protector against sorcery and monstrous books. When her mentor and library Director is found dead, Elizabeth's attempts at intervention get her labeled as a traitor. When she's hauled off to the capital to learn her fate, something smells like sabotage: the good guys might be bad guys and the bad guys might be good guys, like the sorcerer she thought to be evil who suddenly looks maybe sort of kissable? She'll have to enlist his help to clear her name and crack a decades' old conspiracy, with a couple of demon companions along for the ride.
Narrator Note: Emily Ellet is new to me, but you might know her from R.J. Palacio's White Bird or What My Mother and I Don't Talk About by Mchele Filgate. So far I really dig the voice she gives to sorcerer Nathaniel Thorn in particular. It's really dudely but serves to remind me that Thorn is only 18 and thus an acceptable love match for 16-year-old Elizabeth.
Other fantasy audiobooks you might enjoy:
The Six of Crows series by Laigh Bardugo – A merry band of (maybe criminal?) misfits come together for the one heist to rule them all, one none of them can afford to refuse. Narrated by an ensemble cast that perfectly matches each of these dynamic characters
Nocturna by Maya Motayne, narrated by Kyla Garcia – A Latinx-inspired fantasy featuring a face-shifting thief and a grieving prince who accidentally unleashes a terrible evil. Fun! I've critiqued some of Kyla Garcia's other work, but think she did an overall great job here.
The Invisible Library series by Genevieve Cogman, narrated by Susan Duerden – Yes, more magical librarians! Well, sort of. In this first installment of the Invisible Library series, the Library is a mysterious organization and librarian Irene is one of its secret agents. You get stolen books, forbidden cities, even a dragon to keep things interesting. I love this narrator so much! Feels like the voice behind the elevator at the Ministry of Magic: "Department… of Mysteries."
Listens on Deck
So… about that moving grind. My reading is taking a big hit right now, though I audio when I can. I need something to keep me motivated while I pack, clean, and organize: maybe a super funny listen, a riveting thriller, or a gripping piece of true crime?
Titles I'm toying with are:
The Silent Patient by Alex Michaelides
I Was Told There'd be Cake by Sloane Croasley
Bad Blood by John Carreyrou (I know, I know: I've been slippin'!)
Thoughts?
From the Internets
Feeling romantic? Peep this roundup of YA summer romance audiobooks from AudioFile.
Oh happy day! Your Libby audiobooks work with Apple CarPlay.
Audible is rolling out a captions feature and publishers are big mad. Decide for yourself, but I do think they may have a point.
Over at the Riot
My Read Harder podcast buddy Tirzah Price joined Matthew Winner on this week's Kidlit These Days! The episode is all about kid lit and audiobooks: lots of amazing recs plus links to relevant info on audiobooks + children's literacy.
A piece from editor Kelly Jensen on her audiobook reading life: how audiobooks transcend format and her own habits.
---
That's all I got today! Shoot me an email at vanessa@riotnewmedia.com with audiobook feedback & questions or find me on Twitter and the gram @buenosdiazsd. Sign up for the In The Club newsletter, peep the Read Harder podcast, and watch me booktube every Friday too!
Stay bad & bookish, my friends.
Vanessa