Editor's Note: We apologize for the delay–The Kids Are All Right was sent to a different list in error yesterday.
---
Hi Kid Lit Friends,
Happy new book Tuesday! I hope you've been having a fantastic beginning of the week. I just got back from a week and a half in beautiful Maine, and it's nice to be home in hot, muggy New York City. 🙂
It's Tuesday, so I've got new releases to share with you today! As always, if I've had the chance to read one of these new releases and loved it, I marked it with a 
. Please note that all descriptions come from the publisher.
---
Sponsored by Fox Chapel Publishing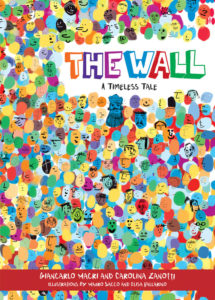 The Wall: A Timeless Tale, written by Giancarlo Macrì and Carolina Zanotti and illustrated by Mauro Sacco and Elisa Vallarino, is a lively and relevant story for children to learn the importance of a diverse society. When a king banishes everyone who looks different than him to the other side of the wall, he soon realizes his kingdom isn't what it used to be. Once flourishing with artists, astronomers, and everyone in between, now, there is no one. After seeing how lonely his side of the wall has become, he eventually arrives at a new appreciation for his diverse kingdom.
---
Picture Book New Releases
 Ginny Goblin Cannot Have a Monster for a Pet by David Goodner, illustrated by Louis Thomas
Perhaps a pet will teach clever Ginny Goblin some responsibility. Fish make good pets. So do hermit crabs. Ginny does NOT need a giant net or bear trap or army tank to catch a pet. But will Ginny Goblin get her way? Besides, isn't a monster a perfect pet for a goblin? In this funny follow-up to Ginny Goblin Is Not Allowed to Open This Box, one thing is for certain: Ginny Goblin always has a plan.
Backlist bump: Little Owl's Night by Divya Srinivasan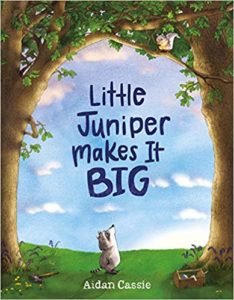 Little Juniper Makes It Big by Aidan Cassie
What Juniper lacks in size, she makes up for in heart. And her heart is dead-set on growing up and getting taller. She's tired of having to reach for the cookie jar or use a stepping stool for the toilet. Everything in Juniper's world seems to be made for adults. Ugh! Juniper is industrious, however, and builds several silly contraptions to help reach her goals. But it isn't until she makes a fun new friend at school, Clove, who is even smaller than Juniper, that she is able to see her world from a new perspective―and appreciate all sizes, big or small.
Backlist bump: Gaston by Kelly DiPucchio, illustrated by Christian Robinson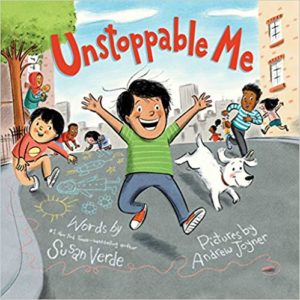 Unstoppable Me! by Susan Verde, illustrated by Andrew Joyner
Unstoppable Me is about the sort of energetic child we all know and love ― full of fun and play…and a bit exhausting! In this book, we see an unstoppable little boy, run, jump, and soar through his day. He takes a little time to refuel, then he's back at it―zooming and zipping around. This poetic, joyful book―filled with illustrations as bright and energetic as the boy himself― is a celebration of the active child.
Backlist bump: I Am Enough by Grace Byers, illustrated by Keturah A. Bobo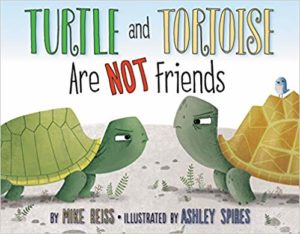 Turtle and Tortoise Are Not Friends by Mike Reiss, illustrated by Ashley Spires
Ever since they were little hatchlings, Turtle and Tortoise decided that they'd forever be separated due to their different shells. As years and years go by, the two reptiles stay on opposites side of the pen and embark on their own adventures, while holding an everlasting grudge. Until one day, Turtle and Tortoise get into a bit of pickle and need each other's help!
Backlist bump: Turtle Knows Your Name by Ashley Bryan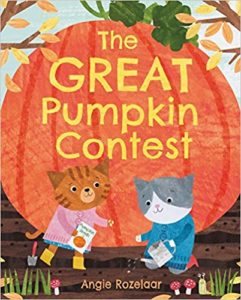 The Great Pumpkin Contest by Angie Rozelaar
Mimi and Clara are neighbors. Both cats want to win this fall's Great Pumpkin Contest. As the competition draws near, Mimi's pumpkin grows larger…and larger…and LARGER. And soon the pumpkin—and her worries—are bigger than she imagined. Can Clara help Mimi find her way? With adorable artwork from author and illustrator Angie Rozelaar of Planet Cat Studio, The Great Pumpkin Contest is a perfect Halloween story, and a reassuring reminder that even in a competition, friendship always comes first.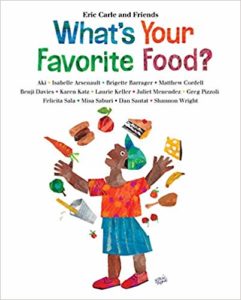 What's Your Favorite Food? by Eric Carle and Friends
Everybody has a favorite food. Some enjoy sweet treats like rich honey or ripe, juicy berries. Others prefer the savory comforts of warming matzo ball soup or creamy chicken Alfredo. With beautiful illustrations and charming personal stories, fourteen children's book artists share their favorite foods and why they love them. Artists include: Aki, Isabelle Arsenault, Brigette Barrager, Matthew Cordell, Benji Davies, Karen Katz, Laurie Keller, Juliet Menendez, Greg Pizzoli, Misa Saburi, Felicita Sala, Dan Santat, Shannon Wright.
Backlist bump: Bee-bim Bop! by Linda Sue Park, illustrated by Ho Baek Lee
Middle Grade New Releases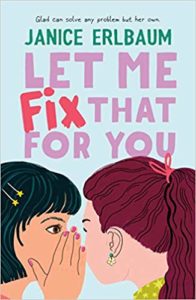 Let Me Fix That For You by Janice Erlbaum
Twelve-year-old Gladys Burke may not have many friends, but at least she has her empire. From her table at the back of the cafeteria, Glad arranges favors for her classmates in exchange for their friendship. She solves every problem, handles every situation, and saves every butt. But the jobs keep getting harder, and when Glad decides the problem that most needs fixing is her parents' relationship, she finds herself in way over her head. She'll have to call in all her favors and use all her skills to help the person who most needs it―herself.
Backlist bump: It All Comes Down to This by Karen English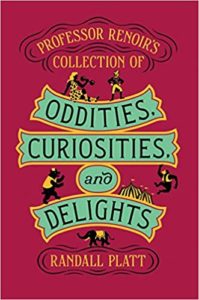 Professor Renoir's Collection of Oddities, Curiosities, and Delights by Randall Platt
By her fourteenth birthday, Babe Killingsworth measures 6ʹ9ʺ and weighs 342 pounds. In 1896, what other options does a giant have but to join a carnival? Her only real talent is handling animals: "Critters is folks to me." The cheap outfit her feckless father sells her off to offers critters galore; an escape from Neal, Idaho; and a bit of fame. It also opens the doorway to exploitation and neglect. But Babe's love for Euclid (a chimp) and Jupiter (a bear) keeps her anchored, and in Professor Renoir's Collection of Oddities, Curiosities, and Delights, she is among her own kind.
Backlist bump: Circus Mirandus by Cassie Beasley
I would love to know what you are reading this week! Find me on Twitter at @KarinaYanGlaser, on Instagram at @KarinaIsReadingAndWriting, or email me at karina@bookriot.com.
Until next time!
Karina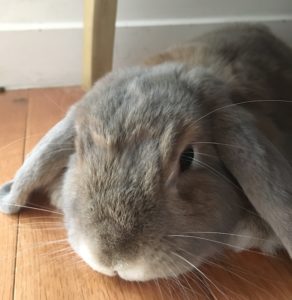 *If this e-mail was forwarded to you, follow this link to subscribe to "The Kids Are All Right" newsletter and other fabulous Book Riot newsletters for your own customized e-mail delivery. Thank you!*