Happy new release day, me hearties! It's already Tuesday again–who let that happen?–so it's me, Alex, with your new releases and some news. But I want to start you off with two things I saw on Twitter just now that made me howl with laughter: A thread of "Authentic catlike poses I am looking forward to seeing replicated on Catwoman covers" and this short video from Chris Hemsworth.
---
This newsletter is sponsored by Tor Books.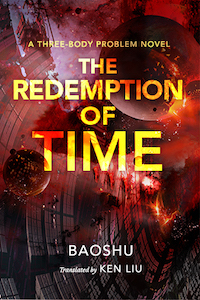 Set in the universe of the New York Times bestselling Three-Body Problem trilogy, The Redemption of Time continues Cixin Liu's multi-award-winning science fiction saga. This original story by Baoshu—published with Liu's support—envisions the aftermath of war between humanity and the extraterrestrial Trisolarans.
Yun Tianming found himself on the front lines of an interstellar war. Captured and tortured beyond endurance for decades, Yun succumbed to helping the Trisolarans subjugate humanity in order to save Earth from destruction. Nearing the end of his existence, Yun is recruited to fight an entity that threatens the universe––but Yun has a plan to save humanity's future…
---
New Releases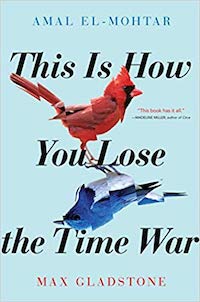 This Is How You Lose the Time War by Amal El-Mohtar and Max Gladstone – Can't summarize it better than this: "Two time-traveling agents from warring futures, working their way through the past, begin to exchange letters—and fall in love."
The Rage of Dragons by Evan Winters – The Omehi people are caught in an endless war; the entire culture is set for war and only war. A young man with no magical gifts intends to get himself injured so he can escape his fate as fodder for war–but when the people closest to him are brutally murdered, he fixates on revenge and changes his path forever.
The Unforseen by Molly Gloss – A career retrospective anthology of short stories, with three new stories.
The Border Keeper by Kerstin Hall – A man enters the underworld by striking a deal with the "end-of-the-line-woman" at its entrance; the chaotic realm of warring gods and demons he finds contains secrets that threaten the land of the living.
Avatar, the Last Airbender: The Rise of Kyoshi by F.C. Yee – The origin story of the longest-living Avatar, Kyoshi.
News and Views
Jeannette Ng (author of Under the Pendulum Sun) wrote a great piece about Mulan, "authenticity," and retellings.
Don Cheadle has joined the cast of Space Jam 2.
A new species of fairy wrasse has been named in honor of Black Panther.
Holy wow, Paradise Hills looks GORGEOUS.
Tor.com started some shit on Twitter by asking if Godzilla is a dragon; the controversy is documented here. I am personally shocked and appalled that they did not include the definitive tweet on the topic, authored by my agent, DongWon Song.
Amazon is making a Lord of the Rings MMO.
Dare you take the hardest Lord of the Rings quiz?
Derek Kolstad, who created John Wick, has joined the writing team for the Marvel Falcon and the Winter Soldier series.
Take with an appropriately-sized grain of salt, but the Daily Mail is claiming Lashana Lynch will be the next 007.
Hayabusa 2 landed successfully on the asteroid Ryugu!
See you, space pirates. You can find all of the books recommended in this newsletter on a handy Goodreads shelf. If you'd like to know more about my secret plans to dominate the seas and skies, you can catch me over at my personal site.