Well, folks. Monday just keeps happening. But I've been reading some great books recently and I can't wait to tell you about a couple of them.
---
Sponsored by Book Riot's Amazon store. Shop our favorite summer reads (including some of our favorite books of 2019 so far), bookish accessories, deals, and more.
---
News and Useful Links
If you haven't yet heard, The cast of the Shondaland Netflix adaptation of Julia Quinn's Bridgertons series (I think, from the articles, that it's just going to be called "Bridgerton") has been announced, and the conversation on all avenues is…interesting. From the dog-whistly "just doesn't look like I envisioned him" to the straight-up racist and uninformed "black people in Regency England were not a thing," a lot of people had thoughts. Of course, a lot of people were excited or definitely more interested now—Regé-Jean Page, cast to play Simon, the hero of The Duke and I, is an incredibly attractive man, for one. Also, anyone who got prematurely to Still Star Crossed knows how much Shonda cares about the white-centric norm.
But you don't have to listen to me talk about it; instead read this fantastic post by Talia Hibbert, who is black, British, and a romance writer.
There was another conversation that happened after this announcement, though. And it was about the fact that a book series by an author who purported that including people of color in her books would be historically inaccurate was now using black bodies to appeal to more viewers, or at least a different audience. I admit to being torn. One can only hope that this gateway opens mainstream production companies up to adapting more series by authors of color, instead of taking a brown crayola to another property.
(BTW: If you're like me and need a little more context than just actor/character names, here's a great Shondaland thread listing the characters and their actors.)
In other news, are you an aspiring romance writer from an underrepresented group? Check out this new mentorship Harlequin has pulled together.
Speaking of worlds that have been whitewashed in romance: Have y'all seen the cover of Rebekah Weatherspoon's upcoming Sleeping Beauty+Black Cowboys romance?
I don't know what's been going on at The Daily Beast recently, but they've definitely upped their game with romance-adjacent content. And this one? Of course we knew sexy romance novels were good for teenage brains. We were some of those teenagers who were learning from them. (Some of us, anyway.)
Oh hey, the Great Big Romance Read is happening again this fall! Trisha and I will be participating on When In Romance, and I'm really looking forward to talking All Things Celestial Mechanics in a couple months!
Deals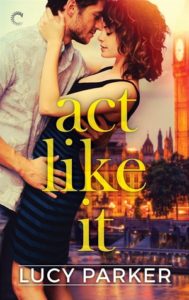 If you've been thinking "I really need some theater romance in my life" then you really need to get on Act Like It and the rest of Lucy Parker's London Celebrities series. There are…four?…of them now, and the first one is 1.99! The rest are incrementally more, but they're definitely worth checking out if you like to read romances set behind the scenes.
Or if you want to start a series about a family of position and wealth, The Johnson Family Series is 4.99. This collection of books by Delaney Diamond is the opening trilogy salvo in an ongoing series coming out of Garden Avenue Press, and is definitely worth checking out for the price.
Recs!
It's not every day you can make such a ridiculous connection between two books, so of course I had to bring everyone's attention to it. Usually I find something like climate or a similar sport or profession. But no, this one is completely different. I give you:
Guys Named Theo Who Went to Harvard, You Know.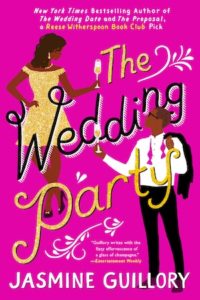 The Wedding Party
Jasmine Guillory
I read this book a while ago and it did not disappoint. The third in the series, this one brings together The Wedding Date and The Propsal in a new way and propels us forward to Royal Holiday, which comes out in October.
But the first thing I noticed was the bespectacled hero who went to Harvard.
Theo and Maddie got off to a rough start. They both said some things about the other, and Theo is one of those guys who's going to mention he went to Harvard—or at least he was a few years ago at the introduction Maddie won't let go of, even after they start running into each other thanks to their relationship to Alexa and her whole getting married thing. But they also keep sleeping together, because somebody opened the dam and now they can't keep their hands off each other and are keeping it from Alexa. Yeah, sure. Good luck with that, folks.
Some Like It Scandalous
Maya Rodale
I was a bit of a ways into this one when the hero—Theodore Prescott the Third—says "I went to Harvard, you know" and actually put my kindle down and cackled. This was the connection I was going to make between Some Like it Scandalous and The Wedding Party? (My initial idea was that they would be between people begrudgingly attracted to each other, which also works. Also, the female protagonists of both books have specific plans for their own businesses and they're both Good Plans.)
Theo and Daisy also got off to a rough start, though theirs was when they were both thirteen. Theo had a hand in giving Daisy a nickname that would last into her adulthood, and she would continue to hold him responsible for it. Meanwhile, their parents have decided it would be a good idea for them to get married, because Daisy needs a husband and Theo needs to not be scandalous and come work for Family Steel.
The pair go along with the plan, hoping it would help keep their parents off their backs. Theo might have gone to Harvard, but the last thing he wants to do is join the family business. So when he discovers that Daisy's goals include manufacturing and selling a scandalous product for women (no, not that), Theo wants to be involved.
Too bad they keep kissing each other. Pretending to be engaged or not, business partners don't do that kind of thing.
Did I miss yet another Theo who went to Harvard? Let me know! Catch me on Twitter @jessisreading or Instagram @jess_is_reading, or send me an email at jessica@riotnewmedia.com if you've got feedback, bookrecs, or just want to say hi!