Hello Kid Lit Friends!
I hope you all had a fun and safe fourth of July and holiday weekend! I celebrated by catching up on some of the new releases for this month, cooking yummy food, and hanging out with my kiddos. Here is today's list of new releases; if I've had the chance to read one of these books and loved it, I marked it with a 
. Please note that all descriptions come from the publisher.
---
Sponsored by: Disney Publishing Worldwide
Serafina makes an epic return in the fourth installment in the best-selling series. Peace and tranquility have finally returned to Biltmore Estate. But as time passes without signs of danger, Serafina finds herself questioning her own purpose. When a pure-white fawn emerges from the estate's lake, Braeden is quick to befriend the mysterious creature. But Serafina feels ill-at ease-around the fawn, and is quick to suspect a connection when unsettling events take place at Biltmore. Is Serafina desperate to play the role of heroine? Or is her home in terrible danger from a strange and sinister force?
---
Picture Book New Releases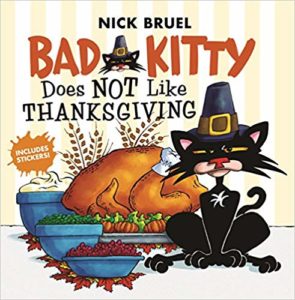 Bad Kitty Does Not Like Thanksgiving by Nick Bruel
Kitty does not like Thanksgiving.
Kitty LOVES Thanksgiving.
Specifically, Kitty loves turkey . . . and will do anything to get her paws on it. So, Kitty comes up with a plan but in perfect cantankerous cat fashion, can't quite pull it off and ends up with the turkey (and all the fixins') on her head.
No, Kitty does not like Thanksgiving.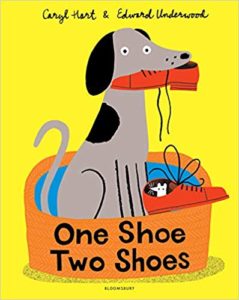 One Shoe Two Shoes by Caryl Hart, illustrated by Edward Underwood
One shoe, two shoes.
Red shoes, blue shoes.
Two shoes make a pair.
Who's that hiding there?
Shoes, shoes, and more shoes . . . this book is bursting shoes of all different colors, sizes, and shapes. There's a pair here to suit everyone–even a family of mice!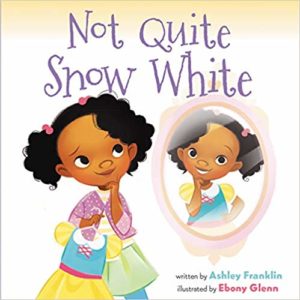 Not Quite Snow White by Ashley Franklin, illustrated by Ebony Glenn
Tameika is a girl who belongs on the stage. She loves to act, sing, and dance—and she's pretty good at it, too. So when her school announces their Snow White musical, Tameika auditions for the lead princess role.
But the other kids think she's "not quite" right to play the role. They whisper, they snicker, and they glare. Will Tameika let their harsh words be her final curtain call?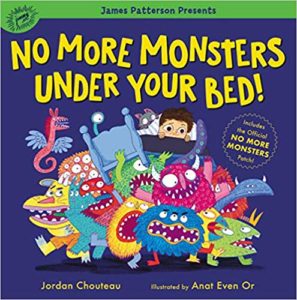 No More Monsters Under Your Bed! by Jordan Chouteau, illustrated by Anat Even Or
This charmingly illustrated picture book will have little ones giggling all the way to bedtime! Kids and adults alike will love the goofy, adorable, not-too-spooky monsters, and the socially positive messages about sharing and conquering your fears–even if you need the help of a little magic to do it! And best of all–every book comes with a FREE interactive no-more-monsters patch that kids can attach to their own pajamas and use to scare off their monsters, too.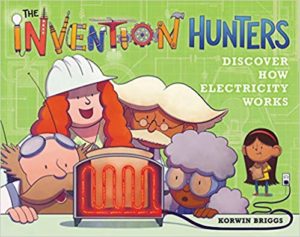 The Invention Hunters by Korwin Briggs
The Invention Hunters travel the globe in their flying museum collecting the world's greatest inventions! This time, they've landed in a kid's backyard, and these silly scientists think they've stumbled on incredible specimens, from umbrellas and lipsticks to coins and rockets. But what they really discover–with a kid as their guide–is how electricity and magnetism powers lamps, batteries, and even toasters!
Chapter Book New Releases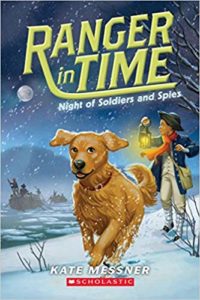 Ranger in Time: Night of Soldiers and Spies by Kate Messner
Ranger's next mission finds him in the middle of the Revolutionary War. There he meets Isaac Pope, a fisherman turned soldier for the Continental Army. When General George Washington is in need of a spy to cross into enemy territory, Isaac is chosen for the dangerous task. Ranger must help Isaac remain safe and undetected, or the battle — and their lives — will be lost.
Middle Grade New Releases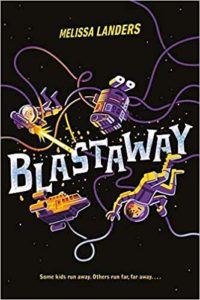 Blastaway by Melissa Landers
Kyler Centaurus isn't your typical runaway. All he wanted was a quick trip to the legendary Fasti Sun Festival. Who wouldn't want to see new stars being born? Um, try Kyler's entire family. They couldn't care less about mind-blowing wonders of science. When an accidental launch sequence ends with Kyler hurtling through space on the family cruiser, the thrill of freedom is cut short by two space pirates determined to steal his ship. Not happening! Luckily, Kyler bumps into Fig, a savvy young Wanderer who makes a living by blowing up asteroids. She could really use a ride to Earth and Kyler could really use a hand with the pirates. But when Kyler learns the truth about Fig's mission, the two must put aside their differences long enough to stop the threat of astronomical proportions racing towards Earth.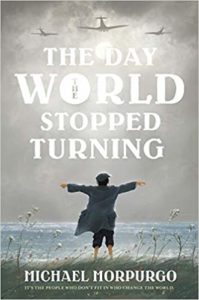 The Day The World Stopped Turning by Michael Morpurgo
In the unique landscape of the Camargue (France) during World War II, Lorenzo lives among the salt flats and the flamingos. There are lots of things he doesn't understand–but he does know how to heal animals, how to talk to them; the flamingos especially. He loves routine, and music too: and every week he goes to market with his mother. It's there he meets Kezia, a Roma girl, who helps her parents run their carousel–and who shows him how to ride the wooden horse as the music plays. But then the German soldiers come, with their guns. Everything is threatened, everything is falling apart: the carousel, Kezia and her family, even Lorenzo's beloved flamingos. Yet there are kind people even among soldiers, and there is always hope. . .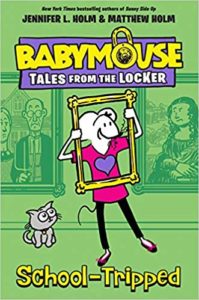 Babymouse: Tales from the Locker: School-Tripped by Jennifer L. Holm and Matthew Holm
Babymouse's art class is headed to a museum in the Big City. And now that they're middle schoolers, she and her friends will be totally unsupervised! She can't wait to check out all the world-famous art…that is, until she overhears Felicia Furrypaws planning to ditch the museum and hit the town instead. Babymouse decides to test her freedom with an urban adventure of her own. Will she make it back to the museum before the bus leaves? Or will life in the Big City trip her up big-time?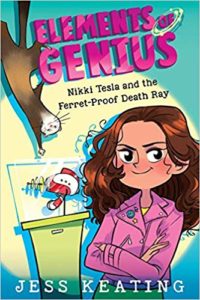 Elements of Genius: Nikki Tesla and the Ferret-Proof Death Ray by Jess Keating, illustrated by Lissy Marlin
There are only so many times a kid can invent an instrument of global destruction without getting grounded. So when Nikki's death ray accidentally blows up her bedroom (if you can call a pet ferret with an itchy trigger finger an accident), she's sent to the only place that can handle her. Genius Academy is a school for history's greatest brains. Leo da Vinci? Charlotte Darwin? Bert Einstein? All extraordinary. Yet even among her fellow prodigies, Nikki feels like an outsider thanks to a terrible secret she can't let anyone discover. Ever. But when her death ray is stolen, Nikki must stop worrying about fitting in and learn to play nice with her new classmates. Because it doesn't take a genius to track a thief around the world, outwit the authorities, and keep a French fry-fanatic ferret happy. It takes all of them.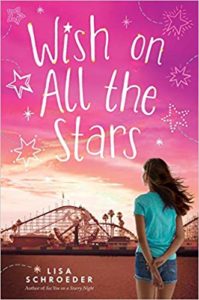 Wish on All the Stars by Lisa Schroeder
Juliet is now an official member of the Starry Beach Club, and loves working with her new friends, Emma and Carmen, to make people's wishes come true. Living away from her dad is still hard, and she misses her best friend from her old town, but she has her friends and the bookmobile, and San Diego feels more like home than ever. But then she learns that the bookmobile is going to have to shut down. The owner of the parking lot wants to start charging rent, and soon the bookmobile won't be able to stay in business.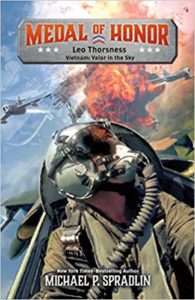 Leo Thorsness: Vietnam: Valor in the Sky by Michael P. Spradlin
Lieutenant Colonel Leo K. Thorsness was a Wild Weasel pilot in the Vietnam War, targeting enemy missile sites. On a 1967 mission, when his wingmen ejected from their burning aircraft, Thorsness initiated attacks on enemy planes and other daring maneuvers in order to protect them. Two weeks later, he was shot down and would become a P. O. W. for the next six years. This is the third nonfiction middle-grade book in the Medal of Honor series, which profiles the courage and accomplishments of recipients of the Medal of Honor, the highest and most prestigious personal military decoration, awarded to recognize U.S. military service members who have distinguished themselves through extraordinary acts of valor.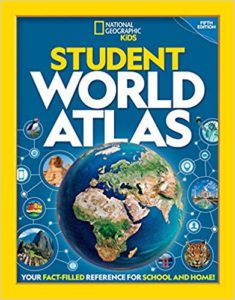 Student World Atlas by National Geographic Kids
From the cartographic experts at National Geographic comes the latest edition of its award-winning student atlas, with everything kids want and need to know about our changing world. Dynamic, user-friendly content includes photos, facts, charts, graphics, and full-color political, physical, and thematic maps on important topics. Completely updated maps and statistics ensure that kids have all the latest information as they learn more about current events and become global citizens.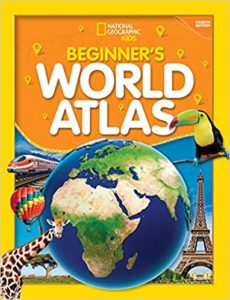 Beginner's World Atlas by National Geographic Kids
Learn all about the people, places, animals, and environments of our world in the fourth edition of this engaging atlas. It's got a fresh, kid-friendly design; fun, lively photos; and all the latest, greatest geographic and political information that make this such a valuable resource. It's the perfect reference for kids to learn about lands close to home or oceans away–ideal for classroom use, homework help, and armchair exploration.
You Are Awesome by Matthew Syed
WHAT IF YOU COULD BECOME AWESOME AT (ALMOST) ANYTHING?
It's not as impossible as you might imagine. If you're the kind of person who thinks …
I need a special type of brain to do math
You're either good at sports or you're not
I don't have a musical bone in my body
Challenge the beliefs that hold you back! Whatever you want to be good at, the right mindset can help you achieve your dreams.
Graphic Novel New Releases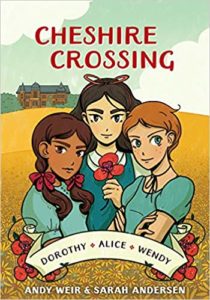 Cheshire Crossing by Andy Weir and Sarah Anderson
The three meet here, at Cheshire Crossing—a boarding school where girls like them learn how to cope with their supernatural experiences and harness their magical world-crossing powers.
But the trio—now teenagers, who've had their fill of meddling authority figures—aren't content to sit still in a classroom. Soon they're dashing from one universe to the next, leaving havoc in their wake—and, inadvertently, bringing the Wicked Witch and Hook together in a deadly supervillain love match. To stop them, the girls will have to draw on all of their powers . . . and marshal a team of unlikely allies from across the magical multiverse.
I would love to know what you are reading this week! Find me on Twitter at @KarinaYanGlaser, on Instagram at @KarinaIsReadingAndWriting, or email me at karina@bookriot.com.
Until next time!
Karina
*If this e-mail was forwarded to you, follow this link to subscribe to "The Kids Are All Right" newsletter and other fabulous Book Riot newsletters for your own customized e-mail delivery. Thank you!*