Happy Tuesday, me hearties! It's Captain Alex, with some new releases and news hand-picked for you. And if you're not already feeling like doing some serious fist pumping because it's new release day, here's the crowd at the World Cup after USA won chanting "Equal pay! Equal pay!"–and the first trailer for Disney's live-action Mulan.
---
This newsletter is sponsored by Tor Books.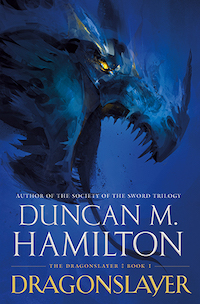 Tor Books is the proud publisher of Dragonslayer by Duncan M. Hamilton, the first book in a fast-moving trilogy: a dangerous tale of magic, dragons, and honor. Once a member of the King's personal guard, a disgraced hero is called upon to kill a dragon. Along the way he rescues a young barmaid harboring a vast reserve of raw magical power. Between his rusty swordsmanship and her unstable magic, what could go wrong?
---
New Releases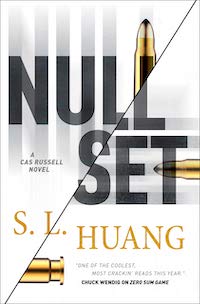 Null Set by S.L. Huang – Sequel to Zero Sum Game. Cas Russell has decided to use her math powers to fight crime… and the current crime wave is kind of her fault.
David Mogo, Godhunter by Suyi Davies Okungbowa – There is no way I could come up with a more concise, better description than what the book already has: "David Mogo, demigod and godhunter, has one task: capture two of the most powerful gods in the city and deliver them to the wizard gangster Lukmon Ajala."
Salvation Day by Kali Wallace – A salvage crew kidnaps the last survivor of a disastrous plague on an exploration ship so that they can get aboard and claim it for salvage. But something deadlier than a virus awaits them inside…
Eye Spy by Mercedes Lackey – Abidela, daughter of the Herald Spy of Valdemar and the King's Own Herald, discovers that she has a unique magical gift… which could also make her a very good spy in her own right.
Spin the Dawn by Elizabeth Lim – Maia disguises herself as a boy to take her ailing father's place when he's summoned to the royal court to compete with twelve other tailors for the job to sew magical gowns for the emperor's reluctant betrothed.
The Need by Helen Phillips – A young mother with two children hears footsteps in her house. While she tries to ignore the sounds at first, the footsteps turn out to be real, belonging to an intruder who knows far too much about her and her family.
Mission Critical edited by Jonathan Strahan – An anthology of stories where people overcome incredible challenges in deep space. Authors include Yoon Ha Lee, Aliette de Bodard, Greg Egan, Linda Nagata, and Tobias S. Buckell.
News and Views
Short news section today; all the news generators were watching soccer this weekend, I guess!
The cat who played Goose in Captain Marvel answers some of our burning questions.
The Fiyah Lit Mag editorial team are trying to make it to Dublin for WorldCon, since they've been nominated for the Hugo for Best Semiprozine. If you'd like to help them get together, you can chip in a donation. The poetry editor, Brandon O'Brien, is also selling a bundle of games he's designed to help with his travel expenses.
(Spoiler within!) There's an LGBTQ character in this season of Stranger Things.
Tor.com has a helpful and scarily massive list of all the SFF/Horror/Comics adaptations that are currently in the works.
The creator of The Mask wants a reboot with a woman in the lead role.
I agree with most of this, having seen the movie: (Spoilers within!) 20 Things We Loved (and 6 Things We Didn't) About Spider-Man: Far From Home. And if you'd like to dig in a little more about the mid-credits scene, SyFy Wire has you covered.
Weird. Very weird: How Sci-Fi Shaped the Players in the Gawker Lawsuit
See you, space pirates. You can find all of the books recommended in this newsletter on a handy Goodreads shelf. If you'd like to know more about my secret plans to dominate the seas and skies, you can catch me over at my personal site.