This edition of Today in Books is sponsored by the New York Times bestselling author, Chantal Fernando's SAINT. Available now in eBook, print and audio.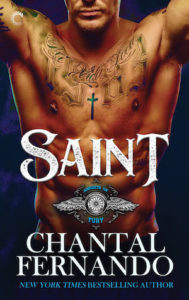 ---
MAD Magazine To Stop Publishing New Issues
Sad day for fans of the iconic MAD magazine as it's announced that, coming this fall, it'll stop publishing new issues. The upcoming issue 11 will have republished content and will no longer be available at newsstands–only shipped to subscribers and available at comic book shops. More info here.
Part Of Our World
Ariel has been cast in the upcoming Disney live-action The Little Mermaid! Halle Bailey–singer-actress in Chloe X Halle/Grown-ish–will give up her beautiful voice for a human man. You can check out more deets on the production here.
Conversion Therapy Books Removed From Amazon
English-language books promoting conversion therapy by Dr. Joseph Nicolosi have been removed from Amazon after activists petition and growing pressure. "His work lent credibility under the guise of 'science' to conversion therapy, even though the practice has been disputed and discredited as dangerous and harmful by medical experts."