This edition of Today in Books is sponsored by Some Like it Scandalous by Maya Rodale.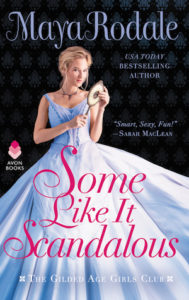 ---
NYPL Will Display Rare Declaration of Independence For 2 Days
A rare copy of the Declaration of Independence, that is written in Thomas Jefferson's hand, will be on display July 1st and 2nd at the Stephen A. Schwarzman Building on Fifth Avenue and 42nd Street. The exhibition will be free and you can check out all the details, including facts about the manuscript, here.
Avengers: Endgame Re-released In Theaters
Seems Avengers: Endgame isn't happy just missing Avatar's box office record so it's coming back to theaters again today for fans who may have missed it, or just want to watch it again with its bonus content. This seems like cheating but whatevs there's new material for fans to see and select theaters have cool posters to give out–plus, it's super hot out and theaters have awesome air conditioners.
Poetic Google Doodle
Google made a doodle for the 185th anniversary of Polish Romantic poet Adam Mickiewicz's publication of Pan Tadeusz.   You can check it out, and the history, here.