Hey Kid Lit Friends!
Before we jump into today's book recommendations, I would like to wish you a very happy National Pride Day! The big Pride March is happening in New York City today, and the most recent Kidlit These Days podcast is all about pride. Matthew and I chat with author Kacen Callender, author of the Stonewall award-winning middle grade book Hurricane Child, and we talk a bunch of wonderful books with LGBTQIA+ themes. Listen to Episode 8: Pride and check out the book list on the show notes here.
---
Sponsored by Libro.fm

Libro.fm lets you purchase audiobooks directly from your favorite local bookstore. You can pick from more than 100,000 audiobooks, including New York Times best sellers and recommendations from booksellers around the country. With Libro.fm you'll get the same audiobooks, at the same price as the largest audiobook company out there (you know the name), but you'll be part of a much different story, one that supports community. In June, Libro.fm is launching their Kids Club and YA Club, which will offer select audiobooks priced under $10 each month, as well as their Summer Listening Challenge–each person to finish will get free audiobook credit and the chance to win free audiobooks for a year! Sign up here to get three audiobooks for the price of one.
---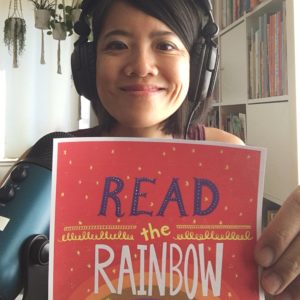 (Side note: have you seen the Read the Rainbow t-shirt, available at the online Book Riot Store? It's so cute!)
And now for today's newsletter theme: MATH! I notice that my own kids will read voraciously throughout the summer but they're not as excited about keeping up their math skills. To keep the left side of the brain active and engaged, I've tried to combine the best of both worlds: books with math concepts! Here are some books with math in them; check them out and let me know what you think! *Please note that all descriptions come from the publisher.*
Picture Books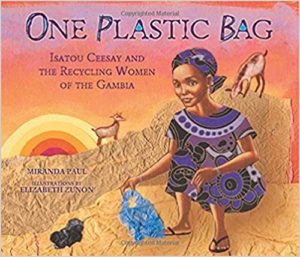 One Plastic Bag: Isatou Ceesay and the Recycling Women of Gambia by Miranda Paul, illustrated by Elizabeth Zenon
Plastic bags are cheap and easy to use. But what happens when a bag breaks or is no longer needed? In Njau, Gambia, people simply dropped the bags and went on their way. One plastic bag became two. Then ten. Then a hundred. The bags accumulated in ugly heaps alongside roads. Water pooled in them, bringing mosquitoes and disease. Some bags were burned, leaving behind a terrible smell. Some were buried, but they strangled gardens. They killed livestock that tried to eat them. Something had to change. Isatou Ceesay was that change. She found a way to recycle the bags and transform her community. This inspirational true story shows how one person's actions really can make a difference in our world.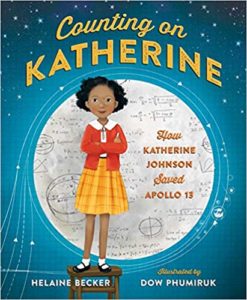 Counting on Katherine: How Katherine Saved Apollo 13 by Helaine Becker, illustrated by Tiemdow Phumiruk
You've likely heard of the historic Apollo 13 moon landing. But do you know about the mathematical genius who made sure that Apollo 13 returned safely home? As a child, Katherine Johnson loved to count. She counted the steps on the road, the number of dishes and spoons she washed in the kitchen sink, everything! Boundless, curious, and excited by calculations, young Katherine longed to know as much as she could about math, about the universe. From Katherine's early beginnings as a gifted student to her heroic accomplishments as a prominent mathematician at NASA, Counting on Katherine is the story of a groundbreaking American woman who not only calculated the course of moon landings but, in turn, saved lives and made enormous contributions to history.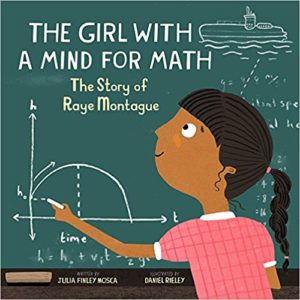 The Girl with a Mind for Math: The Story of Raye Montague by Julia Finley Mosca, illustrated by Daniel Riely
After touring a German submarine in the early 1940s, young Raye set her sights on becoming an engineer. Little did she know sexism and racial inequality would challenge that dream every step of the way, even keeping her greatest career accomplishment a secret for decades. Through it all, the gifted mathematician persisted―finally gaining her well-deserved title in history: a pioneer who changed the course of ship design forever.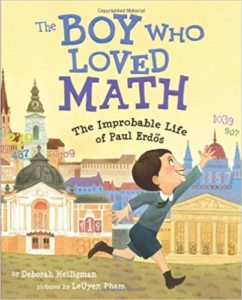 The Boy Who Loved Math: The Improbable Life of Paul Erdos by Deborah Heiligman, illustrated by LeUyen Pham
Most people think of mathematicians as solitary, working away in isolation. And, it's true, many of them do. But Paul Erdos never followed the usual path. At the age of four, he could ask you when you were born and then calculate the number of seconds you had been alive in his head. But he didn't learn to butter his own bread until he turned twenty. Instead, he traveled around the world, from one mathematician to the next, collaborating on an astonishing number of publications.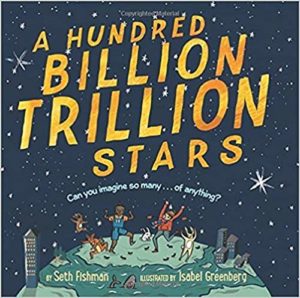 A Hundred Billion Trillion Stars by Seth Fishman and Isabel Greenberg
Did you know that the earth is covered in three trillion trees? And that seven billion people weigh about the same as ten quadrillion ants? Our world is full of constantly changing numbers, from a hundred billion trillion stars in space to thirty-seven billion rabbits on Earth. Can you imagine that many of anything? The playful illustrations from New York Times–bestselling artist Isabel Greenberg and the friendly, straightforward voice of author Seth Fishman illuminate some of the biggest numbers in the universe—a hundred billion trillion stars—and the smallest—one unique and special YOU. Here is a book for story time, for science time, for math time, for bedtime, and all the times in between.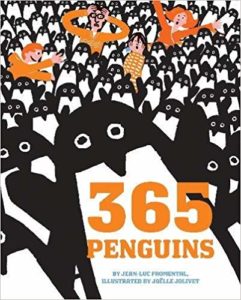 365 Penguins by Jean-Luc Fromental, illustrated by Joelle Jolivet
The family in 365 Penguins finds a penguin mysteriously delivered to their door every day for a year. At first they're cute, but with every passing day, the penguins pile up—along with the family's problems. Feeding, cleaning, and housing the penguins becomes a monumental task. They're noisy and smelly, and they always hog the bathroom! And who on earth is sending these kwak-ing critters?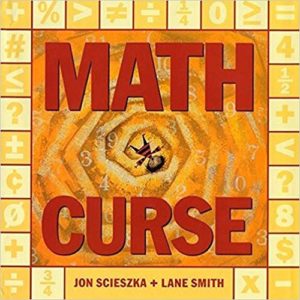 Math Curse by Jon Scieszka, illustrated by Lane Smith
Did you ever wake up to one of those days where everything is a problem? You have 10 things to do, but only 30 minutes until your bus leaves. Is there enough time? You have 3 shirts and 2 pairs of pants. Can you make 1 good outfit? Then you start to wonder: Why does everything have to be such a problem? Why do 2 apples always have to be added to 5 oranges? Why do 4 kids always have to divide 12 marbles? Why can't you just keep 10 cookies without someone taking 3 away? Why? Because you're the victim of a Math Curse. That's why. But don't despair. This is one girl's story of how that curse can be broken.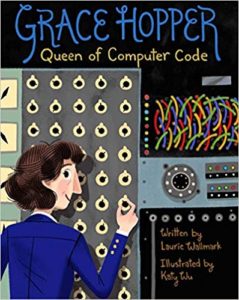 Grace Hopper: Queen of Computer Code by Laurie Wallmark
Who was Grace Hopper? A software tester, workplace jester, cherished mentor, ace inventor, avid reader, naval leader—AND rule breaker, chance taker, and troublemaker. Grace Hopper coined the term "computer bug" and taught computers to "speak English." Throughout her life, Hopper succeeded in doing what no one had ever done before. Delighting in difficult ideas and in defying expectations, the insatiably curious Hopper truly was a role model for science- and math-minded girls and boys.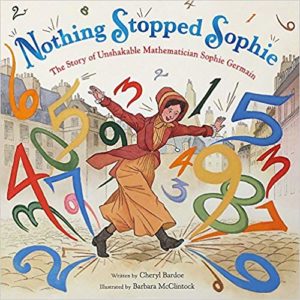 Nothing Stopped Sophie: The Story of Unshakable Mathematician Sophie Germain by Cheryl Bardoe, illustrated by Barbara McClintock
When her parents took away her candles to keep their young daughter from studying math…nothing stopped Sophie. When a professor discovered that the homework sent to him under a male pen name came from a woman…nothing stopped Sophie. And when she tackled a math problem that male scholars said would be impossible to solve…still, nothing stopped Sophie. For six years Sophie Germain used her love of math and her undeniable determination to test equations that would predict patterns of vibrations. She eventually became the first woman to win a grand prize from France's prestigious Academy of Sciences for her formula, which laid the groundwork for much of modern architecture.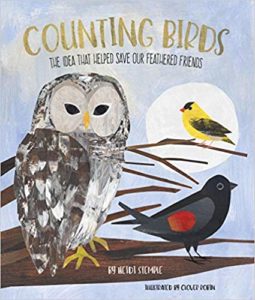 Counting Birds: The Idea That Helped Save Our Feathered Friends by Heidi E.Y. Stemple, illustrated by Clover Robin
What can you do to help endangered animals and make a positive change in our environment? Get counting! Counting Birds is a beautifully illustrated book that introduces kids to the idea of bird counts and bird watches. Along the way, they will learn about Frank Chapman, who used his bird knowledge and magazine Bird-Lore to found the first annual bird count. Bird counting helps professional researchers collect data, share expertise, and spread valuable information to help all kinds of birds around the world, from condors to hawks to kestrels and more. Counting Birds introduces kids to a whole feathered world that will fascinate and inspire them to get involved in conservation and become citizen scientists.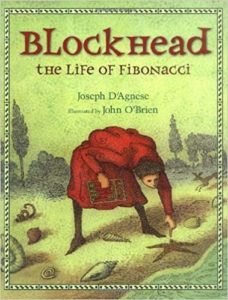 Blockhead: The Life of Fibonacci by Joseph D'Agnese, illustrated by John O'Brien
As a young boy in medieval Italy, Leonardo Fibonacci thought about numbers day and night. He was such a daydreamer that people called him a blockhead. When Leonardo grew up and traveled the world, he was inspired by the numbers used in different countries. Then he realized that many things in nature, from the number of petals on a flower to the spiral of a nautilus shell, seem to follow a certain pattern. The boy who was once teased for being a blockhead had discovered what came to be known as the Fibonacci Sequence!
Middle Grade Books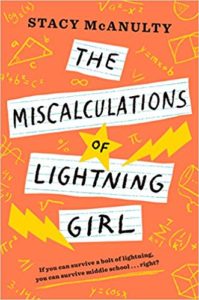 The Miscalculations of Lightning Girl by Stacy McAnulty
Lucy Callahan's life was changed forever when she was struck by lightning. She doesn't remember it, but the zap gave her genius-level math skills, and she's been homeschooled ever since. Now, at 12 years old, she's technically ready for college. She just has to pass 1 more test–middle school! Lucy's grandma insists: Go to middle school for 1 year. Make 1 friend. Join 1 activity. And read 1 book (that's not a math textbook!). Lucy's not sure what a girl who does calculus homework for fun can possibly learn in 7th grade. She has everything she needs at home, where nobody can make fun of her rigid routines or her superpowered brain. The equation of Lucy's life has already been solved. Unless there's been a miscalculation?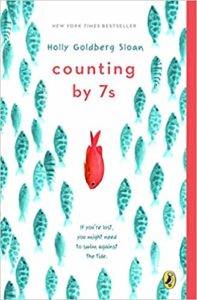 Counting by 7s by Holly Goldberg Sloan
Willow Chance is a twelve-year-old genius, obsessed with nature and diagnosing medical conditions, who finds it comforting to count by 7s. It has never been easy for her to connect with anyone other than her adoptive parents, but that hasn't kept her from leading a quietly happy life . . . until now. Suddenly Willow's world is tragically changed when her parents both die in a car crash, leaving her alone in a baffling world. The triumph of this book is that it is not a tragedy. This extraordinarily odd, but extraordinarily endearing, girl manages to push through her grief. Her journey to find a fascinatingly diverse and fully believable surrogate family is a joy and a revelation to read.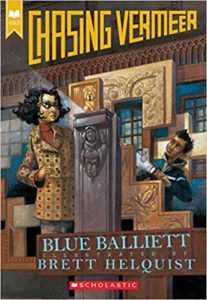 Chasing Vermeer by Blue Balliet, illustrated by Brett Helquist
When a book of unexplainable occurences brings Petra and Calder together, strange things start to happen: Seemingly unrelated events connect; an eccentric old woman seeks their company; an invaluable Vermeer painting disappears. Before they know it, the two find themselves at the center of an international art scandal, where no one is spared from suspicion. As Petra and Calder are drawn clue by clue into a mysterious labyrinth, they must draw on their powers of intuition, their problem solving skills, and their knowledge of Vermeer. Can they decipher a crime that has stumped even the FBI?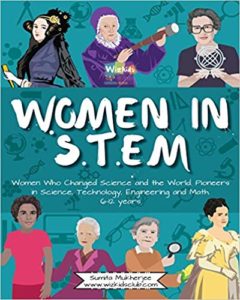 Women in STEM: Women Who Changed Science and the World Pioneers in Science, Technology, Engineering and Math by Sumita Mukherjee
Meet some incredible and inspirational women who have worked in the field of STEM (Science, Technology, Engineering and Math) and changed the world. Smart women have always been able to achieve amazing things, even when the odds were stacked against them. In the math field, meet Emmy Noether, Sophie Germain, Julia Robinson, Marjorie Lee Burke, and Florence Nightingale.
Girls Who Code: Learn to Code and Change the World by Reshma Saujani
Since 2012, the organization Girls Who Code has taught computing skills to and inspired over 40,000 girls across America. Now its founder, and author Brave Not Perfect, Reshma Saujani, wants to inspire you to be a girl who codes! Bursting with dynamic artwork, down-to-earth explanations of coding principles, and real-life stories of girls and women working at places like Pixar and NASA, this graphically animated book shows what a huge role computer science plays in our lives and how much fun it can be. No matter your interest—sports, the arts, baking, student government, social justice—coding can help you do what you love and make your dreams come true. Whether you're a girl who's never coded before, a girl who codes, or a parent raising one, this entertaining book, printed in bold two-color and featuring art on every page, will have you itching to create your own apps, games, and robots to make the world a better place.
Reminder! Last day to fill out our survey and enter for a chance to win a $50 gift certificate! We're always trying to do things better here at Book Riot, so we would love your feedback on this newsletter. Click here to complete the survey and enter to win a $50 gift certificate to Amazon; contest will close today, June 30, at 11:45pm.
I would love to know what you are reading this week! Find me on Twitter at @KarinaYanGlaser, on Instagram at @KarinaIsReadingAndWriting, or email me at karina@bookriot.com.
Until next time!
Karina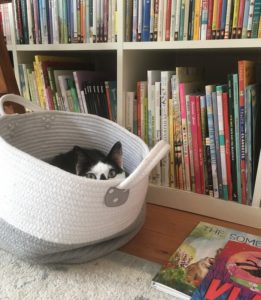 *If this e-mail was forwarded to you, follow this link to subscribe to "The Kids Are All Right" newsletter and other fabulous Book Riot newsletters for your own customized e-mail delivery. Thank you!*