Hola Audiophiles!
How goes it this week? I'm over here with a renewed mythology obsession thanks to Madeline Miller wordsmithing (more on that in a minute). I tell you: my allergies and travel tendencies don't make pet adoption very likely, but I swear I'd name my puppies Circe and Patroclus if I had any. I'm also obsessed with the name Ariadne for a daughter, pero… a) I still don't know if I want kids, and b) I can already hear my abuelos going, "Ari-QUE?"
Allow me to gush just a little bit more about Achilles & friends, and to share a refreshing magical mystery that I can't stop thinking about. Don't forget to check out Book Riot's Amazon storefront. We've put together a selection of our favorite books and bookish stuff for summer!
For now, let's audio.
---
Sponsored by Harper Audio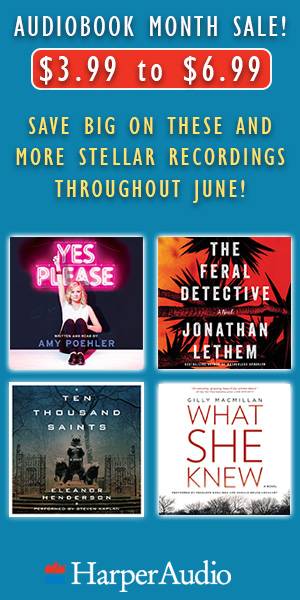 HarperAudio is celebrating Audiobook Month by offering a stunning array of some of our favorite recordings from the likes of Amy Poehler, Questlove, Jonathan Lethem, Kiera Cass, and many more, each for a low price from $3.99 to $6.99! The sale ends on June 30th so stock up now and start listening! #LoveAudiobooks
---
We Want to Hear from You!
Tell us how you audio! Fill out a quick survey on the Audiobook content you want to see and you'll be entered to win a $50 Amazon gift card.
Latest Listens
Madeline Miller, girl, Imma be straight with you: I did not think I was going to love another book as much as I love Circe. Yet here I stand, ruined and beguiled by The Song of Achilles. I am not worthy!
The book is an homage to the Iliad told from the perspective of Patroclus, whom Achilles befriends and names his companion when the young price is exiled to the city of Phthia. While we'll obvs never know for sure, it has long been speculated that Patroclus and Achilles were lovers. Madeline Miller imagines their intimate relationship from boyhood through the Trojan war in vivid and heart-breaking detail, reducing me to a puddle of tears even when I knew precisely what was coming.
My one critique of the otherwise flawless audio is the Miss Piggy treatment given to poor forsaken Deidamia. She already got the rawest of deals when Thetis married her to Achilles in secret only for him to abandon her 4.72 seconds later. Then the narrator went and gave her a comically high-pitched and whiny voice that on second thought it more Mrs. Doubtfire than Piggy. Otherwise though, it was beautifully told.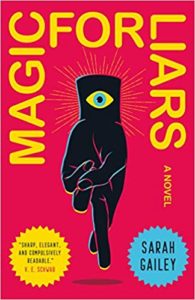 I also just finished Sarah Gailey's Magic for Liars, the noir murder mystery + magic school fantasy mashup I mentioned in the first half of June's new book round-up. In Gailey's fantasy debut, private detective Ivy Gamble has mostly gotten by on insurance disputes and adultery cases. Her luck appears to change when the headmaster at The Osthorne Academy of Young Mages hires her to solve a grizzly murder, a job that will earn her some dolla dolla bills and give her a first crack at a homicide case. It just so happens that her twin Tabitha teaches at the school, the magically gifted sister of whom she's always been jealous and hasn't spoken to in years. Ivy will have to weed her way through secrets, lies, prophecies, and (gasp) teenagers to determine who it was that split another teacher in half.
There's so much to love about this novel. It plays with genre stereotypes so cheekily, throwing in a "chosen one" arc that doesn't play out the way you think it will go. Sure there's magic, but there's the usual slew of teenager problems too, plus a detective with a drinking problem and iffy moral compass ala classic detective noir. Gailey, a non-binary author themself, gives us a whole cast of queer characters and they get to just be; there's no abuse or hardship, no big discussion about gender or sexuality. Their queerness is a thing but not the thing, a matter-of-fact part of who they are like eye color or height.
Throw in some narration by award-winning narrator Xe Sands and you've got one deliciously entertaining listen.
Listens on Deck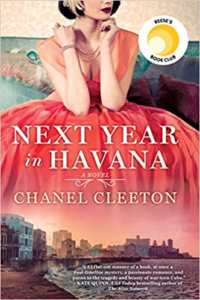 Bet you thought I was done talking about Cuba, huh? Guess again, audiophiles! I think I'll dive into Chanel Cleeton's Next Year in Havana, a historical romance that will whisk me away to the island once more.  
From the Internets
And here's the Washington Post's best audiobooks of the month. I haven't listened to a single of these titles, but there's one on "the welfare queen" narrated by January LaVoy that has my interest piqued.
More best book lists! Here's Paste Magazine's roundup of best audiobooks of the year so far. So many of my faves made this list! Helen Oyeyemi's Gingerbread, the last Flavia de Luce mystery by Alan Bradley, Queenie by Candice Carty-Williams and more.
Over at the Riot
I was feeling the audiolibro love last week! Check out my quick roundup of some audiobooks in Spanish I've enjoyed.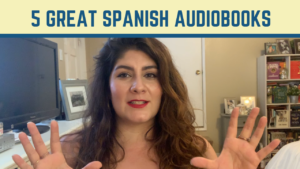 ---
That's all I got today! Shoot me an email at vanessa@riotnewmedia.com with audiobook feedback & questions or find me on Twitter and the gram @buenosdiazsd. Sign up for the In The Club newsletter, peep the Read Harder podcast, and watch me booktube every Friday too!
Stay bad & bookish, my friends.
Vanessa