It's Tuesday again, that most wonderful time of the week when we get a bolus of new books to add to our teetering TBR stacks. I'm your host, Alex, with some new books and a broadside of SFF-related news.
---
This newsletter is sponsored by Quillion, the gaming imprint of Lion Forge.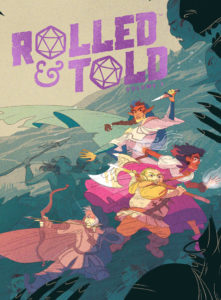 This collected edition of Rolled & Told contains all the adventures, mini-adventures, comics, and articles from issues zero to six along with extra content you couldn't get in the single issues! It provides hours of pick-up-and-play modules designed both for players new to tabletop role playing and for those who have played for years. Every page is filled with beautiful illustrations, comics coinciding with adventures, and splash art from your favorite comic artists to inspire your players! You forge the adventure with Rolled & Told Vol. 1 in stores now from the Quillion imprint of Lion Forge!
---
New Releases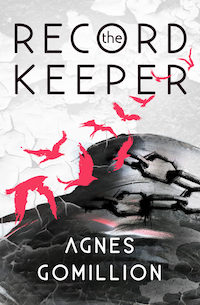 The Record Keeper by Agnes Gomillion – In a world brought to ruins by a third world war, law reigns, to be obeyed perfectly is the only guarantor of survival. Arika Cobane is about to take her place in enforcing those laws until she meets a new student who forces her to question her most deeply held beliefs: What does peace matter if innocent lives are lost to maintain it?
Empress of Forever by Max Gladstone – Vivian Lao is an inventor trying to stay ahead of her thieving rivals; she catapults herself accidentally into the far reaches of time and space, where the known universe is ruled by an all-powerful empress who can destroy planets with a single thought. Rebellion against the empress has been unthinkable… but Vivian is no stranger to radical thought or reckless action.
Silver in the Wood by Emily Tesh – The woods near Greenhollow are occupied by a Wild Man. Tobias is content enough to live quietly in his cottage at the edge of the woods with his cats–and dryads–until a new owner comes to Greenhollow Hall and disturbs things better left buried.
The Lesson by Cadwell Turnbull – Aliens called the Ynaa came to the US Virgin Islands five years ago on an undisclosed research mission. This occupation has been mostly peaceful–unless they're provoked–until a young boy dies at the hands of the aliens.
Broken Places & Outer Spaces: Finding Creativity in the Unexpected by Nnedi Okorafor – Not fiction, but rather a memoir of sorts; Nnedi Okorafor explores her personal setbacks and challenges and addresses limitations as fuel for the creative fire.
News and Views
An unpublished manuscript by Anthony Burgess has been found, which is in part about his experience writing A Clockwork Orange and his reaction to the filming of it.
Stranger Things has its own Coke ad.
Yoshida Naoki (creative director of FFXIV) would like to collaborate with George R.R. Martin… but also wants him to finish the books.
Stephen King would like a more faithful adaptation of Under the Dome.
Pride month continues with news of a lesbian couple in My Little Pony!
Umbrella Academy season 2 has started filming.
A look at 6,000 years of fashion that Good Omens skips through.
Here's a list of 7 mother figures from SFF to be disappointed with you. (Yep, I can definitely feel Nineteen Adze's [from A Memory Called Empire] disapproval from here.)
Representation for women isn't really getting any better in video games.
A Book Riot contributor sends out a heartfelt "Thank you, Dad," for his love of sci-fi.
If you're in the mood for zombies and some fourth-wall-breaking, deadpan humor, The Dead Don't Die is out. (I saw it during the weekend and it was… very Jim Jarmusch with an utterly hilarious moment of peak Tilda Swinton.)
More news about the Stephen Universe movie, including Chance the Rapper.
A new sci-fi short film subverts the 'missing girl' trope.
On the use of current idioms in fantasy books.
Captain Georgiou? Michael? Is that you? There's a Star Fleet emblem on Mars.
From the Departments of Hold Me I'm Scared and This Is Totally Novel Fuel, hackers that already went after some petroleum facilities are probing at power grids.
This is cool: Seals with sensors and ice holes in Antarctica.
See you, space pirates. You can find all of the books recommended in this newsletter on a handy Goodreads shelf. If you'd like to know more about my secret plans to dominate the seas and skies, you can catch me on the (Hugo-nominated!!!) Skiffy and Fanty Podcast or over at my personal site.