Hello Kid Lit Friends!
As you know, I love middle grade books so it was particularly difficult to put together this list because I wanted to make it a mile long. And there are so many books that I haven't had a chance to look at or haven't received from publishers yet, so this is just the beginning of the books I'm excited to talk about in the coming months. Take a look, let me know what you think, and let me know what you're looking forward to!
*Please note that all book descriptions come from the publisher.
---
Sponsored by Libro.fm

Libro.fm lets you purchase audiobooks directly from your favorite local bookstore. You can pick from more than 100,000 audiobooks, including New York Times best sellers and recommendations from booksellers around the country. With Libro.fm you'll get the same audiobooks, at the same price as the largest audiobook company out there (you know the name), but you'll be part of a much different story, one that supports community. In June, Libro.fm is launching their Kids Club and YA Club, which will offer select audiobooks priced under $10 each month, as well as their Summer Listening Challenge–each person to finish will get free audiobook credit and the chance to win free audiobooks for a year! Sign up here to get three audiobooks for the price of one.
---
For Black Girls Like Me by Mariama J. Lockington (Farrar, Strauss, and Giroux, 7/30)
Makeda June Kirkland is eleven-years-old, adopted, and black. Her parents and big sister are white, and even though she loves her family very much, Makeda often feels left out. When Makeda's family moves from Maryland to New Mexico, she leaves behind her best friend, Lena― the only other adopted black girl she knows― for a new life. In New Mexico, everything is different. At home, Makeda's sister is too cool to hang out with her anymore and at school, she can't seem to find one real friend. Through it all, Makeda can't help but wonder: What would it feel like to grow up with a family that looks like me?
My Life as an Ice Cream Sandwich by Ibi Zoboi (Penguin, 8/27)
Twelve-year-old Ebony-Grace Norfleet has lived with her beloved grandfather Jeremiah in Huntsville, Alabama ever since she was little. As one of the first black engineers to integrate NASA, Jeremiah has nurtured Ebony-Grace's love for all things outer space and science fiction—especially Star Wars and Star Trek. But in the summer of 1984, when trouble arises with Jeremiah, it's decided she'll spend a few weeks with her father in Harlem. Harlem is an exciting and terrifying place for a sheltered girl from Hunstville, and Ebony-Grace's first instinct is to retreat into her imagination. But soon 126th Street begins to reveal that it has more in common with her beloved sci-fi adventures than she ever thought possible, and by summer's end, Ebony-Grace discovers that Harlem has a place for a girl whose eyes are always on the stars.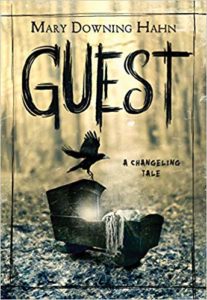 Guest by Mary Downing Hahn (HMH, 9/3)
When her adorable baby brother is replaced by an ugly, ill-tempered changeling, Mollie is determined to find the so-called Kinde Folke who took baby Thomas, return the changeling she calls Guest, and make them give Thomas back. Natural and magical obstacles and her own reckless temperament make her journey arduous and full of dangers.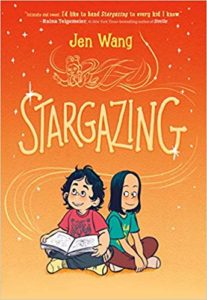 Stargazing by Jen Wang (First Second, 9/10)
Moon is everything Christine isn't. She's confident, impulsive, artistic . . . and though they both grew up in the same Chinese-American suburb, Moon is somehow unlike anyone Christine has ever known. But after Moon moves in next door, these unlikely friends are soon best friends, sharing their favorite music videos and painting their toenails when Christine's strict parents aren't around. Moon even tells Christine her deepest secret: that she has visions, sometimes, of celestial beings who speak to her from the stars. Who reassure her that earth isn't where she really belongs.
Guts by Raina Telgemeier (Scholastic, 9/17)
Raina wakes up one night with a terrible upset stomach. Her mom has one, too, so it's probably just a bug. Raina eventually returns to school, where she's dealing with the usual highs and lows: friends, not-friends, and classmates who think the school year is just one long gross-out session. It soon becomes clear that Raina's tummy trouble isn't going away… and it coincides with her worries about food, school, and changing friendships. What's going on?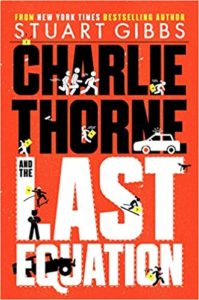 Charlie Thorne and the Last Equation by Stuart Gibbs (Simon and Schuster, 9/17)
Decades ago, Albert Einstein devised an equation that could benefit all life on earth—or destroy it. Fearing what would happen if the equation fell into the wrong hands, he hid it. But now, a diabolical group known as the Furies are closing in on its location. In desperation, a team of CIA agents drags Charlie into the hunt, needing her brilliance to find it first—even though this means placing her life in grave danger. In a breakneck adventure that spans the globe, Charlie must crack a complex code created by Einstein himself, struggle to survive in a world where no one can be trusted, and fight to keep the last equation safe once and for all.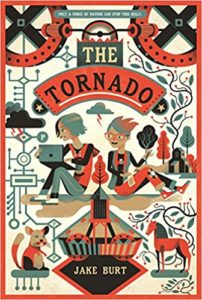 The Tornado by Jake Burt (Macmillan, 10/1)
Bell Kirby is an expert at systems, whether he's designing the world's most elaborate habitat for his pet chinchilla, re-creating Leonardo da Vinci's greatest inventions in his garage, or avoiding Parker Hellickson, the most diabolical bully Village Green Elementary has ever seen. Since third grade, Parker has tormented Bell, who's spent two long years devising a finely tuned system that keeps him out of Parker's way. Sure, it means that Bell can't get a drink when he wants to, can't play with his best friend on the playground, and can't tell his parents about his day, but at least he's safe. Until Daelynn Gower touches down in his classroom like a tornado.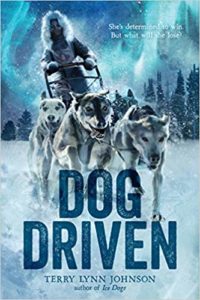 Dog Driven by Terry Lynn Johnson (HMH, 12/3)
McKenna Barney is trying to hide her worsening eyesight and has been isolating herself for the last year. But at the request of her little sister, she signs up for a commemorative mail run race in the Canadian wilderness—a race she doesn't know if she can even see to run. Winning would mean getting her disease—and her sister's—national media coverage, but it would also pit McKenna and her team of eight sled dogs against racers from across the globe for three days of shifting lake ice, sudden owl attacks, snow squalls, and bitterly cold nights.
More to the Story by Hena Khan (Salaam Reads, 9/3)
When Jameela Mirza is picked to be feature editor of her middle school newspaper, she's one step closer to being an award-winning journalist like her late grandfather. The problem is her editor-in-chief keeps shooting down her article ideas. Jameela's assigned to write about the new boy in school, who has a cool British accent but doesn't share much, and wonders how she'll make his story gripping enough to enter into a national media contest. Jameela, along with her three sisters, is devastated when their father needs to take a job overseas, away from their cozy Georgia home for six months. Missing him makes Jameela determined to write an epic article—one to make her dad extra proud. But when her younger sister gets seriously ill, Jameela's world turns upside down. And as her hunger for fame looks like it might cost her a blossoming friendship, Jameela questions what matters most, and whether she's cut out to be a journalist at all…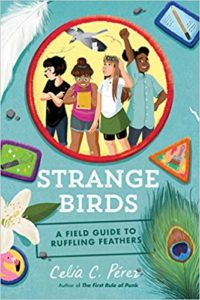 Strange Birds by Celia C. Perez (Kokila, 9/3)
When three very different girls find a mysterious invitation to a lavish mansion, the promise of adventure and mischief is too intriguing to pass up. Ofelia Castillo (a budding journalist), Aster Douglas (a bookish foodie), and Cat Garcia (a rule-abiding birdwatcher) meet the kid behind the invite, Lane DiSanti, and it isn't love at first sight. But they soon bond over a shared mission to get the Floras, their local Scouts, to ditch an outdated tradition. In their quest for justice, independence, and an unforgettable summer, the girls form their own troop and find something they didn't know they needed: sisterhood.
Torpedoed: The True Story of the World War II Sinking of 'The Children's Ship' by Deborah Heiligman (Macmillan, 10/8)
*cover to come*
Amid the constant rain of German bombs and the escalating violence of World War II, British parents by the thousands chose to send their children out of the country: the wealthy, independently; the poor, through a government relocation program called CORB. In September 1940, passenger liner SS City of Benares set out in a convoy of nineteen ships sailing for Canada. On board were ninety CORB children, chaperones, and crew, along with paying passengers. When the war ships escorting the Benares to safe waters peeled off and the way forward seemed certain, a German submarine attacked and torpedoed the Benares. What followed is an amazing example of all that people are capable of―the worst, and the best.
Best Friends by Shannon Hale, illustrated by LeUyen Pham (First Second, 8/27)
Sixth grade is supposed to be perfect. Shannon's got a sure spot in the in-crowd called The Group, and her best friend is their leader, Jen, the most popular girl in school. But the rules are always changing, and Shannon has to scramble to keep up. She never knows which TV shows are cool, what songs to listen to, and which boys she's allowed to talk to. Who makes these rules anyway? And does Shannon have to follow them? Or should she follow her heart?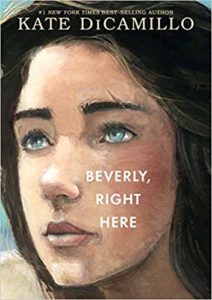 Beverly, Right Here by Kate DiCamillo (Candlewick, 9/24)
Beverly Tapinski has run away from home plenty of times, but that was when she was just a kid. By now, she figures, it's not running away. It's leaving. Determined to make it on her own, Beverly finds a job and a place to live and tries to forget about her dog, Buddy, now buried underneath the orange trees back home; her friend Raymie, whom she left without a word; and her mom, Rhonda, who has never cared about anyone but herself. Beverly doesn't want to depend on anyone, and she definitely doesn't want anyone to depend on her. But despite her best efforts, she can't help forming connections with the people around her — and gradually, she learns to see herself through their eyes.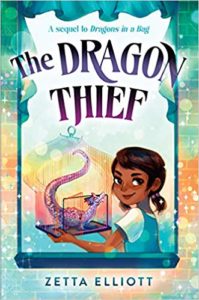 The Dragon Thief by Zetta Elliott, illustrated by Geneva B (Random House, 10/22)
Jaxon had just one job–to return three baby dragons to the realm of magic. But when he got there, only two dragons were left in the bag. His best friend's sister, Kavita, is a dragon thief!
Kavita only wanted what was best for the baby dragon. But now every time she feeds it, the dragon grows and grows! How can she possibly keep it secret? Even worse, stealing it has upset the balance between the worlds. The gates to the other realm have shut tight! Jaxon needs all the help he can get to find Kavita, outsmart a trickster named Blue, and return the baby dragon to its true home.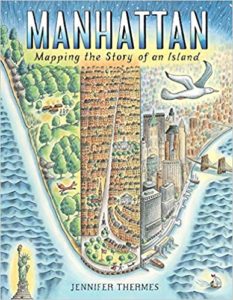 Manhattan: Mapping the Story of an Island by Jennifer Thermes (Abrams, 8/6)
From before its earliest settlement to the vibrant metropolis that exists today, the island of Manhattan has always been a place of struggle, growth, and radical transformation. Humans, history, and natural events have shaped this tiny sliver of land for more than 400 years. In Manhattan, travel back in time to discover how a small rodent began an era of rapid change for the island. Learn about immigration, the slave trade, and the people who built New York City. See how a street plan projected the city's future, and how epic fires and storms led to major feats of engineering above and below ground.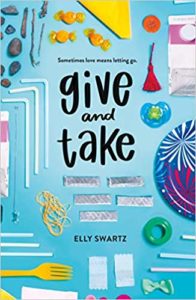 Give and Take by Elly Swartz (Macmillan, 10/15)
Family has always been important to twelve-year-old Maggie: a trapshooter, she is coached by her dad and cheered on by her mom. But her grandmother's recent death leaves a giant hole in Maggie's life, one which she begins to fill with an assortment of things: candy wrappers, pieces of tassel from Nana's favorite scarf, milk cartons, sticks . . . all stuffed in cardboard boxes under her bed. Then her parents decide to take in a foster infant. But anxiety over the new baby's departure only worsens Maggie's hoarding, and soon she finds herself taking and taking until she spirals out of control. Ultimately, with some help from family, friends, and experts, Maggie learns that sometimes love means letting go.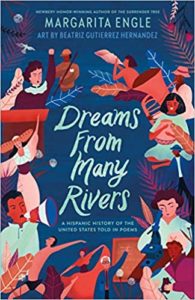 Dreams From Many Rivers by Margarita Engle (Macmillan, 10/8)
From Juana Briones and Juan Ponce de León, to eighteenth century slaves and modern-day sixth graders, the many and varied people depicted in this moving narrative speak to the experiences and contributions of Latinos throughout the history of the United States, from the earliest known stories up to present day. It's a portrait of a great, enormously varied, and enduring heritage. A compelling treatment of an important topic.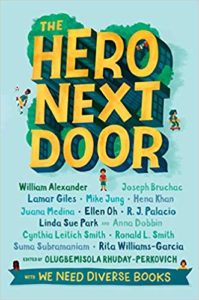 The Hero Next Door, edited by Olugbemisola Rhuday-Perkovich (Crown, 7/30)
Not all heroes wear capes. Some heroes teach martial arts. Others talk to ghosts. A few are inventors or soccer players. They're also sisters, neighbors, and friends. Because heroes come in many shapes and sizes. But they all have one thing in common: they make the world a better place. Published in partnership with We Need Diverse Books, this vibrant anthology features thirteen acclaimed authors whose powerful and diverse voices show how small acts of kindness can save the day. So pay attention, because a hero could be right beside you. Or maybe the hero is you.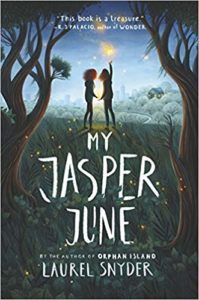 My Jasper June by Laurel Snyder (Walden Pond Press, 9/3)
The school year is over, and it is summer in Atlanta. The sky is blue, the sun is blazing, and the days brim with possibility. But Leah feels. . . lost. She has been this way since one terrible afternoon a year ago, when everything changed. Since that day, her parents have become distant, her friends have fallen away, and Leah's been adrift and alone. Then she meets Jasper, a girl unlike anyone she has ever known. There's something mysterious about Jasper, almost magical. And Jasper, Leah discovers, is also lost. Together, the two girls carve out a place for themselves, a hideaway in the overgrown spaces of Atlanta, away from their parents and their hardships, somewhere only they can find.
Reminder! Fill out our survey and enter for a chance to win a $50 gift certificate! We're always trying to do things better here at Book Riot, so we would love your feedback on this newsletter. Click here to complete the survey and enter to win a $50 gift certificate to Amazon; contest will close on June 30 at 11:45pm.
Also, go check out Book Riot's Amazon storefront–we've put together a selection of our favorite books and bookish stuff for summer!"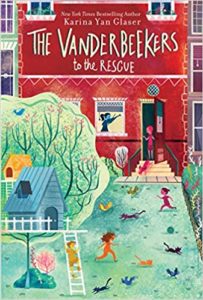 There is one last book coming out this fall that I'm excited about! The third book in the Vanderbeekers series, The Vanderbeekers to the Rescue , comes out on September 17! (Full disclosure: I wrote it!) For the Vanderbeeker kids of Harlem's 141st Street, spring break couldn't be off to a better start. Isa's back from band camp, Oliver's building his first-ever treehouse in the backyard of the brownstone, and Laney, Jess, and Hyacinth are excited to help their mother when she gets the once-in-a-lifetime chance to star in a cooking magazine. But the Vanderbeekers' plans go off the rails when they receive an unexpected visit… This one releases on September 17, 2019!
I would love to know what you are reading this week! Find me on Twitter at @KarinaYanGlaser, on Instagram at @KarinaIsReadingAndWriting, or email me at karina@bookriot.com.
Until next time!
Karina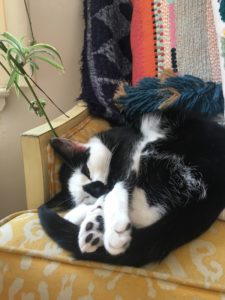 *If this e-mail was forwarded to you, follow this link to subscribe to "The Kids Are All Right" newsletter and other fabulous Book Riot newsletters for your own customized e-mail delivery. Thank you!*