Happy Aggretsuko Friday, secretary birds and fennec foxes! May your day be filled with your favorite kind of metal and cute food. It's Alex, with your dose of news and some free association to take you into the weekend.
---
This newsletter is sponsored by Tor Books.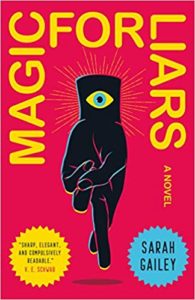 Ivy Gamble was born without magic and never wanted it.
Ivy Gamble is perfectly happy with her life – or at least, she's perfectly fine.
She doesn't in any way wish she was like Tabitha, her estranged, gifted twin sister.
Ivy Gamble is a liar.
When a gruesome murder is discovered at The Osthorne Academy of Young Mages, where her estranged twin sister teaches Theoretical Magic, reluctant detective Ivy Gamble is pulled into the world of untold power and dangerous secrets. She will have to find a murderer and reclaim her sister—without losing herself.
---
News and Views
The 2019 Ditmar Award Winners (for Australian SFF) have been announced.
A discussion well worth reading about the frustrations of disabled fans with the Game of Thrones finale.
A cool interview with artist Justin Gerard, who's done a lot of fantasy lit art.
If you haven't gotten a copy of the New Suns anthology yet, perhaps this excellent review will convince you.
Russian Doll will be getting a second season.
A really cool piece on the origins of the Green Man.
The Amazing Maurice and His Educated Rodents is going to be an animated film!
You can read an excerpt of Cixin Liu's Supernova Era over at Tor.com.
Dune: The Sisterhood has been greenlit for yet another streaming service. It's apparently going to be about the Dune universe viewed through the eyes of the Bene Gesserit, not to be confused with the book of the same title. (I love Dune, but I'm feeling pretty unsure-face about a series that's all Bene Gesserit that doesn't seem to involve any women in the upper creative roles?)
At E3, we got a reveal on a game that's a collaboration between George R.R. Martin and Hidetaka Miyazaki (the creator of Dark Souls).
Ooh, we're getting reviews of Men In Black: International.
US Weather forecasts got a much-needed software upgrade.
Sci-fi novel idea! There's a conspicuously large spot of extra mass on the Moon. (It's probably an old asteroid. But technically we don't know…)
Free Association Friday
Okay, this is a super cool today in history! In 1822 on June 14, Charles Babbage announced his invention of the difference engine to the Royal Astronomical Society via a paper. This was Difference Engine 0, the first and smallest, which he wanted to use to automate the calculation of astronomical tables that were used by sailors. (Creating tables was tedious, time-consuming work, and errors in the calculations could very well kill people who relied on them.) Babbage's paper got him funding to work on further difference engines; they weren't simple calculators, but could be used to calculate polynomial equations. (If you want a more complex description of how they work, see here.) Ada Lovelace got involved in a more ambitious spin-off of the project, the Analytical Engine, and built the foundation for the discipline of scientific computing before her untimely death of cancer at the age of 37.
The impetus for Babbage to start work on the difference engine is attributed to him, frustrated at some terrible, error-ridden astronomical tables, exclaiming: "I wish to God these calculations had been executed by steam!"
So you bet your analytical engines this is going to a steampunk place. Of course I have to start off mentioning its cyberpunky crossover in The Difference Engine by Bruce Sterling and William Gibson, in which the computer age arrives a century early and is powered by steam. Ada Lovelace also puts in an appearance as a pre-eminent and elderly scientist in Lev A.C. Rosen's All Men of Genius.
Lady of Devices by Shelley Adina has an inventor heroine who is living a double life as an engineer on both sides of the law. We've got Haitian scientists and mysterious weapons in The Black God's Drums by P. Djèlí Clark. In Everfair by Nisi Shawl, Africans develop steam technology ahead of Europeans, and the world is set on a new and gorgeous course. The Sea Is Ours: Tales From Steampunk Southeast Asia edited by Jaymee Goh and Joyce Chng is exactly what it says on the tin and well worth reading. Maurice Broaddus's Buffalo Soldier starts off in a steampunk Jamaica where a former spy has to go on the run with a mysterious boy. (Maurice also brought us Pimp My Airship.) Rings of Anubis by E. Catherine Tobler sets an archaeologist on a fantastical steampunk adventure through Egypt as she searches for the truth behind her mother's disappearance. And an automaton that can do alchemy gets involved in a proletarian revolution in The Alchemy of Stone by Ekaterina Sedia.
See you, space pirates. You can find all of the books recommended in this newsletter on a handy Goodreads shelf. If you'd like to know more about my secret plans to dominate the seas and skies, you can catch me on the (Hugo-nominated!!!) Skiffy and Fanty Podcast or over at my personal site.