Happy Friday to everyone but the jerkface editor of The Atlantic who thinks that only white dudes can write 10K-word cover stories and–sorry, rage-fainted for a second there. Have an equally not-genre-related antidote: a clip of Sutton Foster, Hilary Duff, and Miriam Shor singing a bit of 9 to 5! Anyway, it's Alex, with some news and general silliness for you, my favorite space unicorns.
---
This newsletter is sponsored by Tor Books.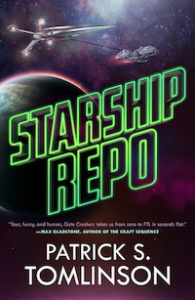 Firstname Lastname is a nobody with nowhere to go. Her name is the result of an unfortunate clerical error, and her destiny to be one of the only humans on an alien space station. That is until she sneaks aboard a ship and joins a band of repomen. Now she's traveling the galaxy "recovering" ships. What could go wrong?
---
News and Views
Congratulations to the winners of the 31st Lambda Literary Awards! The winner for the SFF/horror category was The Breath of the Sun by Isaac R. Fellman (published under Rachel Fellman).
Winners for the 2019 Neukom Awards have also been announced!
io9 has a short story from this month's Lightspeed for your perusal: Between the Dark and the Dark by Deji Bryce Olukotun
For Pride Month, I'd like to direct your attention to Bogi Takác's regular QUILTBAG+ Speculative Classics column at Tor.com.
Also for Pride–the LGBT+ Fantasy Storybundle is live. (Full disclosure: There's a book by me in this one.)
My favorite pride month Twitter joke so far.
A look at the 1972 film The Blood-Splattered Bride and basically you had me at "lesbian vampire."
A look at a classic sci-fi novel: Frederik Pohl's Gateway. This is one of the few classics I read as a kid that I still revisit; I feel like it really holds up.
If Ken Loach directed Star Wars.
Bill and Ted will be going on an excellent adventure with their daughters, Thea and Billie (respectively).
Wonder Woman 1984 has an AWESOME poster.
Writer dropped from a Doctor Who anthology because of his transphobic remarks.
The Halo series wants to have a similar scope and scale to Game of Thrones. I mean, if you've played Halo: Reach, they can plainly achieve the body count, too.
George R.R. Martin has joined Meow Wolf as its Chief World Builder.
Robert Downey Jr. continues to be Tony Stark, but this time IRL.
NASA's deep space habitat prototype has completed ground testing.
Dinosaur bones! In Australia!! That were turned to opal!!! And are from a new species!!!!
Free Association Friday
Today in history, the city of New Orleans was founded in 1718 by Jean-Baptiste Le Moyne, Sieur de Bienville. 122 years later, in a completely unrelated event, the Great Natchez Tornado hit Natchez, Mississippi and killed 317 people. That makes it the second deadliest tornado in US History (the deadliest was the Tri-State Tornado that hit on March 18, 1925 and tore across Illinois, Missouri, and Indiana). Weather is scary (and cool, when it's not coming after your city), which has me thinking about New Orleans again and the way it got hit so hard by Hurricane Katrina. Which takes me to climate change, and one of the predicted effects being more extreme weather.
When it comes to climate change fiction that looks at extreme weather, there's plenty to choose from. Carrie Vaughn's Bannerless imagines what society will be like after everything has been wrecked by super storms. Apparently there's a dystopian twist coming later in the series, though I (weirdly?) didn't find the first book blatantly dystopian; it's more a nice sci-fi murder mystery. American War by Omar El Akkad is more post-apocalyptic, imagining an America flattened by extreme climate and plagues–and a second civil war. Rebecca Roanhorse's Trail of Lightning is an urban fantasy take on that sort of after-apocalypse… with the twist being that it's a new beginning for a people who already had their apocalypse well before the collapse of the US.
In my (admittedly limited because I am a human being who must sleep and hasn't read everything) experience, science fiction tends to more focus on the aftermath of the extreme weather, the climate destruction. With fantasy, you get a little bit more of the discrete events themselves, storms as portents and inciting incidents. (Need we mention The Wizard of Oz?) The power of storms gets magically siphoned into orbs in Maria V. Snyder's Storm Glass. In Ill Wind by Rachel Caine, weather mages keep unsuspecting non-magical people safe from devastating storms… with the help of captive djinn. There's a plot-related extreme weather event in Charlie Jane Anders's All the Birds in the Sky, which shall not be spoiled here. N.K. Jemisin has a great story about storms in How Long 'Til Black Future Month? (Cloud Dragon Skies)–also a story I love about alternate history steampunk New Orleans that has nothing to do with inclement weather (The Effluent Engine).
See you, space pirates. You can find all of the books recommended in this newsletter on a handy Goodreads shelf. If you'd like to know more about my secret plans to dominate the seas and skies, you can catch me on the (Hugo-nominated!!!) Skiffy and Fanty Podcast or over at my personal site.