Hello and happy Friday, fellow readers! It feels like a quiet-ish week in the world of nonfiction books, but I've still got a few bits and pieces to share. Let's dive in!
---
Sponsored by The Collected Schizophrenias by Esmé Weijun Wang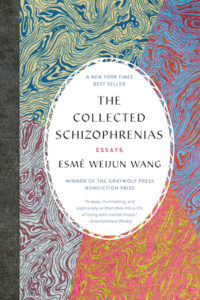 Schizophrenia is not a single unifying diagnosis, and Esmé Weijun Wang writes not just to her fellow members of the "collected schizophrenias" but to those who wish to understand it as well. In essays that range from using fashion to present as high-functioning to the depths of a rare form of psychosis, and from the failures of the higher education system and the dangers of institutionalization to the complexity of compounding factors such as PTSD and Lyme disease, Wang's analytical eye, honed as a former lab researcher at Stanford, allows her to balance research with personal narrative. An essay collection of undeniable power, The Collected Schizophrenias dispels misconceptions and provides insight into a condition long misunderstood.
---
Murderonios and other true crime lovers… This Bustle interview with My Favorite Murder's Karen Kilgariff and Georgia Hardstark is fun. They talk about the book, how writing is hard, and some of the therapeutic value of writing.
Hillary and Chelsea Clinton are starting a production company! The company is in early stages and doesn't have a name yet, but "will spotlight stories by and about women." I'm pretty psyched about this!
Fascinated as I am by the National Spelling Bee? The New York Times offered some book and movie recommendations, including Beeline by Shalini Shankar.
Debbie Harry of Blondie is releasing a memoir in October! The book "blends first-person essays with interviews conducted by journalist Sylvie Simmons." It also includes new photos and fan art, which seems really fun to me.
Michael Wolff's next book on the Trump administration is barely out, but he's already having to defend his reporting. In a nutshell, Wolff claims to have reviewed a "draft indictment" of the president prepared by Special Counsel Robert Mueller's team, but a spokesman for the office said that document doesn't exist. Siege: Trump Under Fire came out on Tuesday.
Simon & Schuster has elected not to publish a book by Tony Robbins after news reports surfaced that Robbins has berated rape and domestic violence victims and has been accused of sexually harassing staffers and fans (you can read more in the link, if so inclined). Good job, Publishing.
Finally, I'll close with a couple of interesting podcasts to check out:
Slow Burn is doing a series based on The Queen by Josh Levin, a new nonfiction book about the first "welfare queen" who was actually an accused murderer and fraudster. Levin is one of the editors behind slow burn, so this one makes a lot of sense.
One of this week's episodes of The Daily was on "The Legacy of Rachel Held Evans." Elizabeth Dias, a reporter who covers religion for the New York Times, shared her story and brought in guests who spoke about her impact. It was a moving episode.
Thanks for checking in again this week! You can find me on Twitter @kimthedork, on email at kim@riotnewmedia.com, and co-hosting the For Real podcast here at Book Riot. Happy reading! – Kim