Hey YA readers! Let's catch up on the latest YA book talk.
"What's Up in YA?" is sponsored by This Time Will Be Different by Misa Sugiura, from Epic Reads.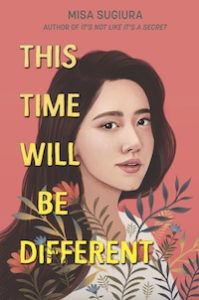 CJ's never lived up to her mom's ambition, and she's perfectly happy just helping her aunt, Hannah, at their family's flower shop. She doesn't buy into Hannah's ideas about flowers and their hidden meanings, but when it comes to floral arrangement, CJ discovers a skill she can be proud of. Then her mom decides to sell the shop—to the family who swindled CJ's grandparents when Japanese Americans were sent to internment camps during WWII. Soon a rift threatens to splinter CJ's family, friends, and their entire community; and for the first time, CJ has found something she wants to fight for.
---
It's been a minute since we've caught up on all of the incredible YA book talk happening over on Book Riot. Let's take this opportunity to do just that.
You'll note so much excellent YA fantasy talk here! Likewise, don't miss out on the start of Hey YA: Extra Credit and all things Norma Klein.
Just for fun, enjoy this photo of my bunny Hollandaise and her least-favorite book in the Harry Potter series. Enjoy some more bookish pets here.
---
Thanks for hanging out and we'll see you later this week!
— Kelly Jensen, @veronikellymars on Instagram and editor of (Don't) Call Me Crazy and Here We Are.