Hi mystery fans! I have for you a great legal mystery, an equally great procedural, and a page-turner serial killer mystery. These would all make great summer reads–they've got great hooks, pacing, and escapism.
---
Sponsored by Forge Books.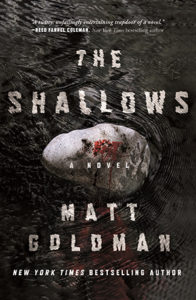 In the words of Lee Child on Gone to Dust, "I want more of Nils Shapiro." New York Times bestselling author and Emmy Award-winning writer Matt Goldman obliges by bringing the Minneapolis private detective back for a thrilling, stand-alone adventure. A prominent lawyer is found dead, tied to a dock by a fishing stringer through his jaw, and everyone wants Nils to protect them from suspicion: The unfaithful widow. Her boyfriend. The lawyer's firm. A congressional candidate. A rudderless police department. Even the FBI. The Shallows delves into the threat of dark history repeating itself while delivering another page-turner with a fast pace, humor, and richly drawn characters.
---
Great Legal Mystery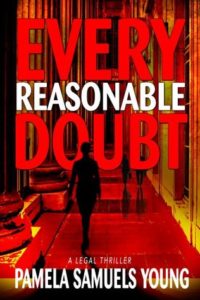 Every Reasonable Doubt (Vernetta Henderson #1) by Pamela Samuels Young: My first thought upon finishing this novel was how annoyed I was that I'd never heard of this series before. It had been a while since I'd read a really good mystery starring a lawyer and this hit a lot of sweet spots for me: court room scenes; twisty case; good balance of personal life with work scenes; great friendship.
Vernetta Henderson is about to get her first criminal case, which would be exciting for her if it weren't for the fact she's paired up with a lawyer she can't stand: Neddy McClain. It also doesn't help that Vernetta's husband has decided it is now time to start having kids, and he's super insistent even though Vernetta keeps saying now isn't the right time because of her career. And then there's the issue that Vernetta is certain her new client did kill her husband.
If you're a fan of procedurals and legal mysteries this was a great start to a series–and there are four more books in the series!
YA Serial Killer Mystery

Keep This to Yourself by Tom Ryan: This was a page-turner about an unsolved small-town mystery with a teen that won't let it go. It also had the added bonus of a serial killer, but for those who shy away from serial killer reads, because they're usually really dark, this novel never went into dark territory.
It's been a year since the killings ended in Camera Cove and the community is finally trying to find a new normal and put it behind them. But Mac Bell lost his best friend and when the library asks him to help finish the mural his best friend had been painting before his death, he finds himself digging into the lives of those murdered by the serial killer. It just never made sense to him how they were all connected or how the police let it go after determining the serial killer was no longer hunting in their town. While everyone wants him to stop and just leave things in the past, he meets a new boy who wants to help and date him–but they'll have to survive first if they continue being the meddling kids!
I found myself equally caring about the mystery and Mac's dating life, and I enjoyed the ride so much that I really didn't care that a bit of the police stuff fell really into fictional land. I will definitely be reading his upcoming novel: I Hope You're Listening.
Great Procedural (TW suicide/ PTSD)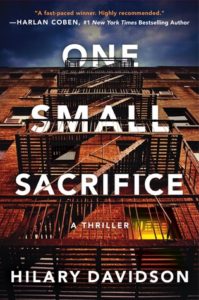 One Small Sacrifice (Shadows of New York #1) by Hilary Davidson: This was so good I listened to the audiobook–a great ensemble cast–in one day.
The mystery is basically this: there's a war photographer with PTSD who has been on an NYPD detective's radar since a woman's death. Now, with his girlfriend missing, the detective is here to finally nail his ass to the wall. But this was a great procedural so it's not going to be that easy. I really liked the way the multiple points of view were used, that the detective has a new partner–so her catching him up felt totally natural and not like forced info dumping–plus, I loved their clashing and melding as they settle into a new partnership.
I thought this was a really good start to a series, where I equally liked the detective and the suspect and really look forward to where this may go in the future. It would also make a fantastic series adaptation so someone get on that, please!
Recent Releases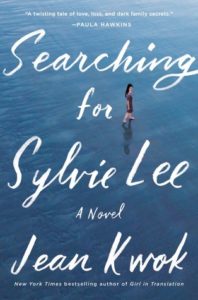 Searching for Sylvie Lee by Jean Kwok (Currently reading and loving: Multiple POV as woman is missing and everyone starts to learn they didn't really know her.) (TW suicide/ domestic abuse/ statutory rape discussed)
I'll Never Tell by Catherine McKenzie (Currently reading: Camp setting where past mystery must be solved by those who may have been involved.)
We Were Killers Once (Brigid Quinn #4) by Becky Masterman (Fictional ex-FBI and ex-Priest working on a case tied to the case in the true crime In Cold Blood.)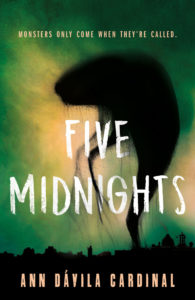 Five Midnights by Ann Dávila Cardinal (Really good mystery/horror set in Puerto Rica.) (TW addiction)
Death in Kew Gardens (Kat Holloway Mysteries #3) by Jennifer Ashley (Victorian London historical mystery)
The Right Sort of Man (The Right Sort Marriage Bureau #1) by Allison Montclair (After World War II London historical mystery)
The Truffle Underground: A Tale of Mystery, Mayhem, and Manipulation in the Shadowy Market of the World's Most Expensive Fungus by Ryan Jacobs (This sounds like another good nonviolent true crime read.)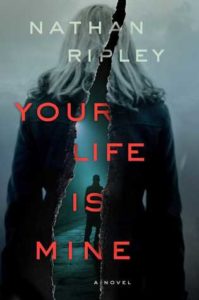 Your Life is Mine by Nathan Ripley (Return back home mystery where her father was a cult leader and killer.)
Browse all the books recommended in Unusual Suspects previous newsletters on this shelf. And here's an Unusual Suspects Pinterest board.
Until next time, keep investigating! And in the meantime, come talk books with me on Twitter, Instagram, and Litsy–you can find me under Jamie Canavés.
If a mystery fan forwarded this newsletter to you and you'd like your very own you can sign up here.