Today's Riot Rundown is sponsored by If It Makes You Happy by Claire Kann and Swoon Reads.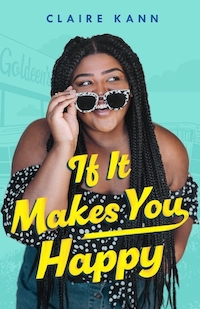 Winnie is living her best fat girl life at her Granny's diner, Goldeen's, in the small town of Misty Haven. She's poised for one last perfect summer twirling around the diner floor in her 50's-inspired uniform before starting college in the fall.
And then she becomes Misty Haven's Summer Queen, a highly anticipated matchmaking tradition that she wants absolutely nothing to do with.
Newly crowned, Winnie discovers almost immediately that she's deathly afraid of it all: the spotlight, the obligations, and the way her Merry Haven Summer King, wears his heart, humor, and honesty on his sleeve.