Hi Kid Lit Friends!
Happy middle of May! I hope you've been finding some excellent books lately. Here are some new releases to put on your radar; take a look and let me know what you think!
As always, if I've had the chance to read one of these books and loved it, I marked it with a 
. Please note that all descriptions come from the publisher.
---
Sponsored by Pie in the Sky by Remy Lai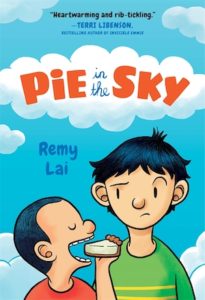 A poignant, laugh-out-loud illustrated novel about an eleven-year-old boy's immigration experience, his annoying little brother, and their cake-baking hijinks! "Pie in the Sky is like enjoying a decadent cake: it's multilayered, thoughtfully prepared, and sweet (but not sickeningly so!). It's both heartwarming and rib-tickling." —Terri Libenson, bestselling author of Invisible Emmie "Seamlessly mixes together equal parts of humor, loss, identity, discovery, and love . . . illustrated beautifully with Lai's insightful drawings." —Veera Hiranandani, Newbery Honor-winning author of The Night Diary
---
Picture Book New Releases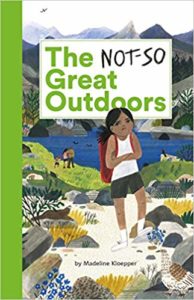 The Not-So Great Outdoors by Madeline Kloepper
What's so great about the "great outdoors"? A grumpy urban kid begrudgingly accompanies her family on a summer camping trip, missing all the sublime sights right under her nose as she longs for the lights and stimulation of the city. But as she explores forests, lakes and mountains, and encounters bears, beavers and caribou, she slowly comes to realize that the simpler things are just as sparkly, that the sky is its own majestic light show, and the symphony is all around.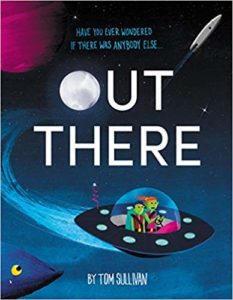 Out There by Tom Sullivan
Do you ever look up at the night sky and wonder if there is anybody else out there?
Are there evil robots or cool aliens?
Do they fly in UFOs or live in futuristic cities?
Or maybe . . . they are just like us.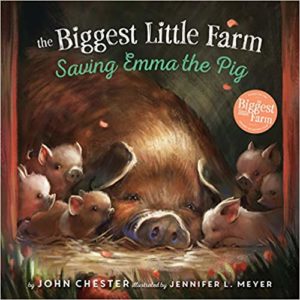 Saving Emma the Pig by John Chester, illustrated by Jennifer L. Meyer
Welcome to Apricot Lane Farm, a unique world full of true stories about heartwarming animals' relationships and the special people who care for them. When Emma the pig arrives at the Apricot Lane Farm, she is about to give birth to piglets. But she is also sick, and after her seventeen babies arrive, Emma is unable to care for them. Taking care of seventeen piglets and a sick mama pig are a challenge for Farmer John and his team. But the cure for Emma reminds them what is most important―for pigs and for humans: love and friendship.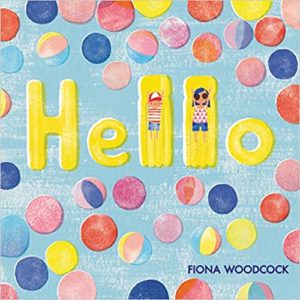 Hello by Fiona Woodcock
A brother and sister enjoy a brilliant day full of spills, thrills, and silly adventures in this playful story comprised only of words that contain a double L (such as spills, thrills, and silly)! There are plenty of spills and thrills as a brother and a sister collide in bumper cars, ride roller coasters, toss beach balls, and act silly in the chilly ocean water, where they meet a jellyfish!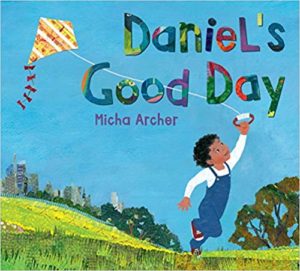 Daniel's Good Day by Micha Archer
The people in Daniel's neighborhood always say, "Have a good day!" But what exactly is a good day? Daniel is determined to find out, and as he strolls through his neighborhood, he finds a wonderful world full of answers as varied as his neighbors. For Emma, a good day means a strong wind for kite flying. For the bus driver, a good day means pleases and thank-yous. A good day is bees for the gardener, birthdays for the baker, and wagging tails for the mail carrier. And, for Daniel's grandma, a good day is a hug from Daniel! And when Daniel puts all these good days together, they make a lovely poem full of his neighbors' favorite things.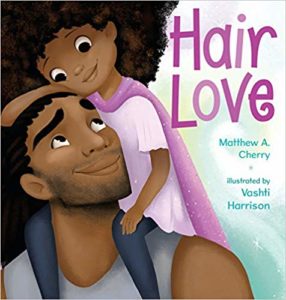 Hair Love by Matthew A. Cherry, illustrated by Vashti Harrison
Zuri's hair has a mind of its own. It kinks, coils, and curls every which way. Zuri knows it's beautiful. When Daddy steps in to style it for an extra special occasion, he has a lot to learn. But he LOVES his Zuri, and he'll do anything to make her — and her hair — happy. Tender and empowering, Hair Love is an ode to loving your natural hair — and a celebration of daddies and daughters everywhere.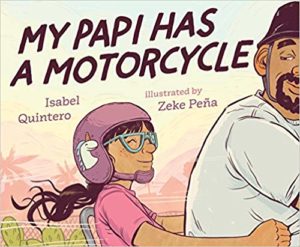 My Papi Has a Motorcycle by Isabel Quintero, illusrated by Zeke Pena
When Daisy Ramona zooms around her neighborhood with her papi on his motorcycle, she sees the people and places she's always known. She also sees a community that is rapidly changing around her. But as the sun sets purple-blue-gold behind Daisy Ramona and her papi, she knows that the love she feels will always be there.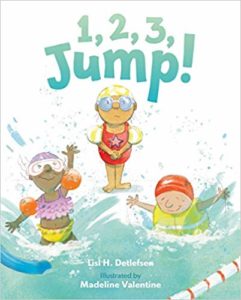 1, 2, 3, Jump! by Lisl H. Detlefsen, illustrated by Madeline Valentine
From what to wear (a bathing suit, of course!) to what to expect (no, your teacher will not be a mermaid), 1, 2, 3 Jump! covers the what if's and how to's of getting in the pool for the first time. There's a lot to worry about (can I be sucked in the filter?) and even more to be excited about (when can I wear flippers?), and our narrator has thought of everything. By the time she's ready, you to will want to jump in!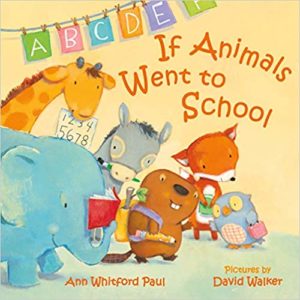 If Animals Went to School by Ann Whitford Paul, illustrated by David Walker
If animals went to school, what would they do? Fox would head to the story nook, Lemur would climb the jungle gym at recess, and Ms. Cheetah would teach them shapes and letters. Beaver wouldn't want to go at first . . . but then he wouldn't want to leave! In this next installment in Ann Whitford Paul and David Walker's successful series, following If Animals Kissed Good Night and If Animals Said I Love You, little readers can imagine how animals would spend a day in the classroom.
Chapter Book New Release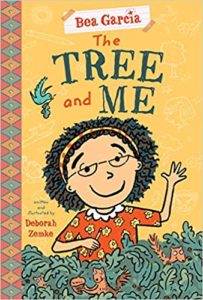 Bea Garcia: The Tree and Me by Deborah Zemke
There's a very special 150-year-old oak tree outside the window of Bea's classroom at Emily Dickinson Elementary School. When Bert, Bea's nemesis, climbs the tree, he gets in a lot of trouble–and that leads to even more trouble for everyone. "Concerned" citizens proclaim the tree a hazard and call for cutting it down. But the class won't let that happen, and using Bea's artistic ability, they work out a great plan to save the tree named Emily.
Middle Grade New Releases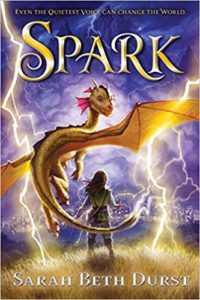 Spark by Sarah Beth Durst
Storm beasts and their guardians create perfect weather every day, and Mina longs for a storm beast of her own. But when the gentle girl bonds with a lightning beast—a creature of fire and chaos—everyone's certain it's a mistake. Everyone but Mina and the beast himself, Pixit. Quickly enrolled in lightning school, Mina struggles to master a guardian's skills, and she discovers that her country's weather comes at a devastating cost—a cost powerful people wish to hide. Mina's never been the type to speak out, but someone has to tell the truth, and, with Pixit's help, she resolves to find a way to be heard.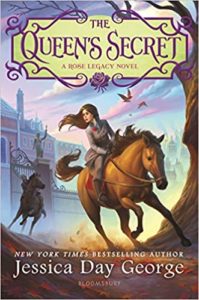 The Queen's Secret: A Rose Legacy Novel by Jessica Day George
Anthea knows the truth about horses. They're not carriers of deadly disease like everyone in their kingdom thinks; they're majestic creatures who share their thoughts and feelings with her through The Way. Anthea has convinced the king of this, but at a cost–he demands that horses and riders with The Way do his bidding. But when a deadly plague breaks out, the people believe that horses are the cause. As more fall ill, it's up to Anthea and her friends to transport medicine, all while keeping out of reach from Anthea's wicked mother. And when Anthea discovers a secret that could change the kingdom forever, she must risk everything to reveal the truth before it's too late.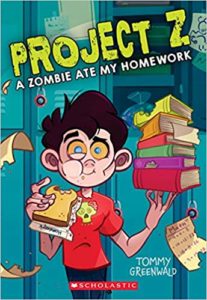 Project Z: A Zombie Ate My Homework! by Tommy Greenwald
Arnold Z. Ombee has escaped a secret government lab that's developing zombies. Young, scared, and alone, he is found by the Kinders, a warmhearted couple who take him in. The Kinders decide Arnold will become part of their family. They help him disguise his undead appearance and teach him how to act like a human boy. After a lot of practice, he's ready for the ultimate test:  Fifth grade!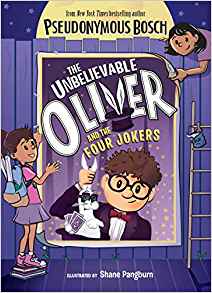 The Unbelievable Oliver and the Four Jokes by Pseudonymous Bosch, illustrated by Shane Pangburn
Eight-year-old Oliver dreams of being a professional magician, even though he has terrible stage fright. And now, his friends Teenie and Bea have gotten him invited to a classmate's birthday party as the paid entertainment! Desperate for help, he visits The Great Zoocheeni's Magic Emporium, but comes away with nothing more than a moth-eaten top hat. Oliver is in for a lucky surprise, though. Inside that top hat hides a wisecracking rabbit named Benny, who agrees to help Oliver with his act. But at the party, Oliver is accused of robbery! He'll need to solve the mystery of the missing robo-cat to clear his name before he and Benny can amaze the crowd with their grand finale.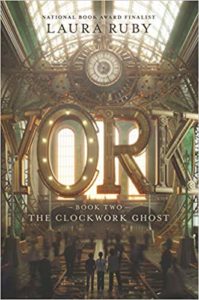 York: The Clockwork Ghost by Laura Ruby
It was only a few weeks ago that the Biedermann twins, Tess and Theo, along with their friend Jaime Cruz, followed the secrets of the Morningstarrs' cipher further than anyone had in its century-and a-half history—and destroyed their beloved home in the process. But the Old York Cipher still isn't solved. The demolition of 354 W. 73rd Street only revealed the next clue in the greatest mystery of the modern world, and if Tess, Theo, and Jaime want to discover what lies at the end of the puzzle laid into the buildings of New York by its brilliant, enigmatic architects, they will need to press on.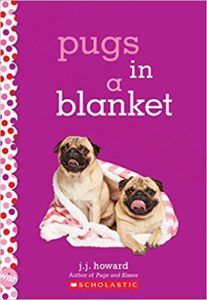 Pugs in a Blanket by J.J. Howard
When Sam comes home one day to find two mystery pugs left on her porch, she's sure it's destiny. She's always wanted a dog of her own, even though her parents say that their catering business keeps the family too busy for a pet — let alone two! But Sam has to take in the sweet, abandoned pups . . . at least until their real owners turn up. Only, she's not quite prepared for how hard it is to wrangle two frisky dogs, especially when she sneaks them into the parties her parents cater. Thankfully, cute new boy in town, Jai, whose dad works at the same events, is on hand to help when the pugs start wreaking havoc.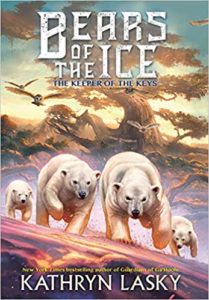 Bears of the Ice: Keepers of the Keys by Kathryn Lasky
Against all odds, cubs Stellan, Jytte, Third, and Froya have found the key hidden inside the legendary Den of Forever Frost. Now, they have everything they need to destroy the dangerous ice clock. Everything . . . except an army. The power-hungry Grand Patek will stop at nothing to protect the clock, the source of his authority. And so, it's up to the cubs to convince the animals of Ga'Hoole to join the fight-a journey that'll take them from the fabled owl parliament to the rugged territory of the wolves of the beyond.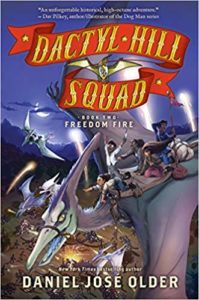 Dactyl Hill Squad: Freedom Fire by Daniel Jose Older
The squad links up with the dino-mounted troops of the Louisiana Native Guard, an all-black regiment in the Union Army fighting to free their people. They're led by General Sheridan, surrounded by enemy forces in Tennessee and desperate for any edge to sway the tide of battle. Magdalys's burgeoning powers might be the Union's last hope. But she doesn't want to abandon the search for her brother. And she might not be the only one with a mysterious connection to dinosaurs. With the Civil War raging around her and the Union on the brink of collapse, how can Magdalys choose between the army that needs her help to survive and the brother she risked everything to save?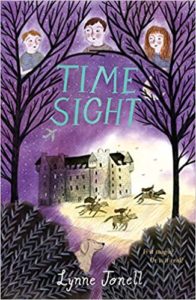 Time Sight by Lynne Jonell
Will's mother is in danger overseas, and his father must find her, so Will and his little brother are packed off to relatives in Scotland. Will feels useless. He can't save his mother. He can't help his father. And when he tries to amuse his brother on the plane ride, he can't even locate the images in Jamie's book―the hidden pictures that everyone else can see. Once at the family's ancestral castle, though, Will tries again. And as he delicately adjusts his focus, suddenly his eyes tune in to a different visual frequency―the past.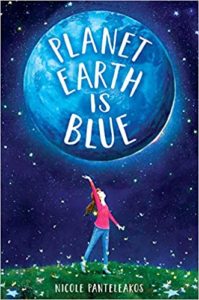 Planet Earth is Blue by Nicole Panteleakos
Twelve-year-old Nova is eagerly awaiting the launch of the space shuttle Challenger–it's the first time a teacher is going into space, and kids across America will watch the event on live TV in their classrooms. Nova and her big sister, Bridget, share a love of astronomy and the space program. They planned to watch the launch together. But Bridget has disappeared, and Nova is in a new foster home. While foster families and teachers dismiss Nova as severely autistic and nonverbal, Bridget understands how intelligent and special Nova is, and all that she can't express. As the liftoff draws closer, Nova's new foster family and teachers begin to see her potential, and for the first time, she is making friends without Bridget.
Nonfiction New Releases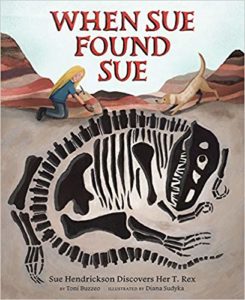 When Sue Found Sue by Toni Buzzeo, illustrated by Diana Sudyka (PB)
From a very young age, Sue Hendrickson was meant to find things: lost coins, perfume bottles, even hidden treasure. Her endless curiosity eventually led to her career in diving and paleontology, where she would continue to find things big and small. In 1990, at a dig in South Dakota, Sue made her biggest discovery to date: Sue the T. rex, the largest and most complete T. rex skeleton ever unearthed. Named in Sue's honor, Sue the T. rex would be placed on permanent exhibition at the Field Museum of Natural History in Chicago.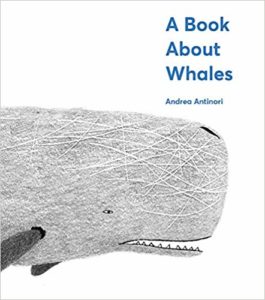 A Book About Whales by Andrea Antinori (PB)
Acting as a first book of whales, A Book About Whales teaches young readers everything they need to know about the largest mammals on earth: how they have evolved over millions of years, what and how they eat, their migration patterns, and more! Andrea Antinori's whimsical black-and-white illustrations bring their underwater world to life. The book discusses a variety of whales one by one so readers learn to tell the differences between a blue whale and a humpback whale, among others, and what makes each of these whales unique. Packed with facts and playful in tone, this book is a must-have for young and curious nature lovers. It includes a bibliography and index.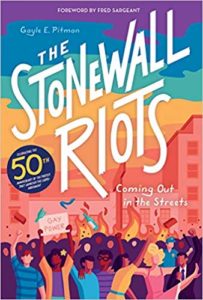 The Stonewall Riots: Coming Out in the Streets by Gayle E. Pitman (MG)
This book is about the Stonewall Riots, a series of spontaneous, often violent demonstrations by members of the gay (LGBTQ+) community in reaction to a police raid that took place in the early morning hours of June 28, 1969, at the Stonewall Inn in the Greenwich Village neighborhood of Manhattan, New York City. The Riots are attributed as the spark that ignited the LGBTQ+ movement. The author describes American gay history leading up to the Riots, the Riots themselves, and the aftermath, and includes her interviews of people involved or witnesses, including a woman who was ten at the time. Profusely illustrated, the book includes contemporary photos, newspaper clippings, and other period objects.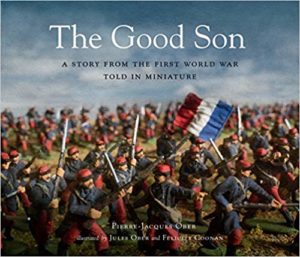 The Good Son by Pierre-Jacques Ober, illustrated by Jules Ober and Felicity Coonan (MG)
It is Christmastime, 1914, and World War I rages. A young French soldier named Pierre had quietly left his regiment to visit his family for two days, and when he returned, he was imprisoned. Now he faces execution for desertion, and as he waits in isolation, he meditates on big questions: the nature of patriotism, the horrors of war, the joys of friendship, the love of family, and how even in times of danger, there is a whole world inside every one of us. And how sometimes that world is the only refuge. Its publication coinciding with the centennial of the signing of the Treaty of Versailles, this moving and sparely narrated story, based on true events, is reenacted in fascinating miniature scenes that convey the emotional complexity of the tale.
Graphic Novel New Releases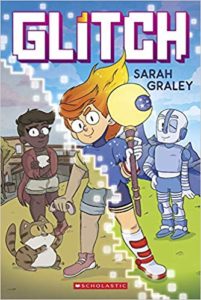 Glitch by Sarah Graley
Izzy has an incredible secret — she can enter the world of her new video game! She meets Rae, a robot who says Izzy is destined to save Dungeon City from the Big Boss. How is this possible?! And how can she fight for this virtual world when she's got a whole real life to keep up with: her family (though she could do without her mom's annoying cat), and her best friend, Eric. Things get even weirder when Izzy loses a life while inside the game, and she starts to worry about what might happen if she gets a Game Over for good. Meanwhile, Eric has been super upset with Izzy since she's been keeping secrets and bailing on their plans. Can Izzy survive Dungeon City and save their friendship?
Island Book by Evan Dahm
Sola is cursed. (At least, that's what everyone tells her.) It all started the day the Monster came to the island. While others fled, Sola stood before the creature, alone and unafraid. Since then she's been treated like an outcast. Shamed and feared for an event she doesn't understand, Sola sets out to sea looking for answers. In uncharted waters far from home, she discovers that her island isn't alone in the endless ocean―and the Monster isn't the only life to be found there.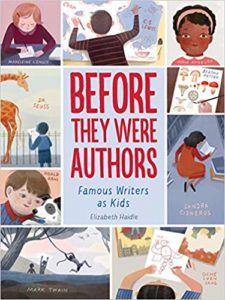 Before They Were Authors by Elizabeth Haidle
What makes a writer?  What inspires them? Where do their stories come from? Striking illustrations and a popular graphic novel format bring to life this anthology of literary legends and their childhoods. Featuring beloved authors such as Maya Angelou, C.S. Lewis, Gene Luen Yang and J.K. Rowling, these stories capture the childhood triumphs, failures, and inspirations that predated their careers.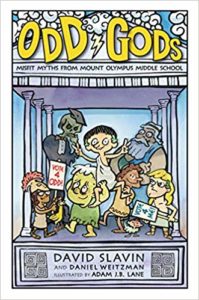 Odd Gods: Misfit Myths from Mount Olympus Middle School by David Slavin and Daniel Weitzman, illustrated by Adam J.B. Lane
Oddonis may be the son of Zeus, but he's a little bit…odd for a God. He's so odd, in fact, he's not sure if he has any powers at all. And if that isn't enough, his twin brother Adonis is the most popular, most athletic, and most otherworldly handsome God of them all. Oddonis's future at Mount Olympus Middle isn't looking bright, especially when he makes the last-minute decision to run against Adonis to be class president.
Activity Book New Release
The Dad Lab: 50 Awesome Science Projects for Parents and Kids by Sergei Urban
With more than 3 million fans, TheDadLab has become an online sensation, with weekly videos of fun and easy science experiments that parents can do with their kids. These simple projects use materials found around the house, making it easier than ever for busy moms and dads to not only spend more quality time with their children but also get them interested in science and technology.
I would love to know what you are reading this week! Find me on Twitter at @KarinaYanGlaser, on Instagram at @KarinaIsReadingAndWriting, or email me at karina@bookriot.com.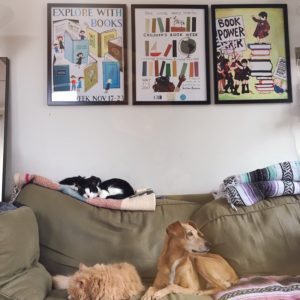 *If this e-mail was forwarded to you, follow this link to subscribe to "The Kids Are All Right" newsletter and other fabulous Book Riot newsletters for your own customized e-mail delivery. Thank you!*