Happy Monday, folks. What does your week look like? Mine involves frantic scrambling as I make sure I'm ready for Book Lovers Con later in the week—also, I happened to look up at Legends of Tomorrow, which I have on in the background, and there is definitely a Romanti-Con 2019 happening. How timely!
---
Sponsored by Laura Dean Keeps Breaking Up With Me by Mariko Tamaki and Rosemary Valero-O'Connell, and Fierce Reads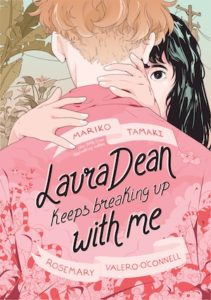 Laura Dean, was Frederica Riley's dream girl: charming, confident, and SO cute. There's just one problem: Laura Dean is maybe not the greatest girlfriend. Reeling from her latest break up, Freddy's best friend, Doodle, introduces her to the Seek-Her, a mysterious medium, who leaves Freddy some cryptic parting words: break up with her. But Laura Dean keeps coming back, and as their relationship spirals further out of her control, Freddy has to wonder if it's really Laura Dean that's the problem. Maybe it's Freddy, who is rapidly losing her friends, including Doodle, who needs her now more than ever.
---
News and Useful Links
Want to know what Helen Hoang's been reading recently?
There's been a lot of talk about this article and Danielle Steel, and I honestly don't know where I stand. I do acknowledge that she has done something amazing and continues to kill it when it comes to romance. But this lifestyle can't be healthy. Focus is awesome. So is sleep. But everyone figures out what they're doing and what their limits are, and she's obviously figured out hers.
There's lots to say about romance, and there are a lot of different kinds of people writing about it. Check out #RomBkBlog and the call to support and boost romance bloggers.
Anna Zabo shared their favorite nonbinary romance authors in this list. I have some reading to do, as usual.
Have your friends all been sharing that article about how men have no friends? Well, in romance, women don't always have to bear the burden. Here's a great article about guys and their friends.
And don't forget to regularly check in on #RomBkLove and #RubOneOutBingo!
Deals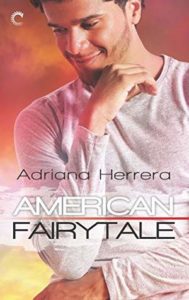 Adriana Herrera's American Fairytale comes out very soon, which means it's time to read the first in the series, American Dreamer! (If you haven't already read it.) It's 4.99, which is high for some readers, but totally worth it. There is so much food, and passion, and love, that you just want more only to hang out with these people. And also salivate.
Have you ever read a romance series in episodes? I'm not talking about connected novellas, either. These are all 200+ page novels telling episodic stories based on a couple's existence. Cole McCade's Criminal Intentions is also a crime series, and Malcolm and Seong-Jae are at the middle of them. There are…a lot of them, already, so you might as well start now!
Recs!
We've all been talking about the royal family thanks to a certain young Archie, so I figured now was a good time to talk royals! It doesn't hurt that we've had some new additions to the abundance of royals from all time periods and places we've been acquiring for the last several decades.
You know what are my favorites, though? When royals find themselves in Situations.
My favorite Situations? Oh, let's see: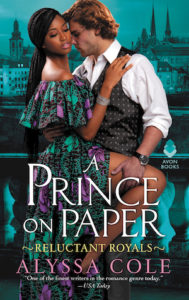 Fake Engagement – Obviously, the most recent example of this is A Prince on Paper by Alyssa Cole, which I adored. Nya and Prince Johan have been skirting around each other for quite some time, until they are thrown together at the wedding celebration of mutual friends (A Princess in Theory's Naledi and Thabiso). There, they find themselves in A Situation. If Nya accepts Johan's accidental proposal of marriage, they can both help some of the related situations they've got to deal with. It's just…so delightful. (Also delightful? The rest of the Reluctant Royals series. Both novels and the supporting novellas.)
But if you want to go back a little further, there's also Talia Hibbert's The Princess Trap, in which a similarly not-inheriting prince makes a deal for a fake engagement and trip to his home. But these two have a very different kind of relationship, and Cherry is a very different kind of fake fiancee than Nya. This one has a content warning at the beginning that you should check out.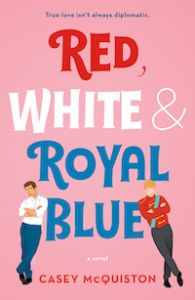 Pretend Bros – Okay, so there's only one of these that I can think of, but if you know about any, please let me know. Because Red, White, and Royal Blue by Casey McQuiston is just…delightful. And I need more like it. Here, we've got Alex, the college-aged First Son living in the White House while he goes to Georgetown. He's Draco Malfoy-level obsessed with hating Henry, the Prince of Wales, and it all comes to a head at Henry's brother's wedding. The solution their People agree on? They pretend they've been best friends forever and were just horsing around. But then they…might actually have become friends? And maybe…something else?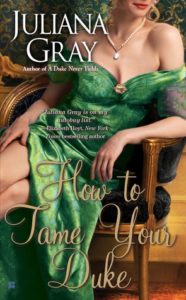 Hiding in Plain Sight – Sometimes, princesses seem to need to go on the run. This could be in part because their whole family has to go into exile. A delightful execution of this need is in How to Tame Your Duke by Juliana Gray. Sophie is a princess in disguise, working as a tutor in a duke's household. There's some Beauty and the Beast vibe, and secret liaisons, and some super witty, fun writing.
Want to go to a different place and time? There's also Butterfly Swords, in which a princess needs out of an arranged marriage and accepts the help of a white traveler when her first plan goes wrong. It's a road trip romance, with a princess and a soldier, and is also a lot about family, communication, and duty. All of the Tang Dynasty books are just great, and this is the perfect place to start with Jeannie Lin if you haven't yet.
As usual, catch me on Twitter @jessisreading or Instagram @jess_is_reading, or send me an email at jessica@riotnewmedia.com if you've got feedback, book recs, or just want to say hi!