This edition of Today in Books is sponsored by Bloomsbury, publisher of Extraordinary Birds by Sandy Stark-McGinnis, a heartbreaking and hopeful middle grade debut for fans of The Thing About Jellyfish.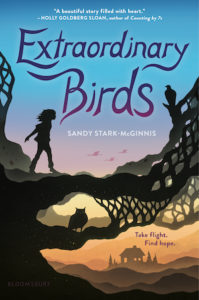 ---
Little Miss Spice Girls
This adorably perfect collaboration will bring all the nostalgia feels to kids from the '80s and '90s: The Spice Girls have their own Little Miss books! Check out Little Miss Baby, Little Miss Ginger, Little Miss Scary and Little Miss Sporty.
The Obamas Netflix Slate
We now know what Barack Obama and Michelle Obama's production company, Higher Ground, will be putting out on Netflix. And of course I'm mentioning it here because there is bookish stuff including the film adaptation of Frederick Douglass: Prophet of Freedom and a nonfiction series from The Fifth Risk: Undoing Democracy. Netflix can go ahead and just make an entire category for Higher Ground so I can watch them all.
It's Trailer Time!
We now have a trailer for Toni Morrison: The Pieces I Am which will be in select theaters June 21st. And it looks amazing!