Hi Kid Lit Friends,
I received a lot of requests from readers asking for a round-up of scientists, so here we go! For this list, I focused on women in science. I have learned so much about many incredible women from these books! Check these out and let me know what you think. *Please note that all descriptions are provided by the publisher.
---
Sponsored by Caterpillar Summer by Gillian McDunn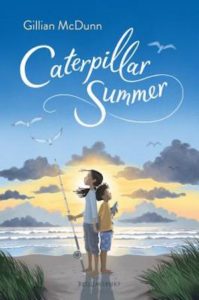 Since her father's death, Cat has taken care of her brother with special needs, for their hardworking mother—but on an unexpected island trip to visit grandparents they never knew, Cat has the chance to be a child again. This beautifully honest, emotionally resonant debut is perfect for readers of Lauren Wolk, Ali Benjamin, and Rebecca Stead.
---
The Bluest of Blues: Anna Atkins and the First Book of Photographs by Fiona Robinson
After losing her mother very early in life, Anna Atkins (1799–1871) was raised by her loving father. He gave her a scientific education, which was highly unusual for women and girls in the early 19th century. Fascinated with the plant life around her, Anna became a botanist. She recorded all her findings in detailed illustrations and engravings, until the invention of cyanotype photography in 1842. Anna used this new technology in order to catalogue plant specimens—a true marriage of science and art. In 1843, Anna published the book Photographs of British Algae: Cyanotype Impressions with handwritten text and cyanotype photographs. It is considered the first book of photographs ever published.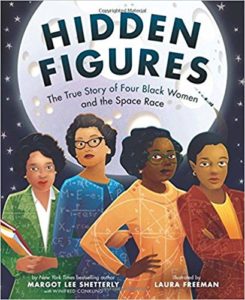 Hidden Figures: The True Story of Four Black Women and the Space Race by Margot Lee Shetterly, illustrated by Laura Freeman
Dorothy Vaughan, Mary Jackson, Katherine Johnson, and Christine Darden were good at math…really good. They participated in some of NASA's greatest successes, like providing the calculations for America's first journeys into space. And they did so during a time when being black and a woman limited what they could do. But they worked hard. They persisted. And they used their genius minds to change the world.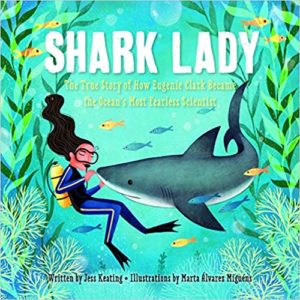 Shark Lady: The True Story of How Eugenie Clark Became the Ocean's Most Fearless Scientist by Jess Keating, illustrated by Marta Alvarez Miguens
Eugenie Clark fell in love with sharks from the first moment she saw them at the aquarium. She couldn't imagine anything more exciting than studying these graceful creatures. But Eugenie quickly discovered that many people believed sharks to be ugly and scary―and they didn't think women should be scientists. Determined to prove them wrong, Eugenie devoted her life to learning about sharks. Like Jack and the Beanstalk but under the sea, Eugenie dove down to discover a world of wonder beneath the water's surface. She earned the name Shark Lady with her many discoveries about these beautiful creatures.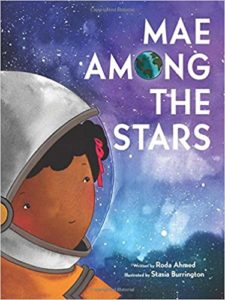 Mae Among the Stars by Roda Ahmed
When Little Mae was a child, she dreamed of dancing in space. She imagined herself surrounded by billions of stars, floating, gliding, and discovering. She wanted to be an astronaut. Her mom told her, "If you believe it, and work hard for it, anything is possible." Little Mae's curiosity, intelligence, and determination, matched with her parents' encouraging words, paved the way for her incredible success at NASA as the first African American woman to travel in space.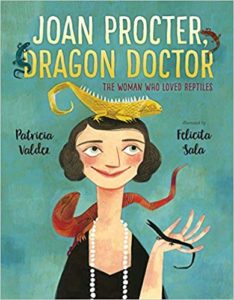 Joan Procter, Dragon Doctor: The Woman Who Loved Reptiles by Patricia Valdez, illustrated by Felicita Sala
Back in the days of long skirts and afternoon teas, young Joan Procter entertained the most unusual party guests: slithery and scaly ones, who turned over teacups and crawled past the crumpets…. While other girls played with dolls, Joan preferred the company of reptiles. She carried her favorite lizard with her everywhere–she even brought a crocodile to school! When Joan grew older, she became the Curator of Reptiles at the British Museum. She went on to design the Reptile House at the London Zoo, including a home for the rumored-to-be-vicious komodo dragons. There, just like when she was a little girl, Joan hosted children's tea parties–with her komodo dragon as the guest of honor.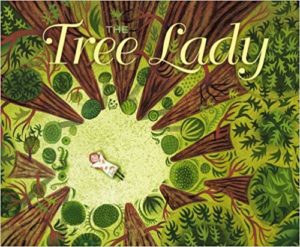 The Tree Lady: The True Story of How One Tree-Loving Woman Changed a City Forever by H. Joseph Hopkins, illustrated by Jill McElmurry
Katherine Olivia Sessions never thought she'd live in a place without trees. After all, Kate grew up among the towering pines and redwoods of Northern California. But after becoming the first woman to graduate from the University of California with a degree in science, she took a job as a teacher far south in the dry desert town of San Diego. Where there were almost no trees. Kate decided that San Diego needed trees more than anything else. So this trailblazing young woman singlehandedly started a massive movement that transformed the town into the green, garden-filled oasis it is today. Now, more than 100 years after Kate first arrived in San Diego, her gorgeous gardens and parks can be found all over the city.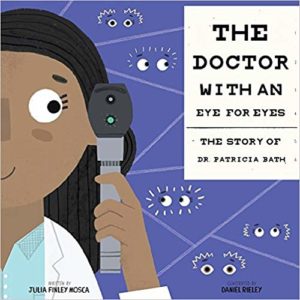 The Doctor With An Eye for Eyes: The Story of Dr. Patricia Bath by Julia Finley Mosca, illustrated by Daniel Rieley
As a girl coming of age during the Civil Rights Movement, Patricia Bath made it her mission to become a doctor. When obstacles like racism, poverty, and sexism threatened this goal, she persevered ― brightening the world with a game-changing treatment for blindness!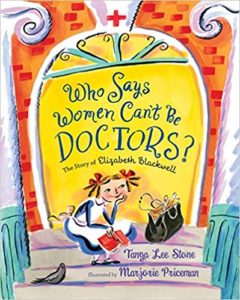 Who Says Women Can't Be Doctors? The Story of Elizabeth Blackwell by Tanya Lee Stone, illustrated by Marjorie Priceman
In the 1830s, when a brave and curious girl named Elizabeth Blackwell was growing up, women were supposed to be wives and mothers. Some women could be teachers or seamstresses, but career options were few. Certainly no women were doctors. But Elizabeth refused to accept the common beliefs that women weren't smart enough to be doctors, or that they were too weak for such hard work. And she would not take no for an answer. Although she faced much opposition, she worked hard and finally―when she graduated from medical school and went on to have a brilliant career―proved her detractors wrong.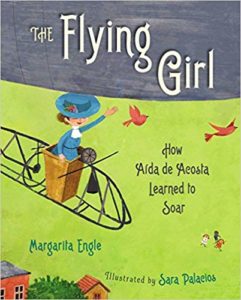 The Flying Girl: How Aida de Acosta Learned to Soar by Margarita Engle, illustrated by Sara Palacios
This is the inspiring true story of Aída de Acosta, the first woman to fly a motorized aircraft. On a lively street in the lovely city of Paris, a girl named Aída glanced up and was dazzled by the sight of an airship. Oh, how she wished she could soar through the sky like that! The inventor of the airship, Alberto, invited Aída to ride with him, but she didn't want to be a passenger. She wanted to be the pilot. Aída was just a teenager, and no woman or girl had ever flown before. She didn't let that stop her, though. All she needed was courage and a chance to try.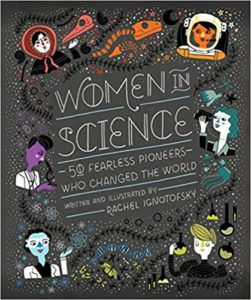 Women in Science: 50 Fearless Pioneers Who Changed the World by Rachel Ignotofsky
Full of striking, singular art, this fascinating collection also contains infographics about relevant topics such as lab equipment, rates of women currently working in STEM fields, and an illustrated scientific glossary. The trailblazing women profiled include well-known figures like primatologist Jane Goodall, as well as lesser-known pioneers such as Katherine Johnson, the African-American physicist and mathematician who calculated the trajectory of the 1969 Apollo 11 mission to the moon.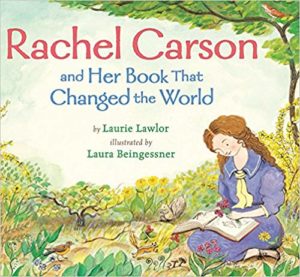 Rachel Carson and Her Book That Changed the World by Laurie Lowlor, illustrated by Laura Beingessner
Determined and curious even as a child, Rachel Carson's fascination with the natural world led her to study biology, and pursue a career in science at a time when very few women worked in the field. This lyrical, illustrated biography follows Carson's journey—from a girl exploring the woods, to a woman working to help support her family during the Great Depression, to a journalist and pioneering researcher, investigating and exposing the harmful effects of pesticide overuse.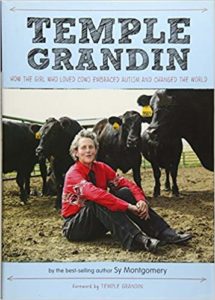 Temple Grandin: How the Girl Who Loved Cows Embraced Autism and Changed the World by Sy Montgomery and Temple Grandin
When Temple Grandin was born, her parents knew that she was different. Years later she was diagnosed with autism. While Temple's doctor recommended a hospital, her mother believed in her. Temple went to school instead. Today, Dr. Temple Grandin is a scientist and professor of animal science at Colorado State University. Her world-changing career revolutionized the livestock industry. As an advocate for autism, Temple uses her experience as an example of the unique contributions that autistic people can make.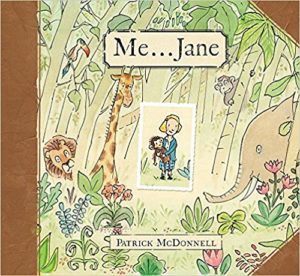 Me, Jane by Patrick McDonnell
Patrick McDonnell tells the story of the young Jane Goodall and her special childhood toy chimpanzee named Jubilee. As the young Jane observes the natural world around her with wonder, she dreams of "a life living with and helping all animals," until one day she finds that her dream has come true. With anecdotes taken directly from Jane Goodall's autobiography, McDonnell makes this very true story accessible for the very young–and young at heart.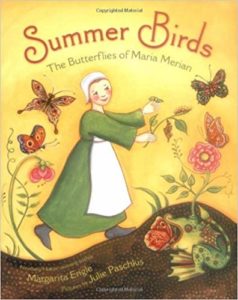 Summer Birds: The Butterflies of Maria Merian by Margarita Engle, illustrated by Julie Paschkis
In the Middle Ages, people believed that insects were evil, born from mud in a process called spontaneous generation. Maria Merian was only a child, but she disagreed. She watched carefully as caterpillars spun themselves cocoons, which opened to reveal summer birds, or butterflies and moths. Maria studied the whole life cycle of the summer birds, and documented what she learned in vibrant paintings. This is the story of one young girl who took the time to observe and learn, and in so doing disproved a theory that went all the way back to ancient Greece.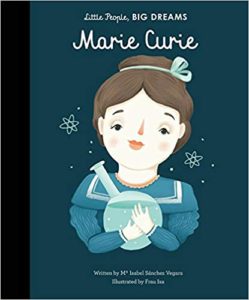 Marie Curie by Isabel Sanchez Vegara, illustrated by Frau Isa
When Marie was young, she was unable to go to college because she was a woman. But when she was older, her scientific work was respected around the world. Her discoveries of radium and polonium dramatically helped in the fight against cancer, and she went on to win the Nobel Prize for Physics.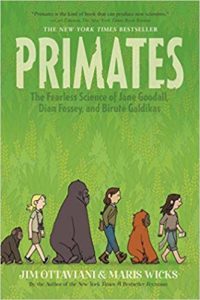 Primates: The Fearless Science of Jane Goodall, Dian Fossey, and Birute Galdikas by Jim Ottaviani, illustrated by Maris Wicks
Tackling Goodall, Fossey, and Galdikas in turn, and covering the highlights of their respective careers, Primates is an accessible, entertaining, and informative look at the field of primatology and at the lives of three of the most remarkable women scientists of the twentieth century. These three ground-breaking researchers were all students of the great Louis Leakey, and each made profound contributions to primatology―and to our own understanding of ourselves.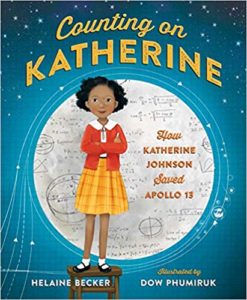 Counting on Katherine: How Katherine Johnson Saved Apollo 11 by Helaine Becker, illustrated by Tiemdow Phumiruk
As a child, Katherine Johnson loved to count. She counted the steps on the road, the number of dishes and spoons she washed in the kitchen sink, everything! Boundless, curious, and excited by calculations, young Katherine longed to know as much as she could about math, about the universe. From Katherine's early beginnings as a gifted student to her heroic accomplishments as a prominent mathematician at NASA, Counting on Katherine is the story of a groundbreaking American woman who not only calculated the course of moon landings but, in turn, saved lives and made enormous contributions to history.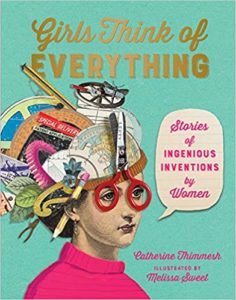 Girls Think of Everything: Stories of Ingenious Inventions by Women by Catherine Thimmesh, illustrated by Melissa Sweet
In kitchens and living rooms, in garages and labs and basements, even in converted chicken coops, women and girls have invented ingenious innovations that have made our lives simpler and better. What inspired these girls, and just how did they turn their ideas into realities?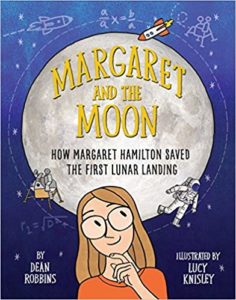 Margaret and the Moon by Dean Robbins, illustrated by Lucy Knisley
Margaret Hamilton loved numbers as a young girl. She knew how many miles it was to the moon (and how many back). She loved studying algebra and geometry and calculus and using math to solve problems in the outside world. Soon math led her to MIT and then to helping NASA put a man on the moon! She handwrote code that would allow the spacecraft's computer to solve any problems it might encounter. Apollo 8. Apollo 9. Apollo 10. Apollo 11. Without her code, none of those missions could have been completed.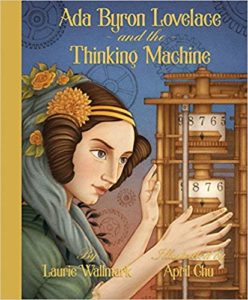 Ada Byron Lovelace and the Thinking Machine by Laurie Wallmark, illustrated by April Chu
Ada Lovelace, the daughter of the famous romantic poet, Lord Byron, develops her creativity through science and math. When she meets Charles Babbage, the inventor of the first mechanical computer, Ada understands the machine better than anyone else and writes the world's first computer program in order to demonstrate its capabilities.
I would love to know what you are reading this week! Find me on Twitter at @KarinaYanGlaser, on Instagram at @KarinaIsReadingAndWriting, or email me at karina@bookriot.com.
Until next time!
Karina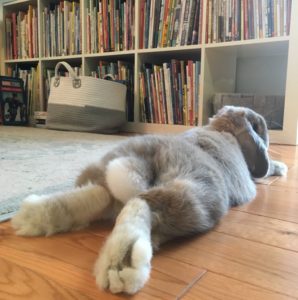 Happy Easter from Izzy!
*If this e-mail was forwarded to you, follow this link to subscribe to "The Kids Are All Right" newsletter and other fabulous Book Riot newsletters for your own customized e-mail delivery. Thank you!*