This edition of Today in Books is sponsored by The Luminous Dead by Caitlin Starling.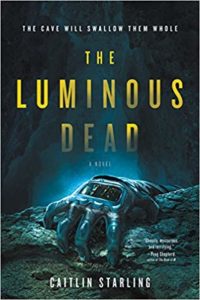 ---
What A Time To Be Alive!
On April 10th, at 8:30PM ET, authors Marlon James and George R.R. Martin will be at the Jean Cocteau Cinema in Santa Fe, New Mexico to discuss Black Leopard, Red Wolf. It will be moderated by Andrea L. Mays and for those of us who can't make it in person The Verge will live stream the conversation on Facebook and Instagram Live. Is it too early to start making all the popcorn?!
This Keeps Getting Better And Better
Netflix made all our hearts happy when they announced they'd be adapting the sequel to Jenny Han's To All The Boys I've Loved Before and now their is amazing casting news. Holland Taylor (The Practice, Legally Blonde ) and Sarayu Blue (I Feel Bad, No Tomorrow) have joined the cast!
The Fight Against Washington State's Decision to Ban Book Donations to Prisons
The non-profit Books for Prisoners recently discovered that Washington State's Department of Corrections had implemented a new policy essentially banning used publications within state prisons: "Effective March 25, 2019, facilities will no longer allow or accept used books into the facility from non-profit vendors." You can sign Books to Prisoners petition to stop the ban here, and read Pen America's statement on Washington State's misguided and harmful decision here.