Hello, Kid Lit Friends!
I am back from vacation! If you want to see the mountain of book mail that greeted me when I got home, you will find a photo at the end of this newsletter. 🙂
---
Sponsored by Babymoon by Hayley Barrett and Juana Martinez-Neal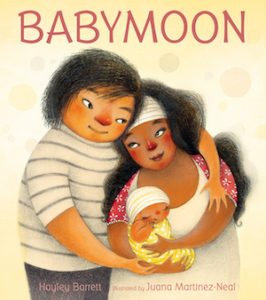 Baby has arrived! The world is eager to meet the newcomer, but there will be time enough for that later. Right now, the family is on its babymoon: cocooning, connecting, learning, and muddling through each new concern. While the term "babymoon" is often used to refer to a parents' getaway before the birth of a child, it was originally coined by midwives to describe days like these: at home with a newborn, with the world held at bay and the wonder of a new family constellation unfolding. A lyrical ode to these tender first days will resonate with families everywhere.
---
Let's talk about weird animals today!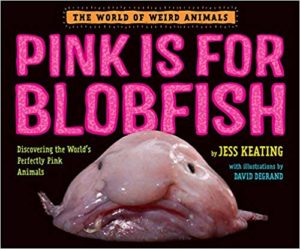 There are a handful of children's book authors who are fascinated by unusual animals, and I have learned so much about octopuses, blobfish, and giant squid because of them! If you or your young reader love to read about the weird, start off with Jess Keating's books. Pink Is For Blobfish: Discovering the World's Perfectly Pink Animals is a fun one about monster slugs and poisonous insects, ultra-intelligent dolphins, naked mole rats and bizarre, bloated blobfish.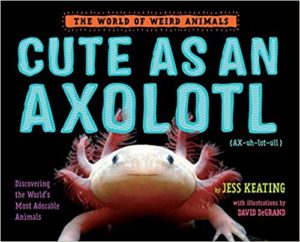 Another book in the same series by Jess Keating is Cute as an Axolotl: Discovering the World's Most Adorable Animals. Cute is for feathery-gilled axolotls (pronounced: ax-uh-LOT-ulz), shy pygmy hippos, poisonous blue dragons, and armored pangolins. All of these animals are cute, but they've also adapted remarkable ways to survive in their unique environments. Isn't that picture of an axolotl amazing?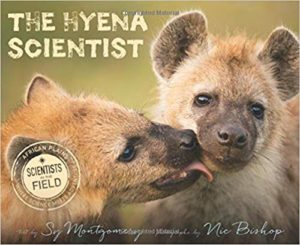 Sy Montgomery is another author who travels the world chasing after tarantulas, octopuses, and hyenas. In The Hyena Scientist by Sy Montgomery and photos by Nic Bishop, the author features the groundbreaking, pioneering research of a female scientist in a predominately male field. Zoologist Kay Holecamp has made it her life's work to understand hyenas, the fascinating, complex creatures that are playful, social, and highly intelligent—almost nothing like the mangy monsters of pop culture lore.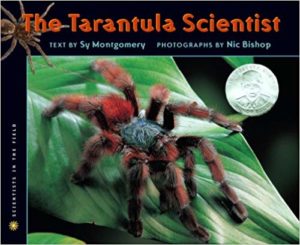 Montgomery and Bishop pair up again in The Tarantula Scientist, another children's book filled with gorgeous photos and interesting facts about early tarantula research leading up to newer, groundbreaking information from scientists studying arachnids all over the world.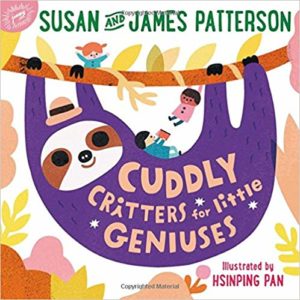 Susan Patterson and James Patterson pair up with illustrator Hsinping Pan to bring young readers a fun book called Cuddly Creatures for Little Geniuses. This book covers many interesting animals, from sloths to spoonbills and panda ants to pangolins. More than 50 little-known flyers, swimmers, and crawlers are included in this book.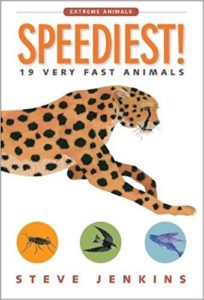 I really enjoy Steve Jenkins's books about animals, particularly his Extreme Animals series. Speediest: 19 Very Fast Animals, Trickiest: 19 Sneaky Animals, Deadliest: 20 Dangerous Animals, and Stinkiest: 20 Smelly Animals all feature extreme animals with habitat information and fascinating facts about them. I read these to my daughters, and they were absolutely enchanted by these animals, prompting us to research some of the standouts even further. Jenkins has a whole assortment of animal books, including Eye to Eye: How Animals See the World and Animals By The Numbers: A Book of Infographics (both books that I have not yet read but look fascinating).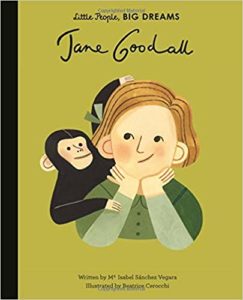 If we're talking about animals we have to talk a little bit about some of the scientists who study them. Jane Goodall, of course, comes to mind when thinking about animals. Two picture books I really love about her are Me, Jane by Patrick McDonnell and Jane Goodall by Isabel Sanchez Vegara, illustrated by Beatrice Cerocchi. Goodall's work with apes is awe inspiring!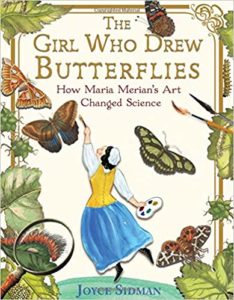 Another book I love is Sibert winner The Girl Who Drew Butterflies: How Maria Merian's Art Changed Science by Joyce Sidman. One of the first naturalists to observe live insects directly, Maria Sibylla Merian was also one of the first to document the metamorphosis of the butterfly. In this visual nonfiction biography, richly illustrated throughout with full-color original paintings by Merian herself, the Newbery Honor–winning author Joyce Sidman paints her own picture of one of the first female entomologists and a woman who flouted convention in the pursuit of knowledge and her passion for insects.
Maybe I should do a round-up of children's book biographies featuring scientists? What do you think?
What unusual animals do you enjoy learning about? Send me a note via email or social media and let me know! (Contact info below.)
Around the web…
Presenting the Kidlit These Days Podcast!, via Book Riot
An Interview with Award-Winning Children's Book Illustrator Christian Robinson, via Book Riot
Q&A with Raul the Third, via Publisher's Weekly
I would love to know what you are reading this week! Find me on Twitter at @KarinaYanGlaser, on Instagram at @KarinaIsReadingAndWriting, or email me at karina@bookriot.com.
Until next time!
Karina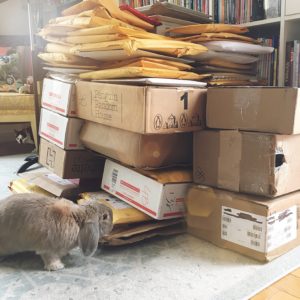 Izzy and Annabelle are inspecting all the book mail that piled up while I was on vacation.
*If this e-mail was forwarded to you, follow this link to subscribe to "The KidsAre All Right" newsletter and other fabulous Book Riot newsletters for your own customized e-mail delivery. Thank you!*