Hello and happy Friday, hackers and hellhounds! Today we've got the Hugo Awards finalists announcement, Baba Yaga reads, divine costuming, cookie drama, a review of The Vela Season 1, and more.
---
This newsletter is sponsored by The Luminous Dead by Caitlin Starling.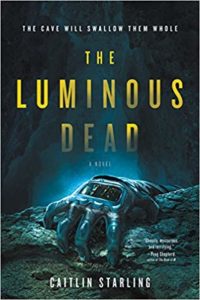 Desperate to earn money to get off of her backwater planet, Gyre lied her way onto this solo cave expedition. But the fat paycheck should have meant a skilled surface team to keep her safe. Instead, she got Em. Em controls Gyre's body with drugs and withholds critical information. She knows about Gyre's lies, and uses them as a leash. As Gyre descends, inconsistencies begin to make her paranoid: missing supplies, unexpected route changes, and shifts in Em's motivations. Gyre must overcome more than just dangerous terrain and the Tunneler which calls underground home if she wants to make it out alive.
---
Before we get into the nitty gritty, I am delighted to announce our newest podcast! Kidlit These Days covers picture books and middle grade novels, and if you love kids books and/or find yourself gifting them regularly, you'll want to give it a listen.
Speaking of podcasts, the special book club episode of SFF Yeah! that I've been teasing for weeks is live! Ausma Zehanat Khan (The Black Khan) and I talked about eugenics, strong female characters, Arab representation, and did some fancasting for Dune by Frank Herbert.
The Hugo Award finalists have been announced! It is an amazing list, and I'm super excited for The Skiffy and Fanty Show podcast's Best Fancast nomination — Book Riot contributor Alex Wells and sound engineer Jen Zink are both involved, and I am happily firing a confetti cannon on their behalf.
I am a huge fan of Baba Yaga (despite only recently having learned the correct pronunciation, which is 'BA-ba ya-GA'), so this list of five reads about her is definitely in my wheelhouse.
I have not watched the TV adaptation of American Gods at all yet, but this round-up [SYFY WIRE] of the best costumes so far is excellent. (Gillian Anderson!!!!)
It is finally Spring, and I know because I was able to go outside without a coat twice already this month! Glorious. In addition to warmer weather, April is also bringing us some exciting new reads [SYFY WIRE].
This just made me hungry: as part of their promotion with Game of Thrones, Oreo remade the title sequence [YouTube] entirely with cookies. Well played.
And now, let's talk about why you should tune in to The Vela by Yoon Ha Lee, Becky Chambers, S.L. Huang, and Rivers Solomon:
Currently available in audio; omnibus ebook coming late 2019.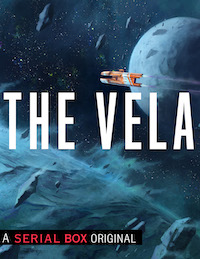 That author line-up, though! That alone is probably enough for some of you to dive in. For the rest, there are five episodes currently available in Season 1 of The Vela and I am here to tell you that it's one hell of a ride.
The Vela begins with Agent Asala Sikou, a veteran soldier and sniper who is hired by the president of the planet Khayyam to guard the visiting dictator from neighboring planet Gan-De. Their entire solar system is in peril: their sun is dying, due in part to Khayyam's over-harvesting of hydrogen, and the Outer Planets have already become inhabitable, leading to a refugee crisis. Gan-De is notoriously isolationist and while Khayyam is not much better, President Ekrem has sent a state-of-the-art ship to bring high-profile refugees back to Khayyam. The ship goes missing, an attack is made on General Cynwrig, and Asala must try to solve both problems.
A former refugee herself, Asala is a prickly and solitary character who wants nothing more than to stay out of politics, do her job, and get paid. But this mission and her unwanted sidekick Niko, a young hacker who is also the child of President Ekrem, are forcing her to relive her own past and question her priorities. As Asala and Niko head out into the 'verse to find answers, they only end up with more questions — and no one is being completely honest about what they know. High-stakes hijinks ensue, including ground and space battles, double agents, AI, and prison breaks (whew!).
Huang and Lee are clear choices for a story like this: both excel at action sequences, and Lee has made his mark on space opera with The Machineries of Empire series. Rivers Solomon and Becky Chambers are interesting additions — Chambers is aces at character development and space stories, and it's fun to see her flex her action-sequence chops (which are considerable, it turns out). Solomon, whose novel An Unkindness of Ghosts is a personal favorite, holds their own as well; I loved the blend of character background and covert ops in Episode 3.
As I mentioned, there are currently five episodes live; I should note here that I have read them, rather than listened, so I can't speak to the sound of the episodes. But I have been lucky enough to get to read through Episode 10, so believe me when I say that this story will keep you on the edge of your seat. The pacing is cleverly thought out; the world-building is richly detailed; the cast is intriguing and diverse in gender, sexuality, culture, and ethnicity. I cannot wait to see where The Vela goes as it continues to develop.
And that's a wrap! You can find all of the books recommended in this newsletter on a handy Goodreads shelf. If you're interested in more science fiction and fantasy talk, you can catch me and my co-host Sharifah on the SFF Yeah! podcast. For many many more book recommendations you can find me on the Get Booked podcast with the inimitable Amanda, or on Twitter as jennIRL.
Your fellow booknerd,
Jenn