Hello mystery fans! I'm doing things a little differently this time because I just finished a book I loved that won't be out for a bit, so I'm going to highlight some upcoming crime books that should be on your radar. Great for anyone who loves to pre-buy or be first on their library hold list! Or, if you want to just shake your fist at me for telling you about an awesome book you can't read just yet, that works too.
---
Sponsored by The Perfect Girlfriend by Karen Hamilton. Published by Graydon House Books.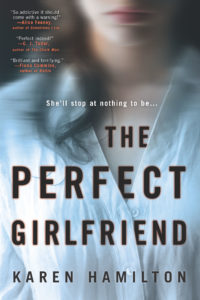 Juliette loves Nate. She will follow him anywhere. She's even become a flight attendant for his airline, so she can keep a closer eye on him. They are meant to be. The fact that Nate broke up with her six months ago means nothing. Because Juliette has a plan to win him back. She is the perfect girlfriend. And she'll make sure no one stops her from getting exactly what she wants. True love hurts, but Juliette knows it's worth all the pain… Entertainment Weekly says of The Perfect Girlfriend, "this twisted page-turner should appeal to fans of the Netflix series YOU."
---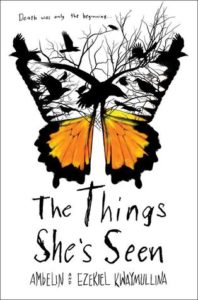 The Things She's Seen by Ambelin Kwaymullina, Ezekiel Kwaymullina (May 14th): I was writing about upcoming crime novels for a post and the summary left me so curious I decided to just read the first chapter and, instead, I ended up reading it in one sitting. It was so good. It's an Australian novel that follows Beth Teller, an Aboriginal girl who died at fifteen and is now a ghost. A ghost that her father, a detective, can see. And talk to. She's trying to help him solve a case involving a fire at a children's home that left an unidentified dead body and missing caretakers. She's helping him stay focused on the case in order to help him get past grieving for her, but then she meets a witness to the fire who can also see her. The novel alternates between Beth and her father solving the mystery and Isobel Catching, the witness, telling her story–one told almost like poetry. It's a beautiful crime novel about grief, death, family, and friendship, that never feels heavy but rather uplifting. I've been thinking about it for days–publishing really needs to be putting out more crime novels like this.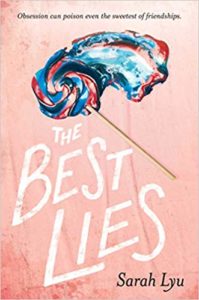 The Best Lies by Sarah Lyu (July 2): This is one of those you had me at the cover and tag line books: "Thelma and Louise meets Gone Girl." It centers around a toxic friendship, the mystery of why one shot her friend's boyfriend dead, and it's told in a lyrical prose style–seriously I am all in for this.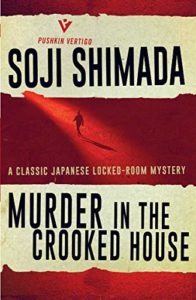 Murder in the Crooked House by Soji Shimada, Louise Heal Kawai (Translator) (June 25): All I needed to hear was that the author of The Tokyo Zodiac Murders has another novel being translated and I became all gimme-gimme hands. TTZM is one of the only mystery novels where I had no idea what the solve was, and I will forever love Shimada for that. And this is another locked room mystery–my excitement can't be contained!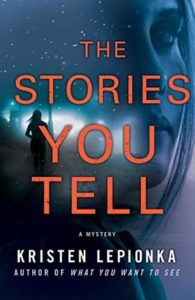 The Stories You Tell (Roxane Weary #3) by Kristen Lepionka (July 9): this is one of my favorite PI series, I love not only watching Weary solve a mystery, but also her personal growth through the first two books. It's one of those reads where I'm cheering for her to solve the mystery, and also cheering for her personally because, as much as she starts off as a hot mess at the beginning of the series, she's a person trying to figure it all out. This time around, her brother looks like a suspect after a DJ friend shows up at his house and vanishes, leaving behind her blood.
Recently Release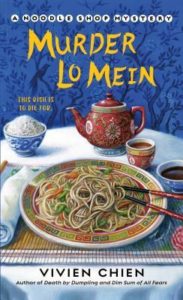 Murder Lo Mein (A Noodle Shop Mystery #3) by Vivien Chien (Enjoyable cozy mystery set in an Asian mall that will leave you hungry.)
Killing November (Killing November #1) by Adriana Mather (Fun!–Group of kids at a spy school but who aren't allowed to get to know each other…)
Murder by the Book: A Sensational Chapter in Victorian Crime by Claire Harman (True crime)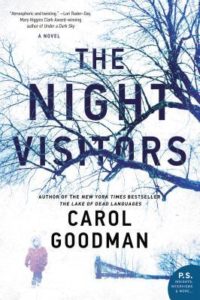 The Night Visitors by Carol Goodman (Great suspense–when you're on the run can you trust anyone?) (TW child and domestic abuse/ suicide/ rape)
No Tomorrow (Killing Eve #2) by Luke Jennings (The sequel to the book the hit BBC show is based on.)
The Ancient Nine by Ian K. Smith (Paperback) (For fans of secret societies.)
Walking Shadows (Peter Decker/Rina Lazarus #25) by Faye Kellerman (Paperback) (Police procedural set in upstate New York.)
Browse all the books recommended in Unusual Suspects previous newsletters on this shelf. And here's an Unusual Suspects Pinterest board.
Until next time, keep investigating! And in the meantime, come talk books with me on Twitter, Instagram, and Litsy–you can find me under Jamie Canavés.
If a mystery fan forwarded this newsletter to you and you'd like your very own you can sign up here.