Hello and happy Tuesday, ifrits and incubi! Today there are some very exciting announcements of books to come, Seanan McGuire adaptation news, new releases, and some gushing about The True Queen by Zen Cho. Let's get to it!
---
This newsletter is sponsored by Tor Books.
Ambassador Mahit Dzmare arrives in the center of the multi-system Teixcalaanli Empire only to discover that her predecessor, the previous ambassador from their small but fiercely independent mining Station, has died. But no one will admit that his death wasn't an accident—or that Mahit might be next to die, during a time of political instability in the highest echelons of the imperial court. Now, Mahit must discover who is behind the murder, rescue herself, and save her Station from Teixcalaan's unceasing expansion—all while navigating an alien culture and hiding a deadly technological secret.
---
Let's talk book(ish) news:
A new trilogy by Sylvain Neuvel is coming! It won't be out til 2020, but in the meantime you can listen to him talk about his SF influences on Recommended.
Powerhouse editors Jeff and Ann VanderMeer have a new anthology coming out in July, called The Big Book of Classic Fantasy, and it will include international and never-before-translated stories.
Amal El-Mohtar and Max Gladstone are collaborating on a book about star-crossed, time-traveling spies, and you can consider me Officially Interested.
Leigh Bardugo is writing a fantasy novel for adults (!) called Ninth House, about the Ivy League elite, and EW has the cover reveal.
You might remember Liberty gushing about Gideon the Ninth by Tamsyn Muir; if you're curious, you can now read the first chapter.
Seanan McGuire's Wayward Children series is getting a TV adaptation, and most of Book Riot is freaking out.
The Dark Tower TV adaptation, coming from Amazon, is a go.
And in Marvel news, the Black Widow solo movie is moving forward and might involve Florence Pugh.
In this week's exciting new releases: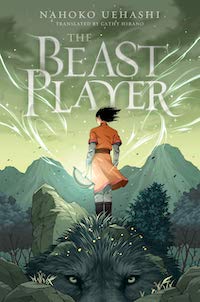 The Beast Player by Nahoko Uehashi, translated by Cathy Hirano: While I haven't watched anime consistently since college, I miss having it as part of my media diet. This novel, about a girl who can communicate with animals and who must fight against war, is exactly up my alley, and I love the cover. By a popular Japanese writer, this series has been out there for some years and has already been turned into an anime, so obviously it's going on my list.
Tiamat's Wrath (Expanse #8) by James S.A. Corey: One of these days — maybe when the series is over? — I will give the Expanse novels another try. I got deeply squicked out by the body-horror in the opening chapter of the first book, but I've been repeatedly assured that that's actually the worst of it, and everything I've heard about both the books and the TV series adaptation is amazing. One day! Meanwhile the rest of you have probably already pre-ordered this.
At long last, let us flail about The True Queen by Zen Cho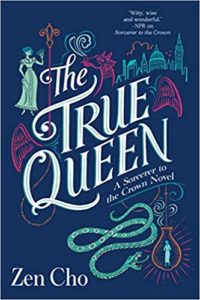 Like many, I've been waiting for this book to come out since 2015. Its publication date was changed more than once, leaving many of us in agonies, but I am delighted to report that I adored this book, and it was absolutely worth the wait.
The True Queen starts out with an almost fable-like feel: two young women wash up on a beach. They have no memories of themselves or others, but they somehow recognize and can name each other. Luckily for them, they've washed ashore on Janda Baik, and are taken in by the inimitable Mak Genggang (#TeamMakGenggang). Sakti turns out to be incredibly talented in magic while Muna has none at all, but Muna is perfectly happy to be of use in other ways. When Sakti starts to disappear one piece at a time and the two discover that she's been cursed by an unknown magician, their attempts to find a solution only make things worse. Forced to flee Janda Baik, they're sent through the Unseen Realms of fairy to take refuge with the Sorceress Royal (#TeamPrunella) — but only Muna makes it to England.
Muna must try to save Sakti, who is trapped in Fairy, and navigate the complicated politics of English magic (which have not improved significantly since Sorcerer to the Crown), all without any magic of her own. Almost no one and no thing is exactly what they seem, and Muna must rely on her own wits to find her way and save the day. In the process, we follow her from Janda Baik to England to a dragon's lair and the court of the Fairy Queen, and I'm delighted to tell you that favorites from Sorcerer make appearances, especially Damerell and Rollo! (#Team … ok, I am just #TeamEveryone, really.)
Amazing characters; two beautiful queer love stories; an expansion of the world-building; there's so much to love here. My absolute favorite part, though? This is, much like Sorcerer to the Crown, a comedy of manners in the vein of Austen and Heyer. And, just like Sorcerer, Cho has flipped the script. Muna repeatedly triumphs just by being a decent human being, while (as you might guess) the English fail at this time and again. Cho claims the upper hand by turning colonialist, Eurocentric tropes upside down, inside out, and backwards, and does it with humor and aplomb. Excuse me while I go reread Sorcerer, just so I can have an excuse to reread True Queen as soon as possible.
And that's a wrap! You can find all of the books recommended in this newsletter on a handy Goodreads shelf. If you're interested in more science fiction and fantasy talk, you can catch me and my co-host Sharifah on the SFF Yeah! podcast. For many many more book recommendations you can find me on the Get Booked podcast with the inimitable Amanda, or on Twitter as jennIRL.
Always say please and thank you,
Jenn