Well folks, it's been…a week.
---
Sponsored by Every Last Breath by Juno Rushdan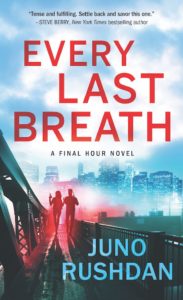 In this high-octane romantic thriller, the pressure doesn't let up. Maddox Kinkade manages the impossible for a clandestine agency. Tasked with neutralizing a lethal bioweapon, she must recruit the last person she expected to see again: her presumed-dead lover. Cole Matthews can't forget or forgive her role in a tragedy that ruined his life. Enlisting Cole's help may be harder than resisting their still burning attraction, but Maddox will do whatever it takes. Soon they're set on a deadly collision course with a world-class killer who has a game-changing secret. "[Rushdan] handily juggles emotional intensity and heart-pounding James Bond-ian adventure." -Kirkus
---
News and Useful Links
With the closure of Romantic Times last year, the RITAs are the biggest game in town for romance awards. The nice thing about the RT awards was that they were nomination-based, by people who did not have to enter in order to judge. So any book could be nominated. The RITAs, instead, are self-nominations—meaning an author has to enter their book (meaning they have to be a paid member of RWA and then pay to enter each book). If an author isn't a member of RWA, it's pretty cost-prohibitive to enter…not that being a member isn't already expensive.
So yeah, there's that. But after last year's conversation about racism in the RITAs, many authors of color made the decision to double down. Some decided to rejoin RWA—a community they'd had problems with in the past—just to enter their books.
And then, the authors peer-review books outside of their writing category. Which you'd think wouldn't be a problem.
But apparently, there is a racism problem. And a homophobia problem. It's prolific, and here's the data.
So when the RITA finalists were announced on Thursday morning, and there was a decided lack of expected names in the list, a new conversation needed to happen.
(PS – I wrote this article for the main BR site on Thursday night and made some changes on Friday evening…and then the weekend happened and Shit Went Down. There are calls to halt the RITAs until they can clean house, but I don't know what might actually be happening.)
In happier news, Talia Hibbert has had two cover announcements:
If you're curious about The Mister, EL James posted an exclusive excerpt on Goodreads. I…am not hopeful.
Forever finally heard that whole thing about representation, and have a contest going on to get a lot of submissions at once. (And Rebekah Weatherspoon recommended submitting to them through normal channels, too, if you're an #ownvoices author.)
Speaking of covers, have you seen the one for The Wallflower Wager? It pretty!
And ironically, just a few days before the RITA announcements, Jasmine Guillory wrote about why representation matters.
And this list went up on Bookish, recommended by other authors.
Reminder that this book list exists and it's amazing.
And for a last dose of silly, check out #romcar. You won't regret it.
Deals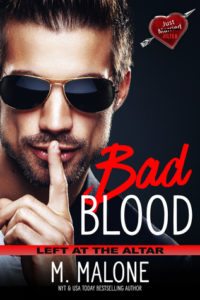 Speaking of RITA finalists, M. Malone's Bad Blood is 2.99. You all know how I feel about books where the hero has reservations about the heroine because "BFF's younger sibling" and The Patriarchy, but this sounds like a pretty delightful book. (Did I mention I haven't read most of the RITA finalists?)
If you're interested in checking out another RITA finalist, Three-Way Split by Elia Winters is 3.99. If you couldn't tell from the title, it's a romance featuring a polyamorous relationship and an owner of an adult novelty store. Sounds good, right? I'm all for it.
A Chat With Catherine Bybee
It's the last Monday of the month which means an author profile! Thanks to Catherine Bybee for chatting! If you haven't checked out her books, she's got plenty available to try, including the First Wives series, the fourth of which, Faking Forever, is out now.
What was the first romance you ever read?
Oh, this one is hard since I devoured novels like I did Oreos as a kid. Historical romance was my first love in romance. Kathleen Woodwiss holds a special place in my heart. Shirlee Busbee took a close second with Gypsy Lady being a novel I will forever remember. Rebecca Brandywine with the back cover and the author herself posing with floor-length hair draped over a chase. sigh
What's the most surprising thing you've learned from a romance novel?
Monogamy. Sounds like a strange thing to learn from a novel. My mother was past her third marriage by the time I discovered romance novels. There was a revolving door of men in my childhood home. No Mother of the Year award there. So I turned to novels for solid advice on what to look for in a relationship. Some say that turning to a novel to find what one should look for in a significant other is unrealistic. I say that "those people" have set the bar too low.
Who has been your favorite character to write?
Oh, now come on… that's like asking who my favorite child is. I will take a stab at this and say the bad guys. I really enjoy getting deep in the head of the antagonists in my edgier books. They play by no rules and I can make them as awful as the human race can get.
What, besides reading, has had the biggest influence or made the most impact on how you write?
My life. The rollercoaster of the first nineteen years of my life has given me a lot of fuel to feed off of. My long, yet failed marriage, and my two beautiful sons have given me a myriad of material. Now that I'm fifty and single and experiencing the height of my career with all the blessings that come with it, I feel like I will be writing inspiring books for the next thirty years.
Thanks, Catherine, for sharing with us! Check out Faking Forever, now on sale!
What are you reading this week?
As usual, catch me on Twitter @jessisreading or Instagram @jess_is_reading, or send me an email at jessica@riotnewmedia.com if you've got feedback, book recs, or just want to say hi!