Hi Kid Lit Friends,
I receive a lot of books to review from publishers, and over the past nearly two years of writing this newsletter (!!!) I've noticed some trends in when books release. Generally the first Tuesday of the month has the greatest amount of books releasing, but recently I've noticed that the last Tuesday of the month is also becoming a big release day. I'm not sure why that is, but there you go!
I have a huge stack of books to tell you about today. Take a look and let me know if any of them look interesting to you! As always, if I've had the chance to read one of these books and loved it, I marked it with a
. Please note that all descriptions come from the publisher.
---
Shelf Stuff by HarperCollins Children's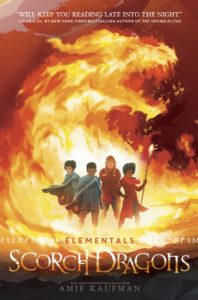 The struggle for power heats up in book two of this heart-stopping adventure series about siblings with magical shapeshifter powers, from New York Times bestselling author Amie Kaufman. In this second installment, following the fateful battle between the ice wolves and the scorch dragons, Anders and his twin sister, Rayna, have been reunited. But there's no time to celebrate. The two sides are more at odds than ever before…putting both Anders and Rayna at risk. Rivalries intensify. Danger lurks around every corner. It's up to Anders and Rayna to find a way to broker peace…if they can.
---
Picture Book New Releases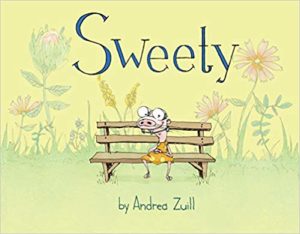 Sweety by Andrea Zuill
Sweety is awkward, even for a naked mole rat. She has protruding front teeth, thick glasses, and some very unusual hobbies, including interpretive dance and fungus identification. She's intense and passionate–and her peers don't always get her. But surely there are other mushroom lovers out there? As Sweety sets out to find them, she comes to realize–with a little help from her cool Aunt Ruth– that being Sweety is actually pretty awesome. With heart and humor and a whole lot of charm, Andrea Zuill delivers a story about learning to embrace everything that makes you you–and that's something many kids are going to relate to.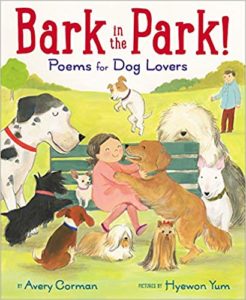 Bark in the Park: Poems for Dog Lovers by Avery Corman, illustrated by Hyewon Yum
Go on a walk to the park with all different kinds of dogs and their owners in this funny and charming poetry picture book. Enjoy Avery Corman's canine poetry for an Afghan hound, basset hound, beagle, bloodhound, Daschshund, boxer, greyhound, and more as they stroll with their owners to the park.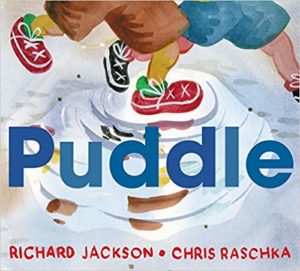 Puddle by Richard Jackson, illustrated by Chris Raschka
Puddle sits despondently in the playground, observing the world around her as she is dimpled by rain, splashed by shoes, piddled on by a poodle, bounced by a basketball, and stirred up by an inquisitive seagull. But when the sun makes a sudden appearance, Puddle meets an admiring new friend who lifts her spirits and makes her feel loved.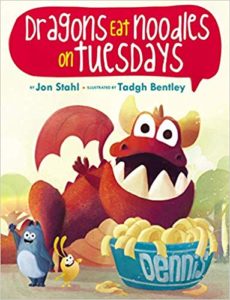 Dragons Eat Noodles on Tuesdays by Jon Stahl, illustrated by Tadgh Bentley
"Once upon a time," begins the big blue monster who is trying to tell a fabulous story. "It needs to be about a kid who is eaten by a dragon," he insists. But his little monster friend is not convinced that this is a good idea. "Dragon stories usually don't end well," he warns. As the two monsters argue over how the story should go, a hungry dragon named Dennis is listening nearby. Dennis knows exactly how this story should go… And by the way, what day is it?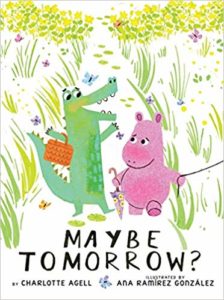 Maybe Tomorrow? by Charlotte Agell, illustrated by Ana Ramirez
Elba has a big block. She's been dragging it around for a long time. Norris dances everywhere he goes, even uphill. He is always surrounded by a happy cloud of butterflies. Can Norris and his butterflies help ease Elba's sadness and convince her to join them on a trip to the ocean? This tender exploration of loss illuminates how kindness, empathy, and friendship can lift our spirits and see us through many tomorrows.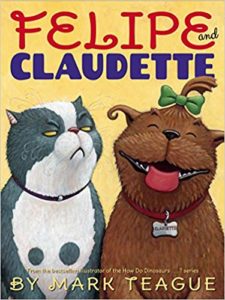 Felipe and Claudette by Mark Teague
Each adoption day, all of the pets at Mrs. Barrett's adoption shelter are sure to look their best. And each adoption day, all of the pets are adopted, except for two — Felipe (a grumpy cat) and Claudette (a rambunctious dog). Felipe is always grumbling. He is sure they are not being adopted because of Claudette. Claudette is messy and noisy and always has food on her nose and mud on her fur. But then, one of the two friends is adopted and taken to a new home. Could Felipe and Claudette actually miss each other?
Mom and Me, Me and Mom by Miguel Tanco
The joy of being a mom is palpable in this touching tribute to parenthood. Whimsical illustrations capture the poignant moments that make motherhood so special: pinning up a daughter's hair, getting messy during playtime, reading quietly side by side, and, above all, cherishing precious moments together. Bright pops of Pantone coral infuse each spread, and a cloth spine adds an irresistible specialness.
Early Reader New Release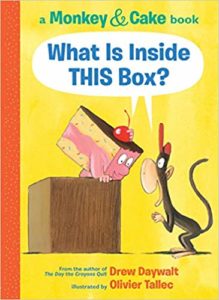 What Is Inside This Box? by Drew Daywalt, illustrated by Olivier Tallec
In this book, Monkey and Cake cannot agree what's inside Monkey's mysterious box. Is it a kitty? Is it a dinosaur? How will they find out — and what do you think is inside? With Daywalt's signature quirky style, the relatable humor of Elephant and Piggie, and the wise friendship of Frog and Toad, Monkey and Cake invites readers to laugh along and let their imaginations soar.
Chapter Book New Releases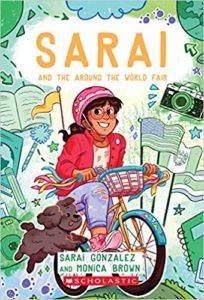 Sarai and the Around the World Fair by Sarai Gonzalez and Monica Brown
When Sarai outgrows her bike, she worries she'll never get to travel anywhere. But, when Martin Luther King Jr. Elementary hosts their first Around the World Fair, Sarai learns that with a little imagination, you can go anywhere you want! Inspired by the life of viral video sensation and social activist Sarai Gonzalez with the help of award-winning children's book author Monica Brown.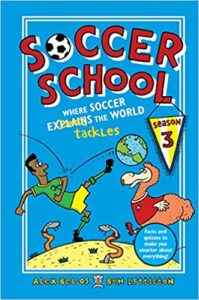 Soccer School: Where Soccer Tackles the World by Alex Bellos and Ben Lyttleton
This third book in the Soccer School series poses many intriguing questions for soccer fans: What color are Cristiano Ronaldo's pajamas? How many bones are there in the human foot? And why is that dodo alive and kicking? With funny cartoons and multiple-choice quizzes, this is the perfect way for young fans to learn how to score with their head. Coaches Alex Bellos and Ben Lyttleton kick off another season of Soccer School in this book packed with awesome true stories, real science, and fascinating facts. At this school, everything is about soccer!
Middle Grade New Releases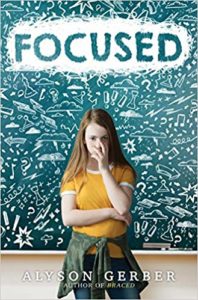 Focused by Alyson Gerber
Clea can't control her thoughts. She knows she has to do her homework . . . but she gets distracted. She knows she can't just say whatever thought comes into her head . . . but sometimes she can't help herself. She know she needs to focus . . . but how can she do that when the people around her are always chewing gum loudly or making other annoying noises? It's starting to be a problem–not just in school, but when Clea's playing chess or just hanging out with her best friend. Other kids are starting to notice. When Clea fails one too many tests, her parents take her to be tested, and she finds out that she has ADHD, which means her attention is all over the place instead of where it needs to be.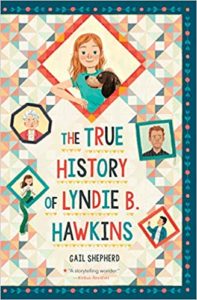 The True History of Lyndie B. Hawkins by Gail Shepherd
Lyndie B. Hawkins loves history, research, and getting to the truth no matter what. But when it comes to her family, her knowledge is full of holes. Like, what happened to her father in the Vietnam War? Where does he disappear to for days? And why exactly did they have to move in with her grandparents?
Determined to mold recalcitrant Lyndie into a nice Southern girl even if it kills her, her fusspot grandmother starts with lesson number one: Family=Loyalty=keeping quiet about family secrets. Especially when it comes to Lyndie's daddy.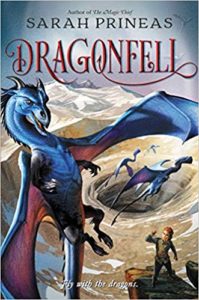 Dragonfell by Sarah Prineas
Rafi Bywater is unlike anyone else. The people in his village don't trust him because he spends too much time in an abandoned dragon lair. When a stranger, Mister Flitch, accuses Rafi of being "dragon-touched," Rafi sets off to discover the truth about dragons—and about himself. On his journey, Rafi befriends a brilliant scientist, Maud, who has secrets of her own. Together they search for dragons while escaping from a dangerous dragon hunter, engaging in a steam-engine car chase, and figuring out what Mister Flitch really wants with Rafi.
The Rambling by Jimmy Cajoleas
Buddy Pennington is headed to river country, hoping his luck might change. He'll be better off with his daddy, a wandering soul and a local legend for his skills at Parsnit, a mysterious card game of magic, chance, and storytelling. But no sooner are Buddy and his pop reunited than some of Pop's old enemies arrive to take him away. Boss Authority, the magical crime lord who has held the rivers in his grasp for years, is ready to collect on an old debt Buddy's father owes.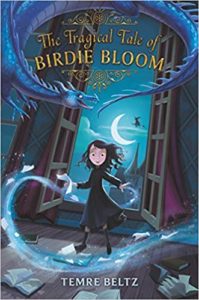 The Tragical Tale of Birdie Bloom by Temre Beltz
In the fairy-tale kingdom of Wanderly, everyone has a role. Birdie Bloom is a Tragical—an orphan doomed to an unhappy ending. Agnes Prunella Crunch is a witch. The wicked kind. In Wanderly, a meeting between a witch and a Tragical can only end one way: tragically. But with the help of some mysterious Winds, a few wayward letters, and a very unusual book, the two might just form the kingdom's unlikeliest friendship—and together, rewrite their story into one that isn't very Tragical at all.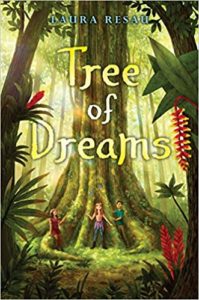 Tree of Dreams by Laura Resau
Prepare for a journey into a world filled with what so many crave — the sweet savoring of a chocolate drop. A drop that can melt even the most troubled realities. But in this nuanced, heartrending story, before good can emerge, there is destruction, the bombarding of a people, their culture, heritage, sacred beliefs, and the very soul that drives their traditions.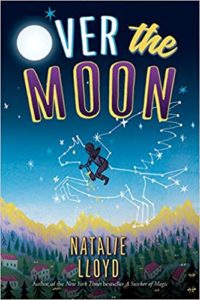 Over the Moon by Natalie Lloyd
Twelve-year-old Mallie knows better than to dream. In Coal Top, you live the story you're given: boys toil in the mines and girls work as servants. Mallie can't bear the idea of that kind of life, but her family is counting on her wages to survive. It wasn't always this way. Before the Dust came, the people of Coal Top could weave starlight into cloth. But now nothing can penetrate Coal Top's blanket of sorrow. So when Mallie is chosen for a dangerous competition in which daring (and ideally, orphaned) children train flying horses, she jumps at the chance. Maybe she'll change her story. Maybe she'll even find the magic she needs to dream again.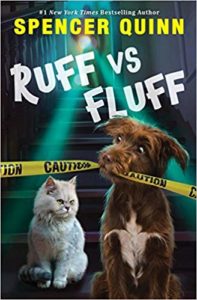 Ruff vs. Fluff by Spencer Quinn
From the outside, Queenie the cat and Arthur the dog appear to have a lot in common. Both pets live in the charming Blackberry Hill inn. They both love their humans, twins Harmony and Bro. They both have a fondness for sausage. But that doesn't change the fact that they are mortal enemies. Goofy, big-hearted Arthur loves everyone he's ever met . . . except the snobby, scheming cat who's devoted her life to ruining his.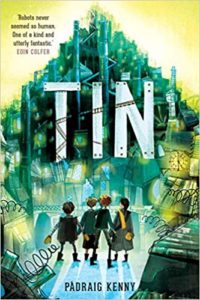 Tin by Padraig Kenny
In an alternative England of the 1930s where the laws of mechanics govern even the most talented engineers, a mismatched group of mechanicals want nothing more than to feel human. Under the guardianship of the devious and unlicensed Gregory Absalom, an engineer who creates mechanical children, they have no choice but to help him in his unlawful practice. But through his unethical work, Absalom winds up creating a loyal and lively group of friends who will go to the ends of the Earth for one another.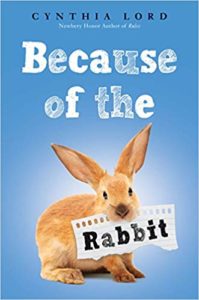 Because of the Rabbit by Cynthia Lord
On the last night of summer, Emma tags along with her game warden father on a routine call. They're supposed to rescue a wild rabbit from a picket fence, but instead they find a little bunny. Emma convinces her father to bring him home for the night. The next day, Emma starts public school for the very first time after years of being homeschooled. More than anything, Emma wants to make a best friend in school. But on the first day of school, she's paired with a boy named Jack for a project. Jack doesn't fit in, and Emma's worried he'll make her stand out. Emma and Jack bond over her rescue rabbit. But will their new friendship keep Emma from finding the new best friend she's meant to have?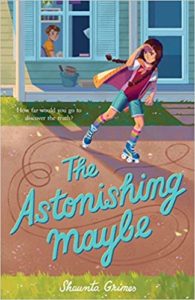 The Astonishing Maybe by Shaunta Grimes
Gideon hates the idea of moving to Nevada from the East Coast. It's so empty and hot in his new neighborhood. Only one person his age lives nearby: the girl next door, Roona. Gid notices right away that Roona is . . . different. She wears roller skates and a blanket as a cape when she needs to feel strong. What he doesn't bargain for, however, is how far outside his comfort zone Roona will take him as she enlists his help in finding her long-gone father. For a kid who's not allowed to ride his bike more than a few blocks from home, this will be an adventure of a lifetime.
Nonfiction New Releases
* PB = picture book; MG = middle grade book (geared for ages 8-12)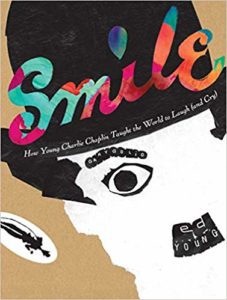 How Young Charlie Chaplin Taught the World to Laugh (and Cry) by Gary Golio, illustrated by Ed Young (PB)
Once there was a little slip of a boy who roamed the streets of London, hungry for life (and maybe a bit of bread). His dad long gone and his actress mother ailing, five-year-old Charlie found himself onstage one day taking his mum's place, singing and drawing laughs amid a shower of coins. There were times in the poorhouse and times spent sitting in the window at home with Mum, making up funny stories about passersby. And when Charlie described a wobbly old man he saw in baggy clothes, with turned-out feet and a crooked cane, his mother found it sad, but Charlie knew that funny and sad go hand in hand.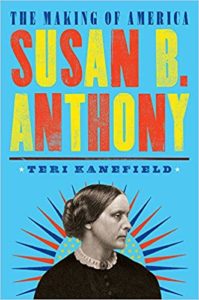 The Making of America: Susan B. Anthony by Teri Kanefield (MG)
In the fourth installment in the Making of America series, Susan B. Anthony, Teri Kanefield examines the life of America's famous suffragette. Anthony was born into a world in which men ruled women: A man could beat his wife, take her earnings, have her committed into an asylum based on his word, and take her children away from her. As Anthony saw the situation, "Women's subsistence is in the hands of men, and most arbitrarily and unjustly does he exercise his consequent power." She began her public career as a radical abolitionist, and after the Civil War, she became an international figurehead of the women's suffrage movement.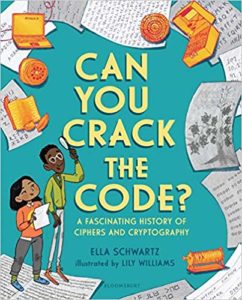 Can You Crack the Code? by Ella Schwartz, illustrated by Lily Williams (MG)
This fun and flippable nonfiction features stories of hidden treasures, war-time maneuverings, and contemporary hacking as well as explaining the mechanics behind the codes in accessible and kid friendly forms. Sidebars call out activities that invite the reader to try their own hand at cracking and crafting their own secret messages.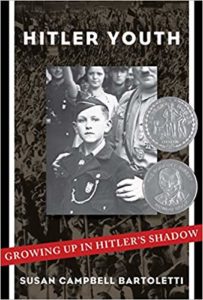 Hitler Youth by Susan Campbell Bartoletti (paperback release) (MG)
By the time Hitler became Chancellor of Germany in 1933, 3.5 million children belonged to the Hitler Youth. It would become the largest youth group in history. Susan Campbell Bartoletti explores how Hitler gained the loyalty, trust, and passion of so many of Germany's young people. Her research includes telling interviews with surviving Hitler Youth members.
Graphic Novel New Releases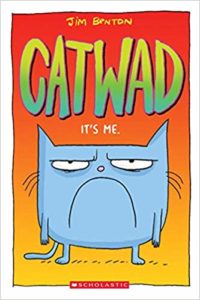 Catwad by Jim Benton
Meet Catwad! He's blue, he's a bit of a grouch, and his best friend is a dim-witted cat named Blurmp who can see the bright side of anything. From pizza and computers, to love and happiness, this crabby tabby has a funny take on just about everything, and he's not afraid to share it.
Cleopatra in Space: Fallen Empires (Book 5) by Mike Maihack
Cleo goes into hiding after a mysterious death at Yasiro Academy, and she and her friends set out to uncover the spy who must be working within the school's ranks. Meanwhile, Xaius Octavian continues his assault on the galaxy as his complicated origin story, and how he went from being Cleo's best friend to a ruthless dictator, is revealed. In the end, a space battle and dramatic confrontation between Cleo and Octavian will change both of their lives forever.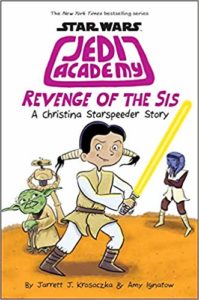 Jedi Academy: Revenge of the Sis by Jarrett J. Krosoczka and Amy Ignatow
Christina Starspeeder, legendary Padawan and sister to Victor Starspeeder, has graduated from the Jedi Academy at Coruscant. But that doesn't mean her education is over! Just the opposite. Now Christina is a student at the advanced Jedi Academy at Jedha City. It's super big, and super stressful. At Coruscant, Christina was top of her class. But at this new school, it seems like everyone is on a different level. To make matters worse, she's apprenticing under legendary Jedi Skia Ro, whose droid seems to have it out for Christina.
I would love to know what you are reading this week! Find me on Twitter at @KarinaYanGlaser, on Instagram at @KarinaIsReadingAndWriting, or email me at karina@bookriot.com.
Until next time!
Karina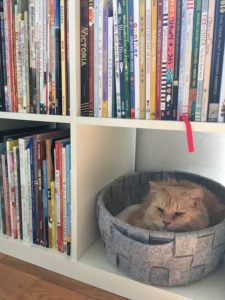 Nala is hanging out in my book nook today.
*If this e-mail was forwarded to you, follow this link to subscribe to "The Kids Are All Right" newsletter and other fabulous Book Riot newsletters for your own customized e-mail delivery. Thank you!*