Hello and happy Tuesday, makers and Martians! Today we've got Murderbot and Game of Thrones news, an expanded section on this week's new releases, further musings about Dune, and more.
---
This newsletter is sponsored by Ronan Boyle and the Bridge of Riddles by Thomas Lennon, from Amulet Books.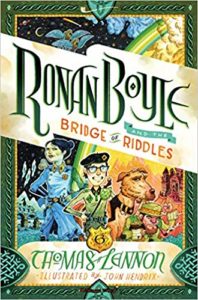 Discover a world of law-breaking leprechauns and sly faeries in this new must-read fantasy series perfect for fans of The Land of Stories and Artemis Fowl! From writer and actor Thomas Lennon (Reno 911!, Night at the Museum), Ronan Boyle and the Bridge of Riddles follows fourteen-year-old Ronan Boyle, the lowliest recruit to the Garda Special Unit of Tir Na Nog, a secret organization that handles the misdeeds of numerous magical creatures. Despite his small size and numerous allergies, Ronan is determined to prove himself—even if it means confronting fiery leprechauns, sinister harpies and a whole world of monsters.
---
Newsy news news:
ALERT ALERT ALERT, THIS IS NOT A DRILL: We are getting a full Murderbot novel! It will be called Network Effect and will come out in May 2020, so you've got plenty of time to reread all the novellas while you're counting down the days.
If you're a Game of Thrones show completist, you'll be delighted to hear that there will be four tomes of behind-the-scenes material released, including one each on storyboards and costumes.
Related, here are the dates and run-times of the final episodes of Game of Thrones.
The sequel to Sangu Mandanna's A Spark of White Fire, House of Rage and Sorrow, has a cover reveal! And it is gor. geous. I love that it captures both the fantastical and the sci-fi elements of the series.
Another cover reveal, PLUS an excerpt; this one is for Tochi Onyebuchi's War Girls (October 15, 2019), a sci-fi tale set in Nigeria in 2172, and you have my attention.
Was someone cutting onions while you watched the Avengers: Endgame trailer? If you haven't watched it yet, feelings warning.
Leah attended the Good Omens adaptation panel at SXSW and is here to spill all the secrets.
Speaking of panels, here's a write-up and video of Noelle Stephenson at ECCC talking She-Ra, developing new and old characters, LGBT inclusion, and more.
New release I'm jazzed about (and why):
The Light Brigade by Kameron Hurley
This latest novel from Hurley is solidly sci-fi, and follows a soldier who has been sent to the front lines of a war against Mars. The soldiers get there and back by being broken down into light, and not everyone comes back the same. I can't wait to dig into this one; despite my peaceful nature, war stories are my jam, especially ones that exam PTSD and propaganda. I also noticed that the main character, Dietz, is not assigned a gender in the publisher copy, and Hurley regularly tackles LGBTQ+ issues in her work, so I am Very Interested.
The Deepest Blue: Tales of Renthia by Sarah Beth Durst
As you might have noticed in past reviews, I enjoyed all the Queens of Renthia books quite a bit. This book is not a direct sequel, just set in a different part of the same world. If you thought the body count was high in those, it seems like we should be prepared for even more — in the islands of Belene, rather than receiving training, those who have the potential to control the spirits are sent to an Island of Testing with no resources and very little hope of survival.
Some SUPER (ahem) ebook deals for your TBR:
Catwoman: Soulstealer by Sarah J. Maas, $1.99
Wonder Woman: Warbringer by Leigh Bardugo, $1.99
Batman: Nightwalker by Marie Lu, $1.99
And now, some musings on Dune by Frank Herbert!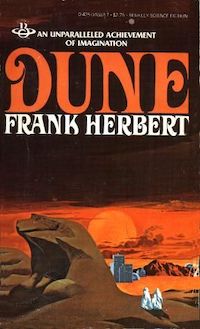 I confess it: I have not actually finished re-reading this book yet, and the last time I read it I was in my teens (so, about 20 years ago). But I am about 2/3 through, in preparation for a book club episode of SFF Yeah!, and I am having MANY THOUGHTS so you get to hear some of them.
First and foremost is that I definitely did not know what eugenics was the last (or first) time that I read Dune. And, as Emily Asher-Perrin notes in this great piece on why it's worth talking about white savior narratives in regard to Dune, Paul Atreides is in fact the product of a successful eugenics experiment. The full horror of this is striking me on this read, and yikes! This is the kind of plot that makes me ask: If this is what the survival of the human race requires, is it actually worth it?
And secondly, the manipulation of religion as a political tool feels both timelier and more terrifying, given the current political climate. The use of "jihad" also feels, well, yikes. But, as Asher-Perrin's piece also notes, Herbert isn't exactly presenting this as a good thing. Paul refers repeatedly to his "terrible purpose," and Jessica is shown to be very aware of the soulless manipulations of the Bene Gesserit, even as she goes along with them.
Thirdly, the ecological bent of this book is perhaps my favorite part. The sophisticated tech the Fremen have developed and the planetary scale of their goals and cooperation is just freaking glorious, and it hurts my soul how much this is overshadowed and twisted by the political bent of the novel. I am desperately jonesing for a solarpunk rewrite/fanfic of Dune, in which the Fremen do not get used as a lynchpin for a power grab and instead get to develop their culture and their planet in their own way and time — not struggle-free, because nothing in life is struggle-free, but without all the Atreides/Harkonnen machinations and eugenics and slaughter.
And then there are the broader Arab/Islamic representation issues, which this piece does a great job digging into. Of course, the only reason any of us are spending this much time thinking about Dune is because of the forthcoming movie; here's the latest casting news, in case you were wondering. I have feelings about that as well, but am saving them for the podcast.
In the meantime, I'm trying to decide if this reread means I'll finally read any of the sequels. Thoughts on whether or not that's worth the time are welcome, and I'd love to mention those on the podcast, so send 'em to sffyeah@bookriot.com if you've got 'em.
And that's a wrap! You can find all of the books recommended in this newsletter on a handy Goodreads shelf. If you're interested in more science fiction and fantasy talk, you can catch me and my co-host Sharifah on the SFF Yeah! podcast. For many many more book recommendations you can find me on the Get Booked podcast with the inimitable Amanda, or on Twitter as jennIRL.
Your fellow booknerd,
Jenn