Hello nonfiction lovers! It feels like it's been a pretty quiet week in nonfiction-related news. I've got three memoir announcements, plus a couple of recommended essays to round out the week. Let's go!
---
Sponsored by What's Up in YA Giveaway of a $100 gift card to Amazon! Enter here.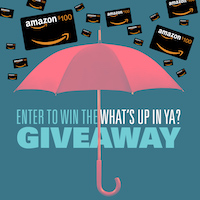 We're giving away a $100 gift card to Amazon in support of our YA newsletter, What's Up in YA, about all things young adult literature! Sign up to enter here.
---
First, memoirs by singers! In October, Elton John will release his "first and only autobiography," but didn't share many more details in the video announcement. In November, Alicia Keys will release a memoir called More Myself through Oprah Winfrey's "An Oprah Book" imprint. I think these could both be pretty exciting!
Speaking of memoirs, gymnast Rachael Denhollander, the first woman to speak up about sexual abuse in USA Gymnastics, will be sharing her story. The title, What Is a Girl Worth?, is a reference to a question Denhollander asked during her victim impact statement during her abuser's sentencing. After the book is published, Denhollander will go on a national media tour.
I enjoyed this essay by Eula Biss in LitHub about her first book, Notes from No Man's Land. The 2009 essay collection was an exploration of race in America and won the National Book Critics Circle Award for Criticism. In the essay, she reflects on how a decade has changed the conversations at the center of the book, the way her life has changed, and what she didn't understand at the time the book was written. It's an interesting reflection on revisiting your own thinking and how books don't change along with us.
I also enjoyed this profile of Gretchen Rubin from the Washington Post. I enjoyed her first book, The Happiness Project, but I know she can be a divisive writer, in the sense that her hyper-organized persona and privileged lifestyle don't always resonate. She's gone on to write about personality and, in her newest book, organization for calm (a sort of Type A Marie Kondo, I guess). In any case, I think the profile gets at some interesting things about her, and shares some details I found pretty amusing.
And that's all for the week! You can find me on Twitter @kimthedork, on email at kim@riotnewmedia.com, and co-hosting the For Real podcast here at Book Riot. Happy reading! – Kim