Hello mystery fans! This week I have a great historical mystery from a series I adore, a character driven procedural set in Canada, and a small-town murder mystery for you.
---
Sponsored by The Line Between by Tosca Lee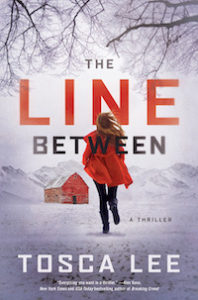 In this frighteningly believable thriller from New York Times bestseller Tosca Lee, an extinct disease re-emerges from the melting Alaskan permafrost to cause madness in its victims. For recent apocalyptic cult escapee Wynter Roth, it's the end she'd always been told was coming. Filled with action, conspiracy, romance, and questions of whom—and what—to believe, The Line Between is a high-octane story of survival and love in a world on the brink of madness. "The perfect blend of spellbinding and heart stopping." -NYT bestselling author Nicole Baart
---
Such A Great Historical Mystery Series! (TW suicide/ addiction/ PTSD)
Smoke and Ashes (Sam Wyndham, #3) by Abir Mukherjee: I adore this series and this is the best one yet! The series follows a Scotland Yard detective, Sam Wyndham, who left Scotland for Calcutta hoping to flee his PTSD from the war, his wife's death, and his opium addiction. I adore this series in part because even though we get the addicted detective trope it feels different than others, and the setting of British ruled Calcutta offers so much history to explore. This time around Wyndham has found himself in two difficult spots: while fleeing an opium den during a raid he stumbled across a dead man whose body later disappears; it's now 1921 and the British are trying to stop the surge of Indians protesting for independence, led by Mahatma Gandhi, and Prince Edward is visiting so Wyndham is asked to help strategize against the movement. When a woman is murdered similarly to the first body Wyndham encountered, he knows he has a killer he has to stop, but he can't say anything without revealing his addiction. Quite a pickle he's put himself in! The book navigates brilliantly between focusing on the unrest, the mystery, and Wyndham's personal struggles. I really like Wyndham's character as he seems caught between being British and understanding the horrible treatment of Indians, and I love Sergeant Banerjee, his now roommate and one of the only Indians in the CID. I can't recommend this series enough!
Character Driven Canadian Procedural (TW alcoholism/ child abuse/ past suicide briefly mentioned with detail/ sexual assault/ pedophile)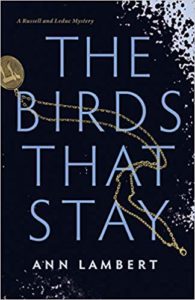 The Birds That Stay (A Russell and Leduc Mystery, #1) by Ann Lambert: Look at me starting at the beginning of a series! Okay, I don't really get props since it's the first one just released. This one did a really nice job of mixing a procedural with a character driven novel and exploring Canadian history. When an older woman is murdered in a small village north of Montreal the reader follows a few unrelated characters, with the focus on a detective and an almost sixty-year-old woman. Chief Inspector for Homicide Roméo Leduc, a divorcé with a daughter who has dropped out of college to move to another country with her boyfriend, takes the puzzling murder case which he looks into as either a robbery or possible hate crime. Also divorced is Marie Russell, a marine biologist and author, who is currently caring for her mother who has entered a stage of dementia that needs more intense care. This was a really good read for fans of watching everything come together while exploring characters' lives, and readers who love the-past-is-coming-to-get-you mysteries. Also a great pick for fans of Lisa Jewell and Fiona Barton.
Small-Town Murder Mystery (TW attempted homophobic attack/ addiction/ pedophile/ talk of suicide)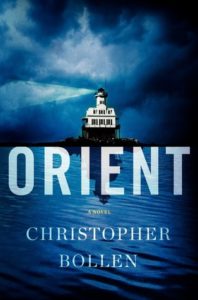 Orient by Christopher Bollen: This was a great mystery perfect for literary fans. Set in an isolated town in Long Island there's a culture clash amongst the residents, between the locals and the new residents coming from New York and new money. There's a war with a nearby research facility that's surrounded by plenty of rumors. And one of the residents has brought a nineteen-year-old gay man home with him to help around the house. When the town caretaker is found dead the already heightened emotions get cranked up even higher, with many pointing a finger at the newest "resident." A town filled with new and old rich, secrets, affairs, conservatives and liberals, and a push for a historic village, it's only a matter of time before this small-town is no longer safe to be in…
Recent Releases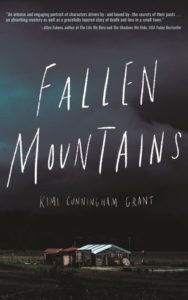 Fallen Mountains by Kimi Cunningham Grant (Currently reading: Small-town mystery where the past comes calling.) (TW suicide/ domestic abuse)
A Friend is a Gift You Give Yourself by William Boyle (Crime writer I love.)
Auntie Poldi and the Vineyards of Etna by Mario Giordano, John Brownjohn (Translation) (I love Poldi's character and can't wait to read this one.)
The Reign of the Kingfisher by T.J. Martinson (A noir detective mixed with superhero fantasy that I'm excited to read.)
Beautiful Bad by Annie Ward (Psychological thriller.)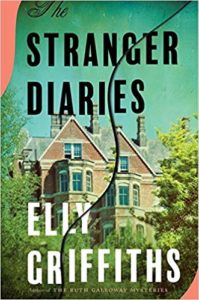 The Stranger Diaries by Elly Griffiths (Modern gothic mystery.)
The Mystery of Black Hollow Lane (Black Hollow Lane #1) by Julia Nobel (Currently reading: middle grade mystery set in a boarding school.)
A Question of Holmes (Charlotte Holmes #4) by Brittany Cavallaro (Charlotte Holmes, the great-great-great-granddaughter of Sherlock Holmes, and Jamie Watson, the great-great-great grandson of John Watson team up once again to solve another mystery.)
Drawn and Buttered (A Lobster Shack Mystery #3) by Shari Randall (New England cozy mystery.)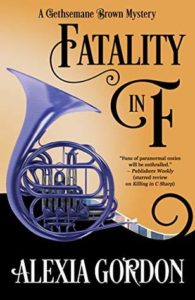 Fatality in F (Gethsemane Brown Mysteries #4) by Alexia Gordon (Fun cozy mystery starring American musician in Irish town who sees ghosts.)
Call Me Evie by J.P. Pomare (Australian psychologist thriller.)
Her Father's Secret (Ilka #2) by Sara Blaedel (New series I've been looking forward to starting about a Danish woman who inherits her father's funeral home in the U.S. and finds herself in danger.)
If You're Out There by Katy Loutzenhiser (YA mystery.)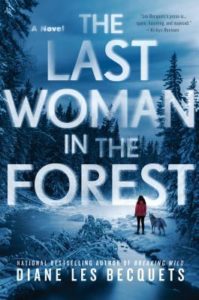 The Last Woman in the Forest by Diane Les Becquets (Serial killer thriller.)
The Wolf and the Watchman by Niklas Natt och Dag (Historical mystery.)
Browse all the books recommended in Unusual Suspects previous newsletters on this shelf. And here's an Unusual Suspects Pinterest board.
Until next time, keep investigating! And in the meantime, come talk books with me on Twitter, Instagram, and Litsy–you can find me under Jamie Canavés.
If a mystery fan forwarded this newsletter to you and you'd like your very own you can sign up here.