Hello, Kid Lit friends!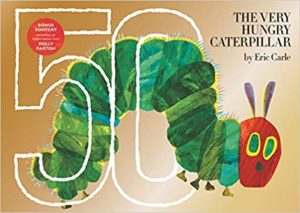 I get a lot of questions from people who are looking to buy children's books as gifts for a baby shower. I love baby shower book present questions! It got me thinking about classic picture books, especially with the 50th anniversary of The Very Hungry Caterpillar. To celebrate five decades, the publisher designed a beautiful golden edition that is coming out on March 20th. I love Eric Carle's beautiful counting book, and there's a lovely video of Carle talking about the fiftieth anniversary of his bestselling book here.
While The Very Hungry Caterpillar will always have a special place in my heart, there are lots of amazing counting books that make perfect baby shower gifts. Take a look and let me know what you think!
*Please note that all book descriptions come from the publisher.*
---
Just for Book Riot readers: sign up for an Audible account, and get two audiobooks free!
---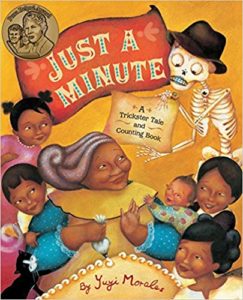 Just a Minute by Yuyi Morales
This original trickster tale, with its vivacious illustrations and dynamic read-aloud text, is at once a spirited tribute to the rich traditions of Mexican culture and a perfect introduction to counting in both English and Spanish.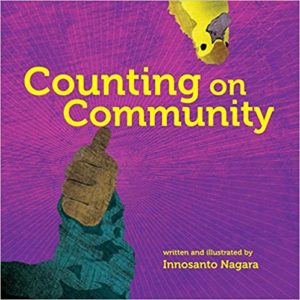 Counting on Community by Innosanto Nagara
Counting up from one stuffed piñata to ten hefty hens–and always counting on each other–children are encouraged to recognize the value of their community, the joys inherent in healthy eco-friendly activities, and the agency they posses to make change. A broad and inspiring vision of diversity is told through stories in words and pictures. And of course, there is a duck to find on every page!
Anno's Counting Book by Mitsumasa Anno
Gentle watercolor pictures show a landscape changing through the various times of day and the turning seasons, months and years, and the activities of the people and animals who come to live there. But the seemingly simple plan of the book is deceptive: look more carefully and you will see one-to-one correspondences; groups and sets; scales and tabulations; changes over time periods; and many other mathematical relationships as they occur in natural, everyday living. The reader is subtly led to see and understand the real meaning of numbers.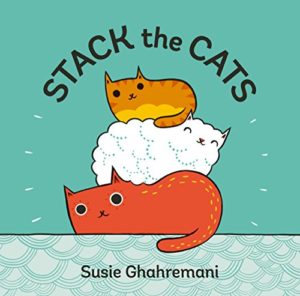 Stack the Cats by Susie Gharamenani
Stack the Cats is a charming book about counting and organizing cats in various formations. But when the cats decide to go their own way—as cats often will—it's time to count down until there's only one sweet cat left. Counting forward and backward, understanding when there are more or fewer of something, and grouping and recognizing the number of items in a group are key early-math skills for toddlers, making Stack the Cats as developmentally sound as it is ridiculously adorable.
Twenty Yawns by Jane Smiley, illustrated by Lauren Castillo
As her mom reads a bedtime story, Lucy drifts off. But later, she awakens in a dark, still room, and everything looks mysterious. How will she ever get back to sleep? Pulitzer Prize winner Jane Smiley's first picture book, illustrated by Caldecott Honor artist Lauren Castillo, evokes the splashy fun of the beach and the quietude of a moonlit night, with twenty yawns sprinkled in for children to discover and count.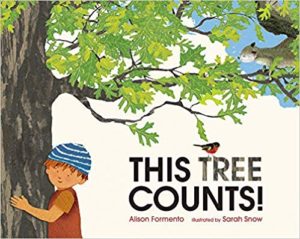 This Tree Counts! by Alison Formento, illustrated by Sarah Snow
If you listen closely, the lone tree behind Oak Lane School has a story to tell. It starts with one owl, two spiders, and goes all the way up to ten earthworms using the tree as their home! So what does this tree need? Learn about the importance of trees and count from one to ten in this tale about going green.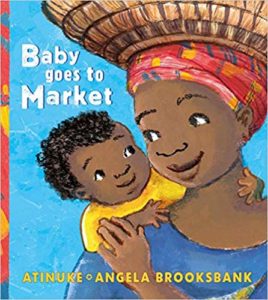 Baby Goes to Market by Atinuke, illustrated by Angela Brooksbank (Candlewick, 3/12/19)
When Baby and Mama go to the market, Baby is so adorable that the banana seller gives him six bananas. Baby eats one and puts five in the basket, but Mama doesn't notice. As Mama and Baby wend their way through the stalls, cheeky Baby collects five oranges, four biscuits, three ears of sweet corn, two pieces of coconut . . . until Mama notices that her basket is getting very heavy! Poor Baby, she thinks, he must be very hungry by now! Rhythmic language, visual humor, and a bounty of delectable food make this a tale that is sure to whet little appetites for story time.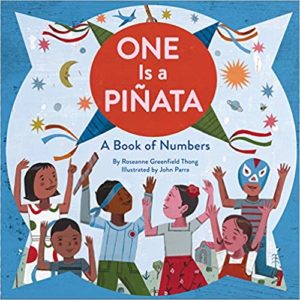 One is a Pinata by Roseanne Greenfield Thong, illustrated by John Parra (Chronicle, 3/12/19)
One is a rainbow. One is a cake. One is a piñata that's ready to break! In this lively picture book, a companion to the Pura Belpré–honored Green Is a Chile Pepper, children discover a fiesta of numbers in the world around them, all the way from one to ten: Two are maracas and cold ice creams, six are salsas and flavored aguas. Many of the featured objects are Latino in origin, and all are universal in appeal.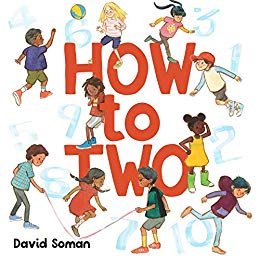 How to Two by David Soman (Dial Books, 3/12/19)
A quiet day at the playground turns into a boisterous park-wide adventure as one boy on the slide becomes two kids on the see-saw, then three jumping rope. Before long, ten new friends are playing like they've known one another forever. With its deceptively simple text and a rich visual narrative, How to Two is a playful counting and reverse-counting concept book as well as an exuberant celebration of inclusive play, friendship, and community.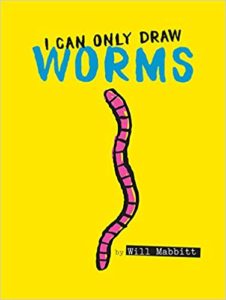 I Can Only Draw Worms by Will Mabbitt (Penguin, 3/12/19)
This is part counting book, part introduction to worms, but all superbly silly. The fact that the author/illustrator can only draw worms will not take anything away from the laugh-out-loud adventure readers will have as they turn the pages of this slightly subversive picture book.
Around the web…
25 of the Best Children's Books About Space, via Book Riot
Random House to Publish New Dr. Seuss Book, via Publisher's Weekly
What I'm Reading…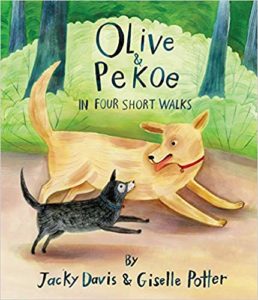 Olive and Pekoe in Four Short Walks by Jacky Davis & Gisella Potter (HarperCollins, 3/5/19)
I adored this picture book so much! This book follows the adventures of two dogs; one dog is a puppy and the other is getting older. The beautiful and straightforward language shows their different ways of exploring and experiencing the world. I cannot wait to give this book to all of my dog-loving friends who have young children.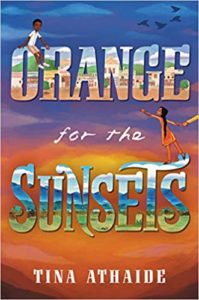 Orange for the Sunsets by Tina Athaide (HarperCollins, 4/2/18)
This middle grade novel is about two friends living in Entebbe, Uganda during President Amin's divisive rule. Asha is Indian and Yesofu is Ugandan. When President Idi Amin announces that Indians have ninety days to leave the county, suddenly those differences are the only things that people in Entebbe can see. This beautifully written book explores the political unrest during three months in 1972 through the eyes of two twelve-year-olds grappling with their rising awareness of inequality, class differences, and racism.
Do you have a favorite counting book? Find me on Twitter at @KarinaYanGlaser, on Instagram at @KarinaIsReadingAndWriting, or email me at karina@bookriot.com.
Until next time!
Karina
Addie and Nala 🙂
*If this e-mail was forwarded to you, follow this link to subscribe to "The Kids Are All Right" newsletter and other fabulous Book Riot newsletters for your own customized e-mail delivery. Thank you!*