Sponsored by our giveaway of $100 to Amazon in support of Swords and Spaceships, our sci-fi/fantasy newsletter!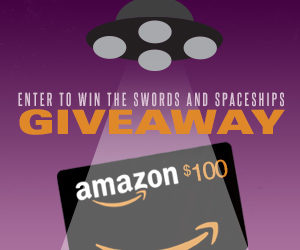 ---
DC Cancels New Comic Series
CitizenGo, an anti-abortion and anti-LGBT campaign, called for the cancellation of the new comic series The Second Coming, which features Jesus returning to earth where he is "'Shocked to discover what has become of his gospel,' he teams up with a superhero, Sun-Man, who is more widely worshipped than him." The creators have requested the rights back and are looking for a new publisher: "I think the religious fundamentalists and critics who are trying to stop Second Coming aren't interested in protecting Christ so much as their ability to control his narrative … They probably (correctly) suspect that it's not Christ who's being parodied, but themselves and how they've twisted his teachings of mercy for the powerless into a self-serving tool of the powerful."
Courtney Milan Accuses Author Of Plagiarism
Courtney Milan wrote a post where she shows passages from her novel The Duchess War and how exact sentences from her book are found in Cristiane Serruya's Royal Love saying it's enough proof of plagiarism. This will continue to be a developing story–you can always keep up on Twitter–but so far Serruya has responded by saying it was her ghostwriter and she's removed the work while she looks into it.
Will Smith Goes Will Smith In Library
While filming Bad Boys for Life in Atlanta Will Smith took an onset break in Buckhead Library to autograph some of his work–in their movie collection. While writing on library property is generally considered vandalism and seriously frowned upon, it's Will Smith so his signature addition instead prompted the library "to add the films to the Fulton County Library System's special collection." Bad Boys indeed–okay, I am sorry for that one.